Apna Ashiana
Special Edition
Subscribe for quarterly newsletter!
A glimpse of vibrant community we build.
From the Desk of the Jt. MD
Dear Friends,
These are unprecedented, trying times and I hope we come out not just safe but also stronger and wiser. Team Ashiana devised ways to keep our customers safe, informed and well-occupied. There may have been lapses, but on the whole, I am proud of how they rose to the occasion.

The team came up with ideas to keep the kids, adults and seniors creatively engaged. I would also like to thank the supermoms who organised so many activities to learn new skills and enhance knowledge. The grand finale of the Supermoms program on Zoom was indeed super! Congratulations to the winners and thanks to all participants.

I am extremely thankful to the residents who came out to their balconies to thank the staff. It was a huge motivation for all of them.

These are tough times for everyone and it is the relationships we have nurtured that help us cope and move forward. If you do agree that Ashiana made it easier for you to cope during this lockdown, do refer us to your family and friends for a virtual site visit. This would help Ashiana grow and we would be able to give more people the Ashiana experience.

Stay Safe and Always Keep smiling
Ankur Gupta
---
We Care For Our Employees
Employees are the flag bearers of every organization. The promises which brands make to their customers are fulfilled by the employees of the organization. That's why in such difficult situations it becomes the responsibility of the firm to look after their dedicated driving force. At Ashiana, we value our employees, and therefore we made sure that they can nurture their skill sets along with keeping their minds engaged, active, and involved in this situation. After all, it's the difficult times that bring us even closer. We all are one big and happy Ashiana family.


---
Learning & Engagement At Home
Online courses:
Training courses like Negotiation Skill Development, Effective Business Communications, etc. for the sales team.
Free ebooks
Free ebooks for employees.
Employee engagement activities
Activities like cooking, revisiting childhood memories and playing games.
Meditation & Yoga session
Art of Living and online Yoga sessions for our employees.
Activities for kids
Activities like origami DIY, vocabulary tests, ebooks reading sessions, etc for kids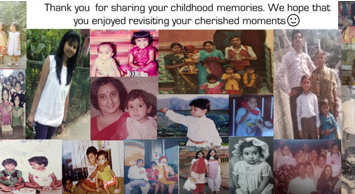 Bonding Session
The employees shared their childhood memories with each other and cherished them.
---
Arrangements For Safety Of Ashiana Frontline Heroes
From social distancing to medical check-ups to even organizing donation drives, we are doing our utmost to protect our workers & on ground staff on sites the health of our workforce always comes first for us.
Social Distancing On Site
Regular Health Checkups
Stress Burster Session
Donation Drive For Our Driving Force
---
Keeping Lockdown Fun for Our Residents
COVID-19 has shook the world and has put everything under lockdown. Everyone is stuck inside their homes because that's the only way they can stay protected. At Ashiana we made sure that staying at home never gets boring and dull for our residents. As we always say and believe, even in our logo that "You are in safe hands" it means our customers are our top priority. As we always say and believe, even in our logo that "You are in safe hands" it means our customers are our top priority. Even in this pandemic situation we stayed connected digitally and tried to make their days fun and exciting. We organized various engaging activities over Zoom calls. Last month we connected with a lot of customers and we're glad that we could help them stay happy and positive in this situation.


---
Online DIY Craf
Our seniors are always up for some fun and creativity. We organized a DIY craft session for them at Ashiana Utsav, Jaipur. They used newspapers in various ways and turned it into useful things like a wall hanging and other home decor items.
Online Dumb Charades
Dumb Charades is without a doubt the most entertaining game and it was a treat for the movie buffs of Ashiana Utsav, Jaipur. We organized an online game session for our seniors where they had to enact the movies.
Sleep Management Session
The lockdown distributed the busy schedule of our seniors which affected the sleep cycle as well. That's why we organized a Facebook live sleep management session with Dr Muralidhara CP for the residents of Ashiana Shubham, Chennai. It was a very useful session and seniors got a lot of tips for better sleep.
Read More
Cooking Experience Sharing:
The quarantine surely brought up the hidden talents of our seniors. Mrs Prabha Bhargava tried her hands on cooking some lipsmacking dishes and shared her cooking experience at Ashiana Utsav, Jaipur.
Online Guess the Advertisement
We took our seniors on a nostalgic ride with the trendy advertisement quizzes at Ashiana Utsav, Jaipur. The seniors were asked to guess the famous Indian ads of the 80s & 90s. They showed great enthusiasm and were able to guess almost all of them.
Antakshari from Balconies
The moment of togetherness is all we live for. We witnessed something similar at Ashiana Utsav, Lavasa when we organized a live Antakshari session. All of the residents came out on their balcony and sang together
Summer Special Mocktail:
Since the scorching summer is here we decided to share our special mocktail with the residents of Ashiana Utsav, Lavasa so that they can enjoy this time at home with refreshing summer coolers. They all tried it and loved the initiative.
Yoga Nidra Session
Yoga heals us in more than enough ways. Mrs Anuradha, the resident of Ashiana Utsav, Lavasa conducted a live Yoga session called 'Yog Nidra' for all the residents. This helped the residents to calm their body and most importantly their mind. The session also helped is in spreading a lot of positivity.
Sukshma Vyayam Session
When tension takes over, deep breathing comes handy. That's why we organized a Sukshma Vyayam session for our seniors at Ashiana Utsav, Lavasa. The session was conducted by our expert Mrs Anuradha Mahandra. More than 2500 viewers watched the live session and gained mental peace from it.
Sandwich & Salad Live Session:
Food brings us all together. That's why we kept our residents of Ashiana Utsav, Lavasa busy all this while by sharing healthy and fulfilling recipes of sandwiches and salads via Facebook Live. Everyone loved these online sessions and tried these recipes as well.
Getting to know Apps
When everything went digital, it was time to make our super active seniors tech-savvy. We conducted a session at Ashiana Utsav, Lavasa where Ms Mubina Shaikh, the activity executive & nurse taught them some useful apps and websites like Arogya Setu.
Live Mythology Quiz
Our seniors enjoy quizes, so this time we came up with a quiz of their favourite topic. Rakhi conducted an online Mythology quiz on the Ashiana Nirmay, Bhiwadi Facebook page and all the seniors participated actively in it. Some recalled their memories, others learnt new stories, and all of them had fun during the quiz.
Quiz on India
Manjula, the activity manager of Ashiana Utsav, Bhiwadi organized a Quiz based on India. It was time for our seniors to test their knowledge about the beloved country. It was a super fun session where we saw seniors acting like kids as they are young at heart.
Fitness Session
Due to this lockdown, our otherwise active seniors were unable to keep their fitness in check. To help them with ways to maintain their health and keep them active we organized a fitness session which was conducted by Pallavit, on the Facebook page of Ashiana Shubham, Chennai.
Words of Wisdom from Seniors
Amid all the panic and tension in the lockdown, the seniors of Ashiana Nirmay, Bhiwadi tried to spread some positivity by teaching others a few important life lessons and hacks.People learnt how to stay organized and also how families can maintain balance.
Read Less
---
Origami Challenge
Who thought folding paper could be so much fun. We challenged the little residents of Ashiana Town, Bhiwadi to take the origami challenge and create something beautiful out of a piece of paper. And it's safe to say that they did magic with their creative fingers.
Train Your Brain
We tried to help kids keep their brain active even in the lockdown. The Kids of Ashiana Town, Bhiwadi and Ashiana Umang, Jaipur did activities like creating their own maze and puzzles, solving sudoku and interesting brain teasers to keep the mind healthy and active.
Makeover Challenge
The kids of Ashiana Umang, Jaipur took the most exciting challenge, i.e., the before and after challenge in which they had to do their makeover and share the before and after makeover photographs with us.
Read More
Trash to Treasure Activity
During the lockdown, the creative side of the little residents took the front seat and they ended up doing some wonderful activities. One of which is the 'trash to treasure activity' in which the kids of Ashiana Town (Bhiwadi), Ashiana Umang (Jaipur) and Ashiana Anmol (Sohna) took the waste items like newspapers, cardboard and plastic bottles and turned them into something useful.
Rajasthani Culture Challenge
On the occasion of Rajasthan Diwas, the Ashiana Umang, Jaipur champs decided to mark this day by showcasing the culture of Rajasthan. They shared their beautiful photographs in which they were dressed up in regional attire.
Picnic in the Living Room
Since no one could go out, the kids of all kid centric projects in Bhiwadi, Jaipur and Sohna hosted a family picnic in the living room of the house. It was a wonderful experience for each and every family member and they enjoyed it a lot.
Edible Craft Activity
All the kids of Ashiana Town (Bhiwadi), Ashiana Umang (Jaipur) and Ashiana Anmol (Sohna) attended an edible craft workshop by Ms Ujjaini (Therapist from My Whole Child). They did a fun craft with food and enjoyed making bear, chocolate/jam Laddoos, fish, flowers etc. It was a highly engaging activity and kids had fun throughout the session.
Mother's Day card
There are a million ways to tell your mom "I love you" but the little residents of Ashiana Town, Bhiwadi and across all the other kid centric projects chose the cutest way. They created hand-made greeting cards for their mother with heartwarming messages on Mother's Day.
Kids Rule the Kitchen
The kids of Ashiana Anmol, Sohna and other Kid Centric Homes took the cooking challenge and gave their mothers' a day off from the kitchen. They cooked delicious dishes and surprised the adults in the house with their cooking skills. This activity was held across all the projects.
Handmade Photo Frame
We asked the kids of Ashiana Town, Bhiwadi to make a handmade photo frame for their favorite photograph and show their creativity at max. And that's what they did, created the most adorable photo frames and they also loved the activity.
Letter Writing
Letters were the lifeline of communication before phones came in our lives. We asked kids of Ashiana Town (Bhiwadi), Ashiana Umang (Jaipur) and Ashiana Anmol (Sohna) to go old school and told them to write a letter to someone special. All the kids wrote interesting letters, some wrote it to friends they miss and others wrote it to superheroes they love.
Fix the Wardrobe Challenge
Lockdown made kids really productive. We challenged the kids of Ashiana Town, Bhiwadi and Ashiana Umang, Jaipur to arrange their clothes in the cupboard and make it look tidy. All the kids took the challenge and did a great job. The parents were really happy.
Read Less
---
HomeMade Beauty Hacks Session
Selfcare is the key to happiness! Supermom Ms. Shallu Verma from Rangoli Gardens, Jaipur conducted a live session where she shared the beauty hacks & tips, and also revealed her home made face pack secrets.
Yoga Session for All
To reduce the panic and tension among all the residents of Ashiana we organized a Yoga session for all by supermom Ms. Shobhana Garg from Ashiana Aangan, Neemrana. The residents joined the session to detach from all the worries and relax.
Cooking Session
In this quarantine everyone turned chef and tried to satisfy their food cravings. That's why we organized many live cooking sessions by ashiana supermoms from Ashiana Green Hills, Neemrana and many other projects. The residents learnt new recipes and made delicious dishes like Nankhatai, Wheat Cake, Paneer Lababdar, Kakara Pitha, Ring Samosa, Reshmi Parathas, South Indian dishes etc.
Read More
Tambola Session
Our residents at Ashiana, live like a huge family, even the lockdown couldn't keep them apart. They are away but still manage to stay connected. We organized a Tambola game session across all the projects to strengthen their bond even more.
Special Laws Workshop for Women
Ms. Sonal Mattoo conducted a live session across all the projects for women of Ashiana, where she discussed various laws and rights that women are generally unaware of, but should know. It was a highly informative session held across all the projects and the ladies really appreciated the initiative.
Creative Craft Session
Art and craft can be really therapeutic and therapy is what everyone needs in the lockdown situation. That's why, Ms. Rohini Bhardwaj from Vrinda Gardens, Jaipur conducted a craft workshop. We also organized various craft sessions in different projects for our enthusiastic residents. They crafted things like bookmarks, wall hanging decor, pen holders and so on.
Talent Hunt
Ashiana is filled with talented people! To explore their hidden talents and to keep the residents on their feet during the lockdown we organized a talent hunt competition for the residents of Vrinda Gardens, Jaipur. Residents participated wholeheartedly and showcased their wonderful talents like painting, singing, cooking and dancing.
Painting Session:
Ms. Dhanshree Choudhary from Ashiana Navrang, Halol conducted a Spray & Salt Painting Art workshop. A lot of residents participated in this extremely creative activity, as they got to explore their passion for painting.
Basics of Chess
Supermom Ms. Joly Rath from Rangoli Gardens, Jaipur conducted a chess workshop. Everyone who attended the workshop learnt tricks and tips to play chess and gathered beginner level knowledge about the most intriguing game.on staff. People enjoyed a lot and appreciated the arrangements.
Financial Independence Session
We generally ignore the topic of finance in everyday life, but our supermom Ms. Puja from Vrinda Gardens, Jaipur conducted a session on financial independence. This session was highly informative and helped the residents understand it better.
Door Mat Making Session
Our super creative supermom Ms. Saroj Gupta from Ashiana Aangan, Bhiwadi went live on Facebook and taught the residents how to make doormat at home. Everyone did a great job and created designer doormats.
Read Less
---
Everything is Always Under Control - Thanks to Our Maintenance Team
World must be under lockdown but not the frontline workers of Ashiana. Our housekeeping staff, maintenance team and care homes staff in the society are leaving no stones unturned to look after the safety and basic needs of our residents. The teams are keeping the projects sanitized and making sure that safety guidelines are being followed without any delays and mistakes. We are also maintaining the parks and plantations so that residents can enjoy nature from their balconies. The maintenance team is doing a great job at taking special care of our seniors health and food.


Door-Step Delivery for Seniors
The whole staff of Ashiana across all the projects is keeping the seniors safe and sound indoors during the pandemic. For that we are providing home delivery of essentials like vegetables, fruits, millk, medicines, laundry and other grocery items. We deliver essentials in more than 100 flats each day. And the staff of care homes is taking their special care with extra precautions.
Regular Sanitization
When it comes to the health of our seniors we don't take any chance. In order to contain the spread of the virus Ashiana Utsav, Jaipur, and rest of the senior living projects our housekeeping & horticulture teams did their best in sanitizing. This way both, our residents and staff feel safe inside the Ashiana campus.
Indoor Fruit & Vegetable Stalls for Seniors
For the convenience of our residents we organized fruit and vegetable stalls at Ashiana Shubham, Chennai. This way we were able to provide them fresh fruits & vegetables. Proper safety and precaution were kept in mind while maintaining social distancing.
Regular Medical Checkups
The security at the gate of Ashiana Utsav, Bhiwadi and across all the other projects got extra cautious than regular. To make sure that no infected person enters the property, we conducted medical check ups of maids and other visitors. These measures were taken to ensure the safety of our residents in this critical situation.
Safety Measures
The housekeeping staff of all the other projects made sure that every corner of the project is sanitized and disinfected. They sanitized the kids library, elevators, stairs, grocery store and other places which were regularly used. The guards at the main gate were trained to do the thermal screening of every visitor to keep a check on infected ones.
Staff Training Sessions
We conducted various training sessions for housekeeping staff, maintenance staff, lobby assistants, and guards at Ashiana Anmol, Sohna and all the other projects. Since the world has never faced a situation like this, we wanted to be prepared in all possible ways to protect our residents, especially little ones. All the staff members were instructed to wear masks.
Incoming Vehicle Sanitization
Not only visitors, we also kept a check on the vehicles entering the site. A proper sanitization of every car and bike was done by spraying disinfectants at the entrance across all projects. We also instructed the vendors that the driver needs to sanitize himself before getting in the vehicle.
Hand Sanitizers Everywhere
At Rangoli Gardens, Jaipur we placed hand sanitizers at entry points like main gate, Club House Reception, etc so that whosoever enters the property can first sanitize their hands.
Touchless Dispenser
At Rangoli Gardens, Jaipur and in almost all the other projects we installed a touchless dispenser at the main gate, so that the pedestrians can sanitize their hands on their way in.
Screening At Main Entry Gate
Our security teams across all the projects are performing thermal screening of every visitor at the entry gate to make sure that no infected person enters the society. At some projects like Ashiana Tarang, Bhiwadi guards are even using IR thermometers to keep a check.
ATM Facility in the Projects
In this coronavirus pandemic going out was the last thing we wanted for our residents due to the seriousness of the situation. That's why we arranged a mobile ATM van inside Ashiana Amarbagh, Jodhpur for them. This way they won't have to step out in danger unless there's an emergency.
Touch Less Lift Access
Public places like elevators involve a lot of contact, like pushing the button and since it's a closed space social distancing is not possible. But we made this process completely touchless at Ashiana Tarang, Bhwadi by providing toothpicks in the lift for the users. This way they don't have to touch the lift button directly and the risk of infection is minimized.ttle champs.
Social Distancing at Convenience Store
Along with making sure that the essentials items like vegetables and other groceries are always available at Ashiana Daksh, Jaipur. We also took care of the social distancing guideline. Even the residents supported us in this by following these norms properly.
---
Praising the maintenance team for their hard work


At Ashiana no efforts go unnoticed! The valued residents appreciated the efforts of the corona warriors of Ashiana, our staff which is working diligently and tirelessly amid this pandemic to ensure the safety. The residents gathered and clapped for our frontline workers, and even thanked them on social media platforms.
---
Supermoms Had A Blast In Season 4
We launched the Ashiana Supermoms initiative with the sole aim to give the super talented mothers the fair share of their limelight. As expected, our supermoms took the stang and ruled it. Even in the times of the COVID-19 pandemic, they lifted the spirit of the whole Ashiana family with their creative ways. They turned digital and conducted many live sessions, this time, not only for the Ashiana family but for the world.


---
In this season, more than 1200 Supermoms across 7 cities organised up to 800 expert sessions like:
• Legal Awareness
• Meditation and Mental Immunity
• Waste management
Supermoms also conducted over 400 teaching & coaching sessions at Phoolwari schools. They also organized donation drives for the underprivileged kids.
Supermoms also welcomed new resident moms in society and helped them settle in the loving environment of Ashiana.
Supermom showered their talent on social media.There presence on Facebook and TikTok is speaking volumes about the amazing lifestyle of Ashiana. Over 20,000 social media activities were done by our Supermoms
We couldn't be more proud of our Supermoms, who are keeping the true purpose of this community alive & kicking. Hope we continue to work together and keep improving! Your suggestions are always welcome. Please write to us and let us know how we can make things better.