WHAT OUR CUSTOMERS SAY
"For us, Ashiana Surbhi is a perfect combination of lifestyle & affordable pricing"
Schools, Shopping malls & Hospitals all in close proximity will make our life convenient.
"After experiencing the lifestyle at Ashiana Greenwood, we decided to buy our second home in Vrinda Gardens "
"I am very happy with the services offered at Ashiana. Everything is so perfect and well maintained. Most importantly the return on investment has been very encouraging. Eight of my friends and relatives have booked here, and they all are very happy."
"We Like the facilities & maintenance services here so much that we have even referred (it) to our relatives."
We were looking for a dream home in Jodhpur. I have bought 3 BHK flat in Ashiana Dwarka Phase. As per the current status of construction, we will get possession in July 2021. Amenities on campus are too good like walking track, clubhouse facilities. The best thing about Ashiana is an in-house maintenance team. Work of maintenance team is excellent. Atmosphere and cleanliness of campus are so amazing.
We choose Amantran because of the space, huge club house and low density- 492 families.We can use all the amenities very easily. Ashiana not only build houses or societies,they build a community.We are very excited to get the possession and live life of at the address of a select few.
"After visiting the project, Vrinda Gardens, and seeing its open area, maintenance and facilities, we decided that this is the lifestyle we were looking for."
"We are living in Rangoli Gardens from last 2 years & quality of construction is so good that we have not faced any issues in plaster & fittings."
"Ashiana is different from other builders. Most of the other builders forget about the customer once they have sold the flat, but not Ashiana. I strongly feel that Ashiana will never leave its customers. I am always updated on all information such as events, services etc., and I feel happy that I am associated with such a builder."
The day we entered in the society the first thing came in mind is this is the place we were searching from last 2 years . All in one is the word which describes Ashiana Dwarka spacious rooms , big corridors ,green gardens , awesome swimming pool and gym , helpful maintenance team, happening place for kids to play .We are Proud residents of ASHIANA DWARKA
I went across many projects in Jaipur but always wanted a society equipped with modern amenities and low density. Ashiana Amantran is the one stop solution for all my concerns.I can proudly say that I am a part of the address of a select few!
We are living in Bhiwadi for almost 10 years. And been to several societies but experience at Ashiana Tarang is exceptionally well be it the location, amenities and maintenance. Ashiana Tarang is better in all aspects.
They originally moved in on rent but within sometime they loved the place so much that they decided to make Ashiana Dwarka their home, permanently. In their words - ' Society is the term to describe human beings living together. "Ashiana here, focuses on the real essence of a society and forms bonds with people. They provide convenience that contributes to an easy and effortless way of life in many ways, such as, the green spaces, security, management, opportunities to grow by encouraging many activities, etc. We believe, Ashiana builds communities with care."
Vrinda Gardens is high end living-a perfect combination of serenity & action.Mornings full of fresh breeze kick me off to a perfect start of the day.During the day I use the club house and other amenities and enjoy life to the fullest. Life is perfect!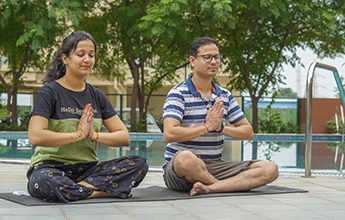 We were looking for a place where our kid can safely play and grow. And finally our search ended at Ashiana Tarang. A perfect combination of upgraded life style & open spaces. We feel safe with Ashiana.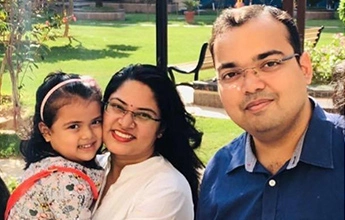 We have a daughter and both of us are working in the High Court, Jodhpur. When we were looking for a house, our focus was at good maintenance & secured society. We found all of it at Ashiana Dwarka along with a luxury clubhouse with the Swimming pool and Kids room and many more amenities for us and our daughter. And so, we were convinced to buy our home at Ashiana Dwarka.
"Looking at sports facilities and kids play area in Ashiana Amarbagh, I got convinced that Ashiana Dwarka is the perfect place for my kids to grow."
The moment we set foot in Ashiana Dwarka we knew this is where we want to live. We opened the windows and were instantly transported to lush greenery.We get our everyday needs right at our doorstep.We are now a family that looks forward to watching beautiful sunrises in our balcony every morning.
It was our dream to own a house in a place full of beauty and peace in Jodhpur.The positive vibes and aura encouraged us to start our own food business.The day we entered,we decided that agar hume apna Ashiana chahiye toh woh sirf Ashiana Dwarka mein hi chahiye.
"Safety of my family, especially my child, is very important to me, and I'm 100% satisfied with Ashiana Town. I don't have to worry about my family's safety, even when I am away from home."
I have never mind traveling 21 KMs from work just to see our daughter learning and growing in a healthy and safe environment here. I am glad to see my daughter is becoming independent and more confident day by day.
"South of Gurgaon is the most livable among the new areas because the basic infrastructure is already in place."
"We have lived in many different societies, some of them big names, but no other place lives its values like Ashiana town does. The live & Learn programme here teaches children things, no school can ever hope to teach them."
"The children of Ashiana Town are very different from children living elsewhere, because the environment here is very enriching. At any given time, there is so much happening here that we fear missing out on something or the other when we step out to go somewhere."
"As a retired Prof. of Economics, he moved to Care Homes on his own. Though able to move around on his own, he chose this facility for security reasons as well as for a hassle free life and a sense of being cared for. He feels proud to be at Care Homes and wishes to shift to Jaipur Care Homes as soon as it is launched. An avid reader, he compiled a book "Haryanvi Kahabatein" during his stay here."
"Facilities and conveniences existing in & around Utsav are planned in such a way that life will become hassle-free."
"I happen to be a patient of Spinal and Disc problems. On 23rd July, immediately after attending a programme on Legal problems in the TV Lounge,I found myself in a state of excruciating Back Pain and was not able to move an inch. Ms Manjula who was around, took note of my predicament, and Lo! what a swift action by her, at lightening speed. In no time I had by my side the Estate Manager with his team and people from Care Home, all attending to me. A special word of appreciation for Shri Raju, the Electrician, whose handling of me was so perfect that he could put to shame the best of staff in an Orthopedic clinic. Of course the normal services like wheel chair, stand by ambulance, medicines were all available. Of course I can also never forget the helping hand extended by Friends and NEIGHBOURS. Speaks of the UTSAV SPIRIT!"
In the army, I had a very active life. Through my wife's colleague from the Army Public School, we came to know about Ashiana. Once we shifted here, we found there are so many activities to do and these things are keeping us very busy. We feel there is no better place to live after retirement.
"Ashiana Utsav has been designed and built keeping the needs and limitations of elders — the entire complex is wheelchair-friendly, lifts can comfortably accommodate a stretcher, the wash basin is low enough for use by the wheelchair bound, so are the grab rails in the master bathroom; the bhajans and devotional songs from speakers make the morning walks extremely soothing…!"
"Life at Utsav is full of joy and fun. We never thought that we could live our retired life, like our college days. Friends, Hobbies, Passion, Love and what not, we got everything here, which got lost in the busy years of our life."
"The attraction of this place is so much that despite having a house in Palam, me and my wife decided to come and retire here."
They are pioneers in Senior Living and because of Ashiana, we are living a peaceful, dignified and a hasslefree life, post retirement.
"A carefree life full of freedom, dignity, health and happiness!"
Ashiana Shubham gives us mental peace knowing that there will be an ambulance available within the complex 24/7 and doctor on call services. At Ashiana Senior Living, we are going to enjoy our retired life without any tension.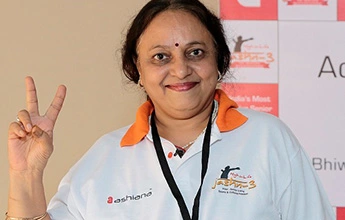 "Facilities and conveniences created in Utsav Lavasa are in a way that lead life an independent and tension free, that is too away from city's cluttered atmosphere,here a lifestyle in a beautiful and serene lush green surroundings."
"All of my daily needs are easily taken care of without me worrying about them and I'm also able to spend time in the company of like-minded people."
Ashiana Senior Living has given me life to spend my second inning happily and independently without bothering my children settled abroad.