Apna Ashiana
Vol. 18 No. 69 Quarter III > 2020
Subscribe for quarterly newsletter!
A glimpse of vibrant community we build.
From the Desk of the Jt. MD
Dear Friends,
I hope you are keeping safe and healthy.

Necessity is the mother of invention. And these tough times have taught us all a new way of looking at things. While going through this newsletter, you will see how our maintenance team has tried to keep our residents safe across all our communities PAN India. Not only this, but they also kept our residents actively engaged through online activities which would not have been even imagined earlier.

My personal favourite is the kids' band at Ashiana Umang, Kid Centric Homes (KCH), at Jaipur. The very purpose of KCH is to provide the right atmosphere and holistic development to Ashkids. Seeing it coming live in front of the eyes is overwhelming.

Nothing can take away the pleasure of face to face interaction and our team is trying to organize activities on the ground wherever possible. Together we can make it successful and therefore I urge residents to be careful when meeting in person.
Read More
Our biggest strength has always been our customers and in these tough times too you have stood tall with us. Our recent launches – Vrinda Gardens in Jaipur and Ashiana Nirmay in Bhiwadi would not have been successful without your support and trust in us. We have few new launches coming up at Ashiana Shubham, Chennai, Ashiana Daksh, Jaipur and Gulmohar Gardens shops in Jaipur. Please do get in touch with our sales team for any information you may require.

Always keep smiling!
Read Less
---
Education. The real foundation
Ashiana had taken charge of upgrading a Govt. School in Krishanpura village, Jaipur to improve the current facilities and upgrade the infrastructure.
Independence Day Celebrations
Independence Day was celebrated with great enthusiasm, at Ashiana Vrinda Gardens, Jaipur. Our children participated in different activities, and sang songs to mark the occasion.
Janamashtami fervour
Our Children put up an enthralling dance show at Ashiana Town, Bhiwadi. There was also a Janmashtami skit by children of Phoolwari, Ashiana Tarang, Bhiwadi.
Teachers Day
As a part of Teachers' Day celebrations, kids made greeting cards at Ashiana Vrinda Gardens, Jaipur. Kids, along with teachers made yummy snacks.
International Literacy Day
Parents were invited to highlight importance of education on the International Literacy Day at Ashiana Town, Bhiwadi. We also conducted learning activities for parents of Phoolwari children, Ashiana Town, Bhiwadi.
Exploring with activities
At different Ashiana projects, we conducted interesting activities. Children at Ashiana Town, Bhiwadi, were taught about working of the Solar cooker and how to make one. At Ashiana Gulmohar Gardens, Jaipur children learned musical instruments. Children also learned how to make Smiley masks at Ashiana Vrinda Gardens, Jaipur and Ashiana Town, Bhiwadi.
Read More
Fun games for children
Indoor games and fitness activities were organized for children at Ashiana Town, Bhiwadi. Social distancing was observed, as seen in the picture.
Health and Hygiene
Children were taught the importance of cutting nails and personal hygiene for healthy living, at Ashiana Gulmohar Gardens. At Ashiana Vrinda Gardens, Jaipur hand sanitization and temperature checks were carried out before allowing entry into premises.
Skill Development Programme
As we resumed Skill development programme for this FY 20-21 under CREDAI Kaushal Kendra, 3 new batches for learning mason trade was conducted at Ashiana Town, Bhiwadi and Vrinda Garden, Jaipur with 73 candidates. Trainees were handed over tool bags at Ashiana Daksh, Jaipur.
Greenery & Environment
Every monsoon gives us the opportunity to create more greenery and beautification. More than 4000 saplings were planted in and around Thada, Bhiwadi and in other locations as well. Maintenance of plantations around the Baba Mohanram Parikrama Marg, Bhiwadi and of JDA Triangles in Jagatpura, Jaipur was also undertaken.
Read Less
---
Appreciation for Corona Warriors
Our frontline warriors- the security team has shown exemplary courage throughout the Covid-19 pandemic. Residents of Ashiana Tarang, Bhiwadi, sent out appreciation cards to the team to acknowledge their hard work and thanked them for keeping the society safe by taking necessary precautions at the main gate.
An act of patience and responsibility
After Unlock-I was announced, Ashiana Aangan, Bhiwadi faced a traffic issue due to careful checking and screening at the main gate. For people who had moved out of their homes after months, it was chaotic. Mr. JP Thakur took the responsibility to manage the situation by getting resident passes made on that very day
Common Area Sanitization
Ashiana had ensured that all its projects in all cities carry out a regular sanitization process at all the common areas. Gardens, walkways, gates, and every public area was sanitized after short intervals of time.
Markings for Social Distancing
At Ashiana Navrang, Halol, social distancing markings were made as a Covid-19 precautionary measure. Square shaped markings after every one meter, depicted the distance between two individuals at common spaces.
Lamp Lighting To Encourage Staff
The frontline staff at all our projects was an epitome of courage. Despite pandemic, they performed their duties and ensured that the society is safe. In appreciation, residents of Ashiana Dwarka, Jodhpur, lit lamps and lights for their unsung heroes.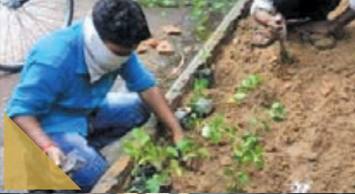 Amarbagh plantation drive
Plantation drives are often conducted in various projects of Ashiana throughout the country to keep nature green and pure. This time, it was held at Ashiana Dwarka, Jodhpur; Ashiana Gulmohar, Jaipur; and Ashiana Sehar, Jamshedpur. Residents including kids gathered around to sow seeds and plants.
Read More
Apparel store sale
For the ease of access to basic goods, a new apparel store announced its sale at Rangoli Plaza, Jaipur. Attracting a good amount of customers, the stocks were swept off soon.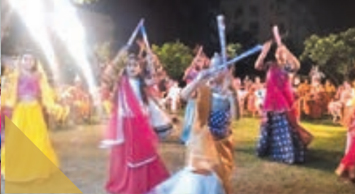 Janmashtami Mangalam for all
Janmashtami was observed at all projects of Ashiana around the country to invite Krishna's blessings. Besides, at Ashiana Mangalam, Jaipur, a dandiya night was organized for kids to showcase their dancing talent.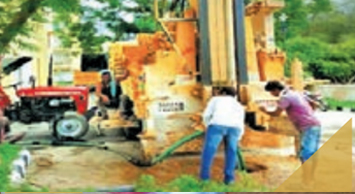 Greenwood RWH Drain Cleaning
Ashiana believes in eco-friendly practices. As a result, we have rainwater harvesting facilities at our projects. At Ashiana Greenwood, Jaipur, the RWH drain was cleaned and serviced to renew and prepare it for the next rainfall.
Initiated Security Checking
At Ashiana Sehar, Jamshedpur, security post checking began at Ashiana Trade center for the very first time. This step was taken to ensure security and safety of the people visiting.
Read Less
---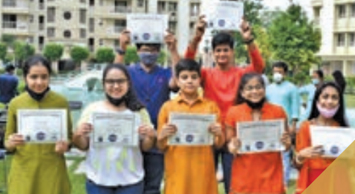 International Asteroid Search Campaign 2020
Kids from Ashiana Umang, Jaipur and Ashiana Town, Bhiwadi space club participated in IASC 2020. It is a citizen scientist program organized by the NASA. They discovered 13 asteroids as a team and were awarded certificates by the NASA for these discoveries.
Message writing on Covid-19
Even though the usual activities have been on hold. Kids at Ashiana Anmol, Gurgaon, have been doing interesting things. They were given the task of writing messages regarding coronavirus, it conveyed we can come & stand together to fight against the pandemic.
Covid-19 Awareness Campaign
A cycle rally was organized at Ashiana Town, Bhiwadi, where kids held slogans and rode their bicycles in the society premises, creating awareness among residents regarding COVID 19 precautions. They also made a shout out for staff members that included slogans like "Guard Uncle jo mask na lagaye use ghar bheja jaye".
Outdoor chess competition
With an interesting twist to the indoor game of chess, an outdoor chessboard was set up at Ashiana Umang, Jaipur. This was a welcome change for kids and improved the gaming spirit of residents in times of Covid.
Fairy Tale Flip
Kids at Ashiana Town, Bhiwadi, were dressed up in the signature attire of their favorite fairy tale character and participated in a virtual ramp walk on the theme songs of barbie and fairy movies. For parents, it was an adorable virtual visual treat.
Kavi Sammelan
The online poetry event saw a great turn up with enthusiastic participation from residents. It was organized in 3 Kids Centric Homes projects. Ashiana Anmol, Gurgaon, Ashiana Town, Bhiwadi and Ashiana Umang, Jaipur. All participants were awarded certificates.
Read More
Ganesh Chaturthi clay-modeling session
On the occasion of Ganesh Chaturthi, kids of Ashiana Town, Bhiwadi, played with clay and water to sculpt out a Ganesha model and displayed their work for residents to see.
Music Club Session
To prepare for the Independence Day celebrations, kids at the music club of Ashiana Umang, Jaipur, practiced regularly. It also helped them in polishing their musical skills.
Yummy-Tummy
Special dishes were cooked and prepared by kids. They offered these to their parents. The event held at Ashiana Anmol, Gurgaon helped kids to enjoy and appreciate food while spending time with family
National Sports Day Celebration
National Sports Day'20 was celebrated at Ashiana Town, Bhiwadi, where kids participated in fitness activities. These included a warm-up, huddle race, and relay race as per their age groups. The sports day was a real excitement for kids after lockdown.
Read Less
---
Health insurance is a must
In the time of pandemeic, one thing we realized is to have a health insurance cover. That's why we conducted a health insurance session on Zoom for the residents of Ashiana Shubham, Chennai.
New Bandhans, new relationships!
At the time of Rakhi, many of the staff members at Ashiana Utsav, Lavasa, could not go to their homes, so we planned a surprise celebration for all the staff.
Busting Covid Myths!
A webinar was conducted at Ashiana Utsav, Lavasa, with Dr. Sushrut Ganpule (Pulmonologist) of Jupiter Hospital, Baner, Pune. Dr Ganpule answered the questions of our residents and cleared many misconceptions.
Murgi chor, knock at the door !
After lockdown, first on-ground activity started with Tambola at Ashiana Utsav, Jaipur. Social distancing was practised and 11 residents participated in the activity
Chair Yoga for Seniors
At Ashiana Utsav, Jaipur, we have been conducting Chair Yoga classes. It's a great and easy way for Seniors to mingle for healthy life. Our residents were enthusiastic participants in this activity.
Dance with exercise !
In this pandemic, exercise was important for everyone, especially for senior citizens. Then why not do it in a fun way with dance moves. At Ashiana Utsav, Bhiwadi, Ms Amita Shaw and Mrs Meenu Sethi did 3 dance performances, in which they demonstrated how we can exercise to music.
Read More
Vaastu Yantras!
Despite Covid -19, the residents of Ashiana Shubham have been following their active lifestyle. They have made use of the virtual space to do so. Our resident, Mrs Usha Vishwanathan gave a session on 'Vaastu Tips for a Better Life'. She used YouTube as her medium to express her thoughts and views.
Spirituality upliftment
At Ashiana Nirmay, Bhiwadi, every Tuesday we organized spiritual activities, such as recital of Hanuman Chalisa, Ram Amritwani, Bhajans, Aarti etc. Residents really enjoyed this activity, and prasad was also ditributed.
Ganesha gives us joy
23rd August, onwards we organized an Art and craft session on the occasion of Ganesh Chathurti in Ashiana Nirmay, Bhiwadi. We made Lord Ganesha's idols with clay. Our ladies had a great time.
Music is the best therapy
On 28th August we organized a Musical evening at Ashiana Nirmay, Bhiwadi, hosted by Mr. Ashish Munjal 10-12 artists performed on this occasion. Over 80 residents enjoyed this musical evening, along with all precautionary measures and social distancing.
Read Less
---
Enhancement of fine motor skills
At Ashiana Utsav, Bhiwadi we conducted special set of activities to boost our resident's fine motor skills. It included pulse sorting, water transfer, coloring with crayons, folding the newspaper etc.
Independence Day Celebration
The spirit of all, at Ashiana Utsav, Bhiwadi was like a canvas of colors, of patriotism and enthusiasm on Independence Day. Care Home residents and staff presented a performance and sang a patriotic song during flag hosting.
The Bond of Protection– Rakshabandhan
This perfect day for the celebration of selfless and pure relationship between a brother and a sister was celebrated with full excitement at our Ashiana Utsav, Jaipur. Despite the pandemic situation, we have just not taken care of the resident's emotions, but also ensured that no resident is deprived of the joy to celebrate this sacred bond. So, we along with our family of residents made all arrangements to celebrate Rakhi in care home itself and it was indeed an emotional moment for all of us
Janmashtami
The birthday of "Lord Shri Krishna" was celebrated at Ashiana Utsav, Bhiwadi, that placed us all in the haven of Krishna's blessings and security in these uncertain times. We began with puja and special Aartis were also performed. Bhajans were sung enthusiastically in the praise of Lord Krishna by the Care home residents. Prasad was distributed after completing the worship.
You're Never Too Old to Celebrate!
Birthday celebrations filled with fun and frolic took place at activity center of Ashiana Utsav, Jaipur. Mrs. Indira Bhatt and Mrs. Shanti Singh celebrated their birthday with fervor and joy. Cake cutting ceremony followed by snacks was enjoyed by all the residents and staff. We wished them a long & healthy life
---
Supermoms Activities Season 5
Supermom Mita Dhobal, welcomes a new resident, Mrs Divya Sharma to Ashiana Anmol, Sohna. Mita has also conducted a donation drive in the society.
Online Teej Celebrations by Supermoms Chandana and Kavita, in Jamshedpur. Our Supermoms dressed up in traditional green attire and enjoyed online Teej celebrations!
Ashiana Supermoms Welcoming new residents in Ashiana Anmol, Sohna
Supermom Chandana Sharma organised on-line classes at Ashiana Gardens Sonari, Jamshedpur
Supermom Archana Tomar makes people salivate at Ashiana Green Hills, Neemrana
Supermom Chandni Kumari building bonds at Ashiana Town, Bhiwadi
Read More
Supermom Minakshi Mahajan spreading rainbows at Ashiana Aangan, Neemrana
Supermom Aayushi Goyal inspiring kids at Ashiana Aangan, Bhiwadi
Supermom Pratibha Dwivedi makes her presence felt at Ashiana Green Hills, Neemrana
Supermom Rakhi Mahajan makes mouth water at Ashiana Town, Bhiwadi
Read Less
---
---
Going Extra Mile
Digvijay, Anubhav & Mohd. Shameem/Construction Aditya & Sehar – Labours were arranged from Katihar, but as there were no direct trains from Patna to Tatanagar, Digvijay & Anubhav coordinated and brought the labours via Gaya on train and Mohd. Shameem went to Patna and arranged car to bring the labours by road. All arrangements were made to keep these labours in quarantine at Maine plaza, where supervisors and foremen were taking care of them. Going Extra mile.
---
Q1. In which of the projects did the residents light their lamps and house lights to applaud the unsung heroes and frontline staff during the lockdown?
a. Ashiana Navrang
b. Ashiana Dwarka
c. Ashiana Anmol
Q2. A COVID awareness campaign took place in Ashiana Town through which of the following ways -
a. Cycle Rally
b. Online session
c. Messages on WhatsApp groups
Q3. Which 2 ladies taught us to dance with exercise in Ashiana Utsav, Bhiwadi?
a. Amita Shaw & Meenu Sethi
b. Anita Shah & Manju Sethi
c. Anvita Shah & Maaru Sethi
Instructions -
This is how you send the answer. If you think the answers are:
Question 1. (a)
Question 2. (b)
Question 3. (c)

Then SMS - AHL
1a 2b 3c and send to 56677
Winners will be chosen from
all-correct entries by a lucky draw.