Apna Ashiana
VOL.20 | NO. 71| QUARTER I & II | JAN-JUNE 2021
Subscribe for quarterly newsletter!
A glimpse of vibrant community we build.
From the Desk of the Jt. MD
Dear Friends,
I hope you are keeping safe and healthy.

I hope you and your family are keeping safe. I request all of you to follow COVID-appropriate behavior and protocols and get vaccinated. This is essential if we are to save ourselves from this pandemic. Due to the 2nd wave of the pandemic, we skipped a quarter. It's a relief that things are getting better and life has started getting back to normal. The vibrancy in our projects has always been a key factor and I am glad to see so many events and activities taking place with safety protocols being followed.

Read More
I am pleased to share some highlights of the last 6 months:
• Jashn-7: The Inter-Ashiana Senior Sports & Cultural festival was streamed online
• Ashiana Nirmay, Bhiwadi and Ashiana Dwarka, Jodhpur were successfully launched
• Occupancy in Ashiana Anmol, South of Gurgaon has reached 175 with very few units left
• Our sales target of 1100 units for last year was achieved despite the troubled times
• COVID vaccination was organized for our Senior Living residents.

Our theme for the year is NEED FOR SPEED to ensure timely delivery. Despite a lot of challenges like a shortage of labour and material, our team is confident that we will be able to catch up and deliver our products to our consumers on time.
Another bit of great news is that we have signed new land deals in Gurgaon and Pune and we are all excited about creating homes in these new locations. I thank you all for your consistent love and support. With my best wishes to you and your families,
Ankur Gupta
Read Less
---
Highlights of the Quarter
Ashiana Nirmay, Bhiwadi
Started the New Year with our Temple Inauguration.
Jashn 7
Seniors witnessed the thrill of our cultural extravaganza online.
Ashiana Aditya, Adityapur Jamshedpur
Phase II launched successfully, sold out in just 12 days!
Read Less
---
Health & Hygiene at Phoolwari
Maintaining health and hygiene was the need of the hour to keep the premises safe for children. We followed procedures and a healthy routine with physical activities and games to ensure kids' fitness levels.
Welcoming the Spring Season
The kids held on to the moments of joy and festivity by celebrating Makar Sankranti & Lohri with great energy. Clad in cultural attire, dancing around the bonfire, and flying kites, they enjoyed every bit of it.
Holi - The Festival of Colours
Keeping the festive spirit alive, children at Phoolwari played "Phoolon ki Holi", spreading love, color, and joy, evoking a sense of community amidst the pandemic.
The Learning Never Stops
Encouraging kids to pursue their innate curiosity to learn, we introduced new concepts through various activities & experiments each month. Sink & Float, learning about the Solar System, and Planet Earth were just a few of the highlights.
Certification Ceremony
Each year children from Phoolwari are enrolled in Government Schools for elementary education. This year too, with a need to secure their future, 38 kids from Jaipur & Bhiwadi were presented certificates & promoted to the next grade.
Infrastructural Development
With a need to provide a better environment for kids, we selected 2 new Government Schools in Keshopura & Jhai village, Jaipur, to renovate & upgrade the structure of the old buildings for better classrooms, washrooms & more.
Read More
Preserving Mother Earth
Earth Day & World Environment Day were celebrated with high enthusiasm in Phoolwari. Planting saplings, making paper bags, and small pots from waste products helped the kids understand the need to save the environment.
Honouring Fatherhood
Kids expressed their love for their Dads by making cards and crafts items in celebration of Father's Day. With most fathers visiting Phoolwari on this special day, the kids were thrilled to showcase their creativity for their loving Dads.
Act Now, End Child Labour!
Creating awareness of the harmful mental & physical problems faced by kids forced into child labour is an absolute necessity. We observed World Day against Child Labour by organizing a special session for kids to understand its significance, followed by a creative activity expressing the thought of "Saying NO to Child Labour".
Read Less
---
Off to a Great Start
The year began on a great note at the Jodhpur location, with our projects Amarbagh Agneepath & Dwarka Deewar receiving a SUPER HIT Score of 42% NPS on the Delight meter by our customers.
A Salute to our Nation
Emerging stronger in 2021 was no mean feat. Honouring our spirit to overcome obstacles, Republic Day at Gulmohar Gardens was celebrated with enthusiasm by participating in events like musical chairs, singing & fancy dress competition.
Let the Games Begin
With the need for Health & Fitness at its peak, our maintenance team at Ashiana Mangalam organized a badminton tournament. All geared up for glory, residents from all age groups participated, right from the Qualifying Round to the Knockout stage.
Read More
Vaccination Drive at Jodhpur
After a year of turmoil & uncertainty, it was finally time for the inoculation drive to begin. With a need to get vaccinated to make India corona-free, all our senior employees actively participated in & promoted the Covid-19 vaccination drive.
Cheers to New Beginnings
Although faced with hardships, our Construction team embraced new challenges with the new borewell installation at Ashiana Greenwood, right from borewell point identification, survey, drilling & final installation.
Repairing the Damage
As we entered the second quarter of the year, there was a need to alleviate our customers' concerns, starting with the repair of the Pal Sangriya Link Road. Led by Mr. Amit Surva Dutta, its completion brought a wide smile to our residents' faces.
Read Less
---
Crafting their Heart Out
Making learning a joyful experience with hands-on activities in our Art & Crafts workshop was a hit among the children, as they enthusiastically explored their creativity with abstract crafts in Ashiana Anmol.
Personalized Fun for Little Geniuses
Every child has different talents & aspirations, and honing them gives us immense pleasure. With the formation of various clubs, such as Eco Club, Space Club & Public Speaking Club, each kid got a chance to discover their uniqueness in Ashiana Anmol.
Celebrating the Sweetest Bond
If the last year has taught us anything, it's that family is everything. In the spirit of this special bond, Family Day was celebrated with tons of moments captured with Ashiana residents.
Read More
Eat, Sleep, Camp. Repeat.
The summer fun began with an online Summer Camp for our Kid Centric Homes. With interactive activities such as DIY Craft, Zumba, Yoga, Edible Craft & more, the kids enjoyed a fun learning experience, bringing in a much-needed dose of joy & normalcy.
Memories that Last a Lifetime
To bring in some excitement amid the lockdown, we conducted various meaningful activities such as Madhubani Art, Basics of Theater, Freestyle Dance, and DIY activities to keep the kids engaged within the comfort & safety of their home.
Yoga Therapy for the Soul
With the need to maintain health & hygiene now more than ever, we organized a session adhering to precautionary measures on International Yoga Day, with 40+ residents - kids & adults alike, participating at Ashiana Anmol.
Read Less
---
An Auspicious Start
We kicked off the year on a positive note with the Temple Inauguration at Ashiana Nirmay, Bhiwadi. The 3-day event saw 150+ residents enjoying pooja & spiritual activity every day.
Keeping Traditions Alive
With the need for a sense of security & continuity, we organized a Special Edition of Jashn, our annual senior living festival. The event was held online, with activities such as singing, dancing & ludo, garnering participation from 450+ residents & 1400+ viewership on Facebook Live.
Health is Wealth
We organized a Health Camp for residents of Ashiana Nirmay with the help of ANOWA. 120+ residents availed of the free-of-cost services provided by Cygnus Hospital's team (Rewari), including their cardiologist, ortho & general physician.
Read More
Developing Essential Life Skills
For us, the safety of our residents is our top-most priority. In order to build essential life skills to be prepared in an emergency, we organized fire safety training for residents & staff of Ashiana Shubham.
Embracing the Flower Power
Residents of Ashiana Utsav, Bhiwadi, celebrated Holi with flowers whilst singing and dancing in the merriment. A play depicting Krishna Leela was organized at the temple with beautiful performances by the artists.
Fueling the Culinary Fire
Getting some relief from Covid-19 gave us a chance to celebrate small victories & we made the most of the opportunity by organizing a Chaat-making event, following safety precautions, to awaken the inner chef of our residents at Ashiana Utsav, Lavasa.
Read Less
---
The Celebration Goes On
Life is meant to be lived as a celebration & each resident is special to us. Mr. Jagdishwer Bhatt celebrated his birthday with fun & frolic at our Activity Center. The cake cutting ceremony accompanied with bouquets & snacks made the occasion even more special.
A Work of Art
With seniors embracing new ideas wholeheartedly, creativity is a given at our Care Homes. The residents created beautiful artwork with activities such as paper pasting, clay modeling & thumb impression. Such talent & confidence never fails to add a smile to our faces.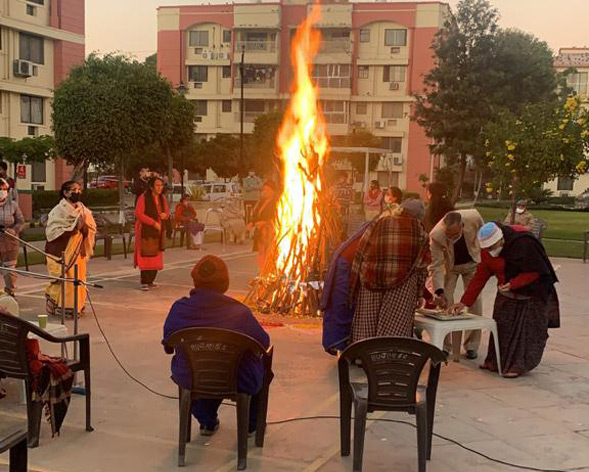 Illuminating our Lives
After a tumultuous year, Holika Dehan added a ray of happiness among our residents. Full of energy & enthusiasm, Care Homes & Ashiana Utsav residents gathered to watch the ceremony & indulge in delicious snacks, while our staff took care of all security aspects.
---
Hacking Happiness Chemicals
The happiness quotient was at an all-time high as we conducted a virtual session on identifying the stressors & anxiety to develop a positive attitude for productive outcomes while working from home.
Emotional Well-Being Through Mindfulness
While mindfulness has been around for years, the need for it has accelerated in the current times. Our insightful session helped employees practice mindfulness exercises for emotional wellness.
Modifying Lifestyle In The New Normal
The new normal posed many challenges for our teams working on-ground. With the need to maintain a stress-free lifestyle, we helped our teams with coping strategies with an insightful virtual session.
Service Excellence Program
Delivering excellence in service is no longer a choice but a necessity. Our training helped employees get insights into customer retention, reduced complaints & consolidation to customer needs.
---
We hosted our award ceremony - Supermoms Season 5 Finale, online where Mr. Ankur Gupta, JMD, honoured our Season 5 winners for their achievements. A special shoutout to our Pan India Winner, Chandana Sharma from Ashiana Gardens Sonari Jamshedpur for her unparalleled contribution to multiple initiatives.
A poster-making competition to raise awareness about water conservation was organized for the kids & their masterpieces were displayed throughout the society.
A Donation Drive was organized by Supermom Babita Pathak at Ashiana Brahmananda, Jamshedpur.
Supermom Kavita Ashish welcomed new residents with open arms at Ashiana Brahmananda, Jamshedpur.
Supermom Poonam Singh from Ashiana Umang held an Etiquette session on Work Ethics & taught the digital payment process to our maintenance team.
An on-ground session on Women empowerment was conducted by Super-Active Supermom Manju Johari from Rangoli Gardens, Jaipur.
Read More
Supermom Renu Mittal from Ashiana Dwarka, Jodhpur put together some delicious Rajasthani Bafla Batti for our Zoom Cooking Session.
The successful Distribution Drive led by our supermoms at Phoolwari School put a smile on the kids' faces.
Super-Active Supermom Indu Lodha from Ashiana Dwarka, Jodhpur prepared some delicious Marwari Special Stuffed & Sukha Gutta, Khariya & Dhokla.
An arts & crafts session conducted by Supermom Ranjana Sinha from Ashiana Navrang, Halol, brought out the creative side of our talented kids.
Supermom Shobhana Garg from Ashiana Aangan, Neemrana, led many creative activities, from arts & crafts to poster making.
Thank You cards were given to the maintenance team for their impeccable service, by our Supermom Reshu Malik, from Ashiana Aangan, Neemrana.
Supermom Chandni Kumari organized a Cleanliness Drive to ensure utmost hygiene at Ashiana Town, Bhiwadi.
Read Less
---
---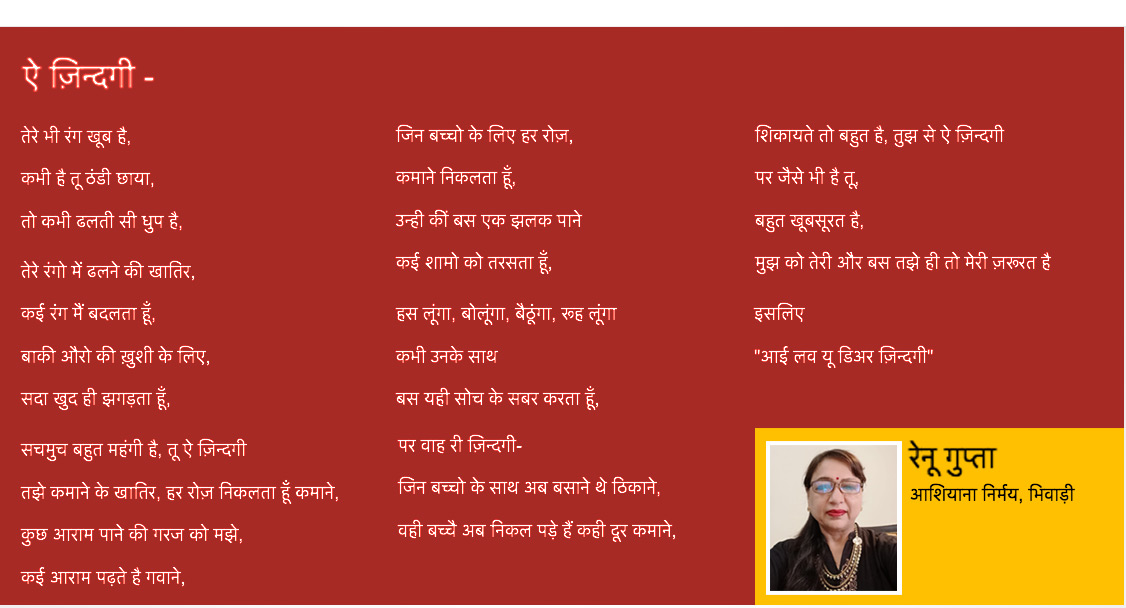 ---
Going The Extra Mile
A special thank you to the entire maintenance team for going above & beyond their routine work to help the residents with daily health check calls, delivery of food & medical supplies as well as house sanitization while following necessary protocols. We're truly grateful to the entire team for all their efforts!
Instructions
Here's how to send your answers for the Quiz!
If your answers are
Question 1 (c)
Question 2 (b)
Question 3 (a)
Then send an SMS to 56677 - AHL 1c 2b 3a
Winners will be chosen via a lucky draw!
---
Q1. The Supermom that emerged as the Pan India Winner in our Season 5 Finale belonged to which property?
a. Gardens Sonari, Jamshedpur
b. Ashiana Aditya, Jamshedpur
c. Ashiana Sehar, Jamshedpur
Q2. Our Phase II launch of Ashiana Aditya, Adityapur Jamshedpur successfully sold out in how many days?
a. 10 days
b. 12 days
c. 14 days
Q3. From which location did two of our projects receive a SUPER HIT Score of 42% NPS on the Delight meter?
a. Jaipur
b. Bhiwadi
c. Jodhpur

Name of the last winner
Dr. D.P Jain, Ashiana Utsav, Bhiwadi