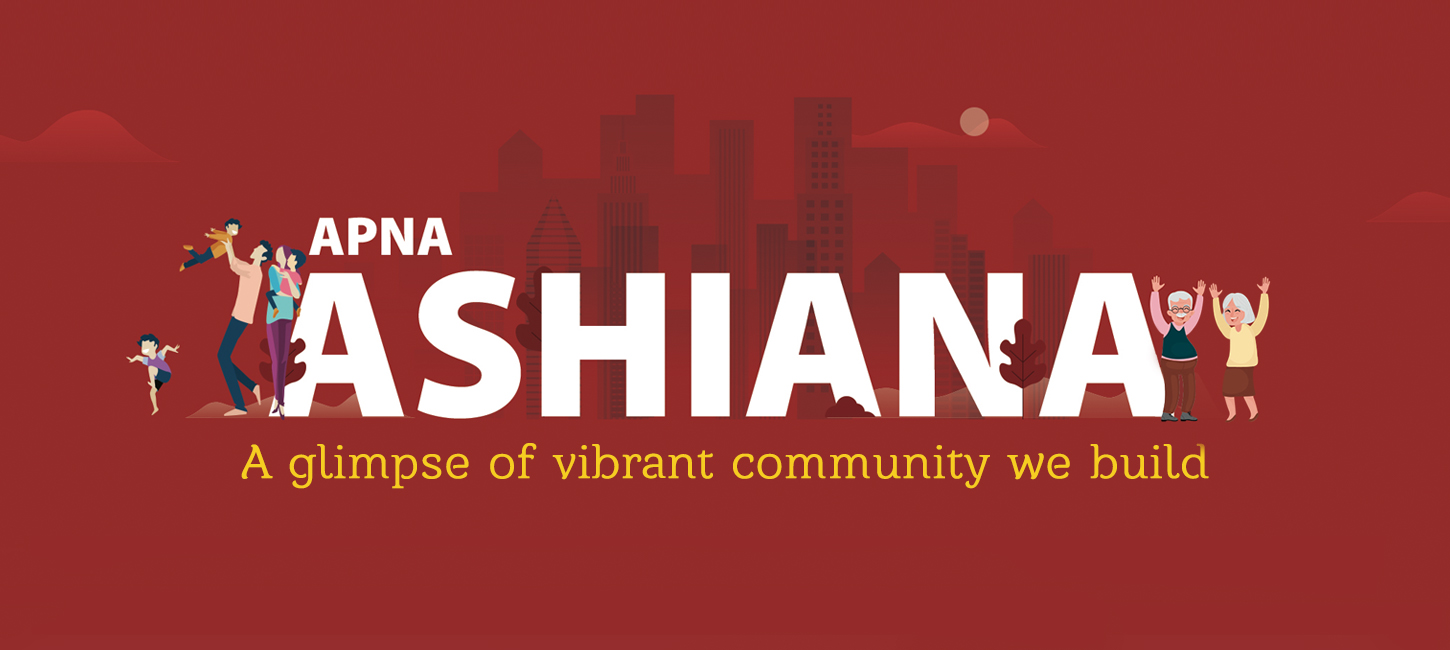 apna ashiana
Vol 17 | No. 64 | April - June 2019
Subscribe for quarterly newsletter!
A glimpse of vibrant community we build.
FROM THE DESK OF THE JT. MD
Dear Friends,
We missed you and hope you did too. It's been long since we have come up with Apna Ashiana and a lot has happened all this while. The year gone by has been a year of learning and getting prepared for this year.
This year we are entering into some new locations and expanding where we already are (Gurgaon, Pune, Bhiwadi, Chennai, Jaipur, and Jamshedpur).
After the pandemic, we are finally back to offline activities. Great to see vibrancy in the projects with so many new events. In Kid Centric Homes, excursions to language and IQ tests, science experiments to movie marathons. In Senior Living, from ludo competition to brain gym, poetic compilation to readers club. Supermoms organised a new year's celebration to kids jodi competition, donation drives to classical dance and crafts. Nothing can give me more pleasure than seeing you all enjoying the spaces which we have created.
Read More
Another interesting development happening is around Bhiwadi and great to see infrastructure plans and the government's focus to make Bhiwadi a better city. Please do read all the infra work which is happening in Bhiwadi.
Ashiana family is growing bigger with so many new people joining us. It's great to have a team which is motivated and always thriving to make a difference in people's lives.
Together let's make our society a better place to live in. Always keep smiling!
Ankur
Read Less
---
The construction of Bhiwadi Mod
Ashiana Amantran, Jaipur
Phase III launched successfully, with 103 registrations and 80 bookings achieved.
Ashiana Nirmay, Bhiwadi
The handover of Phase III went smoothly, resulting in 21+ successful handovers.
Bhiwadi Infrastructure Development
Bhiwadi saw a lot of proposed updates, from Bhiwadi Mod to Kapriwas Chowk at NH-48, Mansa Chowk & more.
Read Less
---
Upgradation at Govt. Schools
Maintaining health and hygiene was Inauguration events were held to mark the new beginnings of two new Govt. schools in Jaipur as we helped develop their infrastructure w.r.t the building, washrooms and proper classrooms.
Holi: A Colourful Affair
Being the most colourful and vibrant festival of the year, Holi brought a lot of fun and excitement to the children, from playing with colours and participating in dance activities to fun-filled games drawing colourful posters and sharing delicious sweets.
Honouring the Freedom Spirit
Patriotic fervour was high with the Phoolwari staff and children on Republic Day. The celebrations rang high with a variety of cultural programmes such as craft, rangoli and tricolour badge making.
Annual Day Celebration
Children of Phoolwari came forward to exhibit their talent beautifully under the theme: 'Importance of Community Helpers'. Various competitions were organized to encourage participation.
World Water Day Awareness
Phoolwari children learned about the importance of water as elders shared their experiences and tips to save water, acting as role models through a fun learning event.
We Never Stop Learning
As a part of fun-filled learning, various small science experiments and fascinating facts about the solar system and our planet were introduced to the Phoolwari children.
Read More
Welcoming the Spring Season
Makar Sankranti, Lohri and Pongal were celebrated with full fervour as Phoolwari children decorated their classrooms, made jaggery and sesame ladoos, engaged in craft activities, danced around the bonfire, sang songs and flew kites.
Skill Development
We completed 5 new skill development batches consisting of 127 workers, including 78 men and 49 women in Asst Mason trade at Ashiana Aditya - Jamshedpur, Ashiana Daksh - Jaipur, Ashiana Amantran - Jaipur and Ashiana Town - Bhiwadi.
Read Less
---
Vaccination Camp
To fight against coronavirus, we had arranged a vaccination camp in Ashiana Dwarka to administer vaccines to eligible residents that weren't completely vaccinated. The camp saw participation from Ashiana Amarbagh residents too.
Supermom Activity
A meet-up was organized by our Supermoms at Ashiana Dwarka, Jodhpur, which not only made the project more vibrant and enjoyable but also encouraged more residents to join the Supermoms community.
Holi Celebration
The two-day festival - Holika Dahan followed by the festival of colours was very well enjoyed by residents and staff of Ashiana Dwarka & Amarbagh alike, as we filled the life of Phoolwari kids with colours and spread smiles with pichkaris.
Swachh Survekshan Certificate
Ashiana Anantara, Jamshedpur was awarded the first prize and a Swachh Survekshan Certificate for its hygiene initiatives.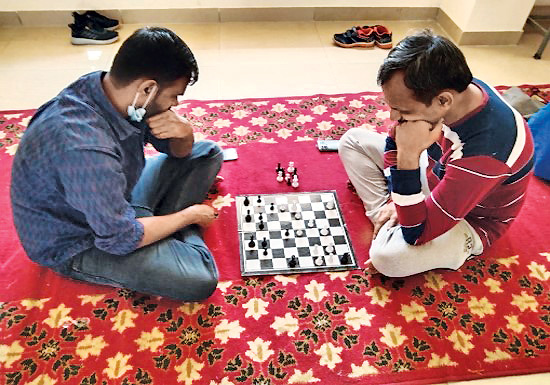 Carrom & Chess Competition
We organised a Carrom & Chess Competition in Ashiana Village, Bhiwadi that saw participation from 20+ residents/kids and 70+ spectators. It helped inspire children and residents to come out of the world of technology and enjoy the real game.
A Salute to our Nation
TResidents and staff of Vrinda Gardens took part in Republic Day celebrations with full patriotism, which entailed flag hoisting, singing the national anthem and remembering our freedom fighters followed by sweet distribution.
Read More
Ashiana Amantran Phase III Launch
The Phase III launch of Ashiana Amantran saw 103 registrations and 80 bookings of the 224 residential units.
Makeover Power
We underwent a makeover and modification of the sales office at Ashiana Tarang, Bhiwadi.
The Tenant Carnival
Our Bhiwadi sales team organised a Tenant Carnival at Ashiana Aangan on the 26th & 27th of March 2022.
Read Less
---
Hip Hop Dance Workshop
A hip-hop dance workshop was organised at Ashiana Umang, Jaipur especially for the junior ages.
Mental Health Awareness Workshop
A mental health awareness workshop was conducted for kids and parents in association with "MindOn" - mental health gym at Ashiana Umang, Jaipur.
Movie Marathon
A one-day movie marathon featuring movies like Wall-E, Inside Out and Diary of a Wimpy Kid was organised for kids of different age groups to inculcate social and emotional learning.
Book Club Meet
The kids' book club held an online session on how to develop reading habits where book lovers shared their experiences and motivated others to pursue reading.
Educational Newspaper for Kids
We started The Hindu - Young World, an educational kids newspaper subscription in the Reading Hub on popular demand.
Cool Science Experiments
On the occasion of Science Day, kids performed cool science experiments such as Baking Soda Volcano, Density Tower, DIY Slime, etc.
Republic Day Creativity Challenge
We invited kids to show their creativity in the form of art, dance, and poetry recitation on the occasion of Republic Day.
Vasant Panchami Celebration Newspaper for Kids
Kids celebrated the day of Vasant Panchami with morning prayer to Goddess Saraswati and by engaging in music & poetry at Ashiana Umang.
Language & IQ Test by BrainTonica
Edtech BrainTonica conducted a Language & IQ test for students of classes 6th to 10th, granting scholarships to the top scorers.
Read More
Story Read Aloud
Kids of Ashiana Umang read their favorite stories in the Reading Hub & explained them to the Book Club.
Magic Show
Kids love magic and so, we conducted an exciting magic show to ignite the kids' creative side.
Spring Crafts Workshop
An engaging workshop on springrelated crafts was organised for Ashiana Umang kids for hands-on learning.
Storytelling & Poetry Recitation
We organised a storytelling and poetry recitation competition in collaboration with DR Radhakrishnan Public School, Jaipur for the kids.
Learning Evolution: Darwin's Day
Kids of Ashiana Umang learned about Charles Darwin and his theory of evolution through interactive games and worksheets.
Guitar Workshop
Guitar Music Academy conducted a guitar workshop and open jam session to fuel the love of music in kids.
Holi Utsav: Cultural fest
A talent showcase event was organised on Holi, with performances ranging from group dance to drama and traditional ramp walk.
Plantation of Summer Kitchen Garden
Ashiana Umang's kids planted a summer kitchen garden. The plantation beds were maintained and watered by Eco Club volunteers.
Origami Workshop
Paper folding is an art and origami makes this art come alive. We conducted a session for kids to learn this very special art.
Lawn Tennis Tournament
To keep the sporting spirit alive, we organized a Lawn Tennis Tournament in Ashiana Town, Bhiwadi which saw participation from 40+ players and 190+ spectators. The winners and runners-up were awarded trophies and co-coordinators were facilitated with gifts for their contribution.
Jaipur Roller Skating Championship
Naksh Prajapati, our skating champ, won a bronze medal in the Jaipur Roller Skating Championship in the Under 6 category
STEM Club: RFID Enabled Book Issuance System
STEM Club Head, Divyam Singh - a 14-year-old kid, created an RFIDenabled book issuance system for the Reading Hub.
Kudo 12th National Tournament
Ashiana Town kids: Shaurya Awasthi & Aradhaya Yadav, brought laurels to the family by winning gold medals in the Kudo 12th National Tournament held in Solan, Himachal Pradesh. Our maintenance team and residents organised a warm welcome for the winners to celebrate their achievement.
Excursion to Jaipur Literature Festival 2022
Kids visited the most hyped literature fest and experienced lectures from famous authors like Shashi Tharoor and Smriti Irani while also getting to meet & greet musician Shekhar Rijhwani.
Organic Manure and Summer Vegetation Workshop
Kids learned about the making of organic manure and summer vegetation through yet another informative workshop.
Dog Show
Milo was awarded a Certificate of Appreciation and the 1st Junior award in a Dog Show, after previously bagging many awards as well.
Read Less
---
Brain Gym Session
We gave weekly brain gym puzzles to the residents to solve which saw active participation from many
Theatre Performance by Residents
Ashiana Nirmay residents gave a theatre performance on "Parda uthne se pehle", directed by Ms. Usha Nagpal, which was seen by 120+ attendees.
Republic Day Celebrations
A flag hoisting ceremony kickstarted our celebrations at Ashiana Nirmay, Bhiwadi which was followed by singing and musical performances. We also distributed snack packs organised by the café team at Ashiana Utsav, Jaipur.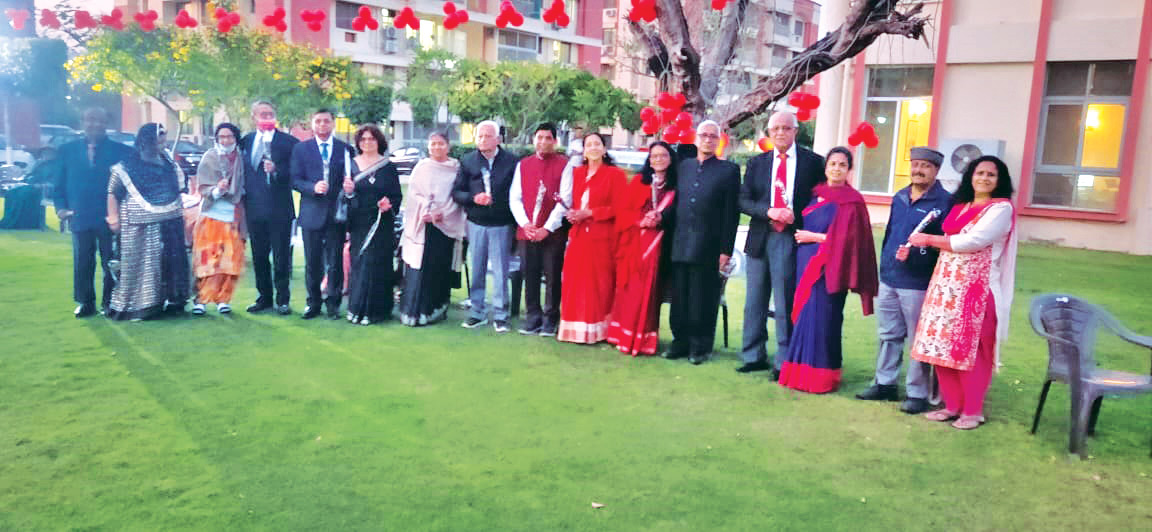 Valentine's Day Celebration
Ashiana Nirmay, Bhiwadi Residents celebrated Valentine's Day in the amphitheatre, reveling in music and dance including the Salsa. The day of love celebrations continued with our staff distributing red roses and chocolates to the residents of Ashiana Utsav, Bhiwadi.
Vasant Panchami Celebration Workshop
The Ashiana Nirmay Temple was decorated to mark the celebrations and a small Saraswati Ji statue was placed for the puja and bhajan kirtan, which was attended by 40+ residents.
New Year Celebrations
We rang in the New Year with a new start by indulging in an eve full of singing and dancing with our Utsav Bhiwadi residents.
Vaccination Camp
A vaccination camp was organised to administer booster shots to residents. 70+ residents were vaccinated in a single day, following a proper system.
Navratri Celebration
The auspicious occasion of Navratri and Ram Navami was celebrated with full vigour and enthusiasm by our Ashiana Utsav, Lavasa residents partaking in dance and puja. We also hosted a Bhajan program in the mandir at Ashiana Utsav, Bhiwadi where 150+ residents reminisced over the significance of the festival daily over 7 days. It was enjoyed by all as they indulged in the festivity over sweets.
Kitty Party
Lunch and snacks kitty parties resumed after almost two years in Ashiana Utsav, Jaipur, where ladies got to gather for fun games with their friends and neighbours.
Rajasthan Diwas
We celebrated Rajasthan Diwas along with our month-end party which saw residents clad in Rajasthani traditional attire, indulging in the famous Dal Bati Churma.
Cookery Show
Chef Ashim Das demonstrated how to create Spinach Cannelloni, Khaman Dhokla Roll and the showstopper Kulhad Chai in a cookery show organised for our Utsav Jaipur residents.
Ludo Competition
12 residents participated in a ludo competition, keeping the sportsman spirit alive with their positive attitude.
Read More
Pool Competition
A pool competition was organized in the Nirmay clubhouse, seeing 24+ resident participants in high spirits.
Meditation Program
A meditation program was organised for residents in the multipurpose hall at Ashiana Nirmay, where 25+ residents indulged in calmness and peacefulness.
Rajasthani Themed Month-end Party
We bid February adieu with a 'Rajasthani' themed Month end party organized at the Ashiana Nirmay Multipurpose Hall, which saw residents clad in Rajasthani attire, participating in programs like the ghoomar
Holika Dahan
A Holika Dahan program was organised in the Ashiana Nirmay amphitheatre where a pandit initiated the puja, which was followed by fun games and great food at stalls.
Holi Program
Our Ashiana Nirmay Holi celebrations were kickstarted with performances by trained dancers, followed by activities such as rain dance by the pool and food counters for the residents to enjoy.
Ramp Walk
We organised a ramp walk session, teaching the steps and expressions, which saw participation from 40+ residents who loved the new learning experience.
Audiometry Test
Sinwave Hearing Team conducted an audiometry test for the residents of Ashiana Shubham, Chennai, providing their services to those interested in getting their hearing power checked.
Punjabi Themed Month End Party
The end of March was celebrated with a 'Punjabi' themed party in the Multipurpose Hall at Ashiana Nirmay, Bhiwadi. 170+ residents enjoyed the boliya, gidda, and bhangra all dressed up in Punjabi attire.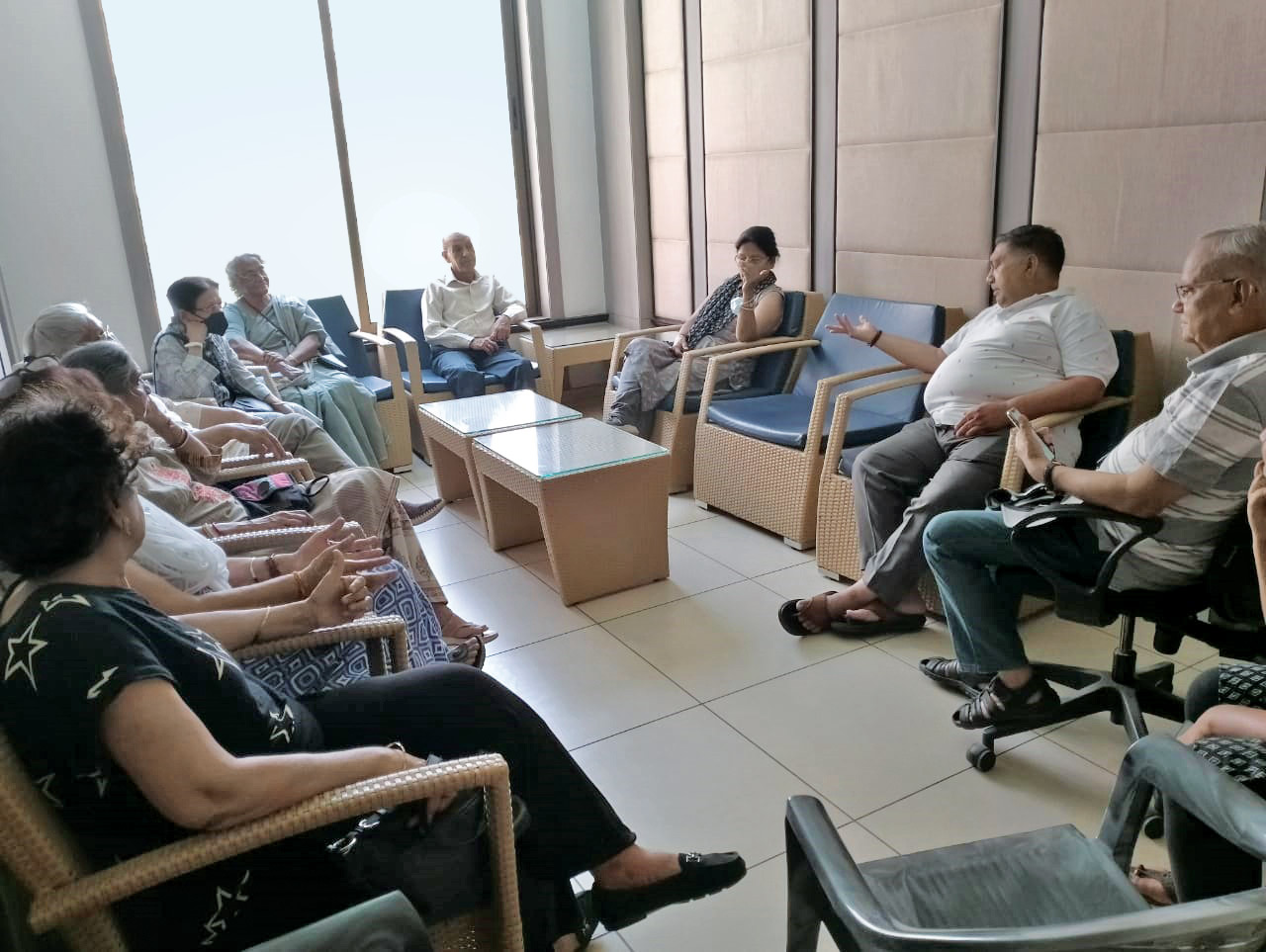 Readers' Club
A bi-weekly Readers Club saw our residents, old and new, enthusiastically participating in sharing their love for books and poetry with other members.
Bottle Decoration
Lavasa residents took part in a bottle decoration activity, letting their creativity and artistic nature speak for itself through their wonderful creations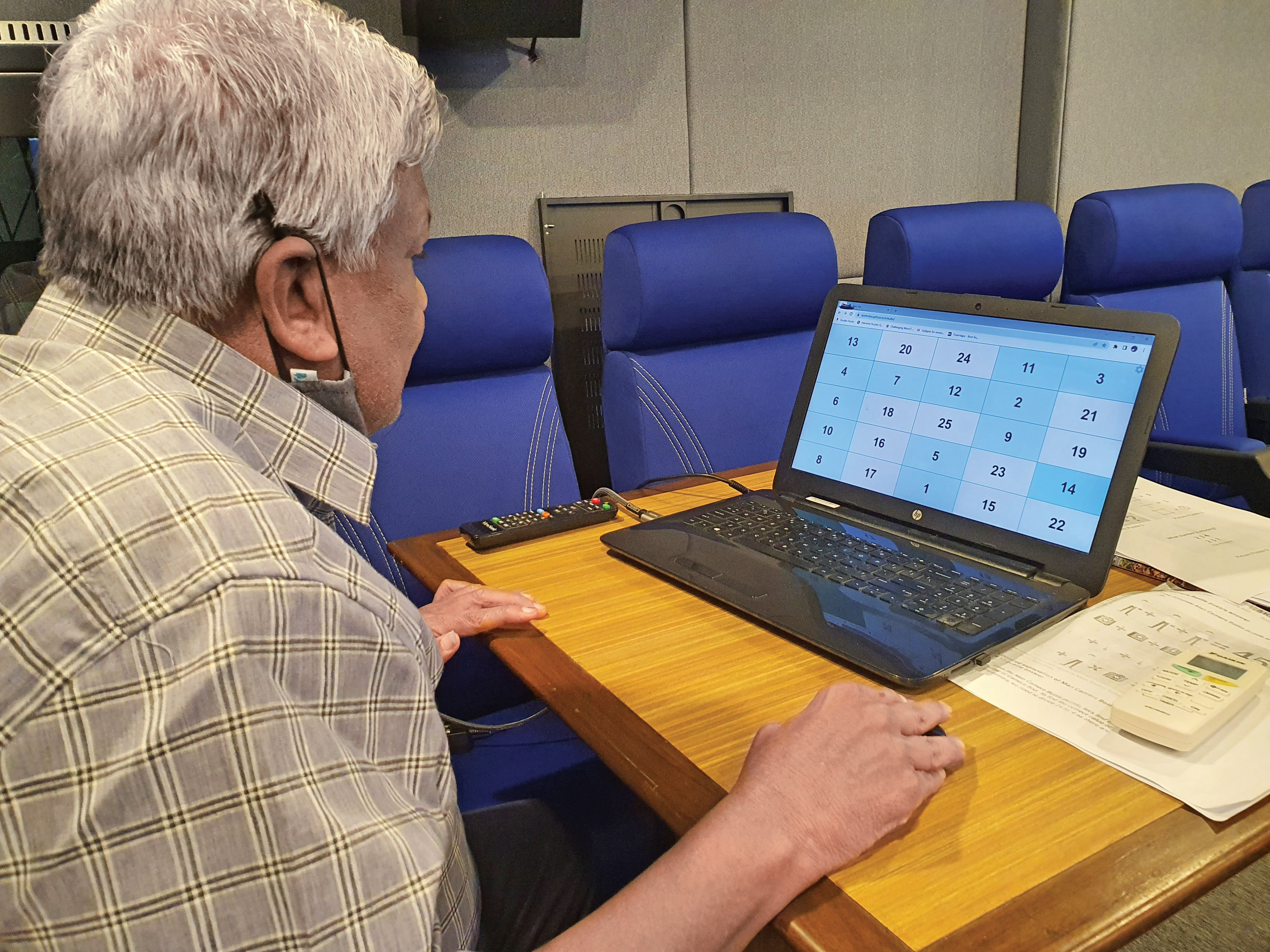 Brain Gym Crossword & Schulte
We stimulated our Ashiana Shubham, senior citizens' brain with some fun crossword and Schulte Table brain activity sessions.
General Medical Camp
We organised a General Medical Camp with the Dhanwanthralaya Ayurveda Speciality Hospital for the well-being of Ashiana Shubham, Chennai residents.
Hearing Aid Camp
Mrs. Meera Babu conducted a Hearing Aid Camp to provide help to seniors with impaired hearing at Ashiana Shubham, Chennai.
Musical Eves
External performers, Ms. Anjani and Aswini, as well as Team Fusionatica, with the help of our resident's son-inlaw conducted musical eves to entertain our residents.
Month End Party
All birthdays, anniversaries and special events were celebrated at our monthend parties at Ashiana Shubham.
Musical Aqua Aerobics
A fun and engaging musical aqua aerobics session was organised where our Lavasa seniors showcased their commitment to fitness in the swimming pool.
Women's Day Celebration
We dedicated a special evening to celebrate our female residents by creating a musical environment and hosting a singing activity.
Lohri Celebration
Ashiana Utsav, Lavasa residents graced the Lohri celebrations by gathering around the bonfire, while following the necessary safety precautions.
Carrom Tournament
A carrom tournament was held at Ashiana Utsav, Lavasa, which saw many residents actively participating and showcasing their skills.
Winter Carnival
We planned a winter carnival event to create a happy and positive environment among our residents, which motivated them to provide more references for our B-3 tower registrations at Ashiana Nirmay, Bhiwadi.
Handover of Phase III
We released a Quality Control Checklist for 92 of our 192 flats in the Phase-III launch of Ashiana Nirmay, resulting in 21+ successful handovers and a smile of satisfaction among customers, owing to quality construction.
Club House Inauguration
We inaugurated our Clubhouse at Ashiana Shubham, Chennai to help our residents stay active and healthy.
Poetic Talents
Bhagirathi Eshwar, a resident of Ashiana Shubham, Chennai, wrote a beautiful poem on the occasion of the Tamil New Year.
Antakshari in Open Air
A fun-filled antakshari session in the open saw all the residents participating with utmost enthusiasm.
Read Less
---
Ball & Board Games
We regularly conducted activities such as building blocks and carrom to help our Utsav Bhiwadi residents with hand-eye coordination improvement, spatial awareness, fine motor skills, logical thinking capability and mental stimulation.
Lohri Celebration
We celebrated Lohri with great fun and frolic at our Utsav Bhiwadi Care Home, with residents gathered around the bonfire in the garden, coming together to sing songs and indulge in groundnuts, rewari and popcorn.
Health Talk
A health talk and free health checkup camp by the doctors of Shalby Hospital was a hit among our Utsav Jaipur residents.
Holi Celebration
Being one of the most colorful and vibrant festivals, Holi was celebrated with utmost enthusiasm and gaiety using natural colours and indulging in a snack party along with singing, dancing and exchanging wishes.
Vasant Panchami Celebration
Saraswati Puja followed by Aarti and Prasad Vitran is how we celebrated Vasant Panchami at Utsav Bhiwadi.
Birthday Celebration
We indulged in fun and happy moments and celebrated the birthday of our Care Homes resident at Ashiana Utsav, Jaipur.
Read More
Free Yoga Session
A free yoga session was organised in the morning time by the AU Bank in Utsav Jaipur Care Homes.
Women's Day Celebration
The Women's Day celebration at Ashiana Utsav Jaipur saw fun games, chaat stalls and light snacks in the open air during the evening time. In Bhiwadi, women spoke about what being a woman means to them followed by lunch and a talent show, seeing participation from 120+ women in the Utsav Hall.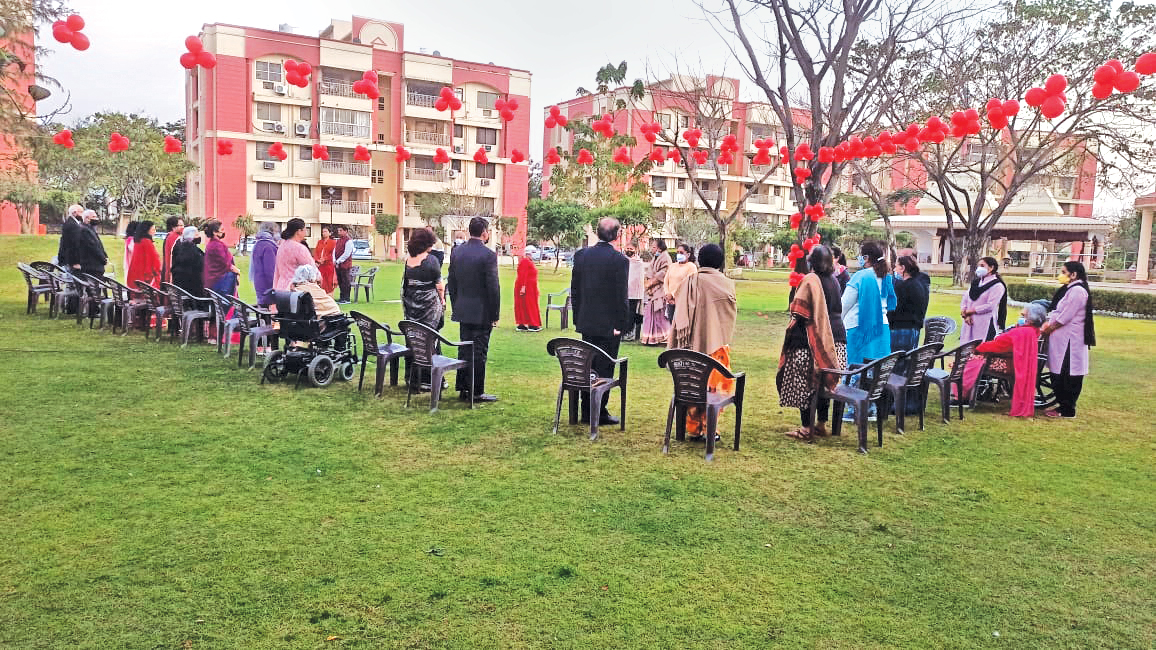 Valentine's Day Celebration
On Valentine's Day, we paid homage to the CRPF Jawans who were martyred in the Pulwama attack.
Read Less
---
| Jan to Mar | Bhiwadi | Neemrana | Jaipur | Jamshedpur | Halol | Jodhpur | Sohna | Total |
| --- | --- | --- | --- | --- | --- | --- | --- | --- |
| Moms Enrolled | 830 | 207 | 340 | 262 | 36 | 23 | 141 | 1839 |
Trophies were distributed to our Season 5 winners.
A poster-making competition to raise awareness about water conservation was organized for the kids & their masterpieces were displayed throughout the society.
We organised Women's Day Celebrations in various properties to honour our supermoms for all they do.
Our Supermoms partook in New Year Celebrations with some virtual performances
A Mums & Kids Jodi Competition saw the magnificent duos put on their best shows.
Meet-Ups were organised by our Supermoms in many of our properties in Jodhpur, Jaipur, Jamshedpur and Bhiwadi.
Various Online Zoom Sessions were organised and attended by our Supermoms to transfer knowledge and keep the engagement alive.
Our Supermoms organised multiple Phoolwari activities in Ashiana Umang, Ashiana Dwarka, Ashiana Bhiwadi and Vrinda Gardens.
Face Mask, Pen Holder and Wall Hanging were a few of the activities organised by Ashiana Halol and Aangan, Neemrana Supermoms.
Read More
Our Supermoms organised Dance, Herbal Colour, Clay Art and Balloon Craft sessions in Ashiana Town and Tarang, respectively.
Jamshedpur Supermoms organised activities ranging from Thumb Painting to 3D Painting and Stone Painting for all.
Our Supermoms also helped build our social media presence with regular interaction with our topical posts as well as new developments and updates.
A special virtual Valentine's Day session saw our Supermoms interacting and celebrating all clad in red attire.
Our Supermoms celebrated Faag Utsav with utmost enthusiasm via an online Zoom session.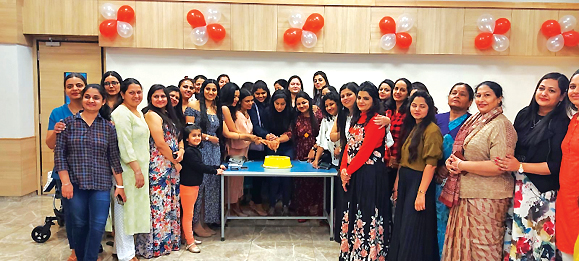 An Open House was organised by the Supermoms of Ashiana Anmol, Gurgaon, where many participated.
A Free Bone Mineral Density Test Camp was organised by Supermom Krishna Mathur, inviting expert Dr. Kanupriya in Ashiana Umang, Jaipur.
Ashiana Anmol & Vrinda Gardens' Supermoms organised many sessions from Classical Dance to Sand Painting and Crafts.
Supermoms welcomed our new residents with utmost warmth and enthusiasm.
Read Less
---
Project Makeover
Beautification of the Ashiana Tarang main gate was also done to make our community even more inviting.
Security Training
We conducted a Security Training at Ashiana Shubham to impart knowledge and ways to stay more vigilant.
Water Conservation Initiative
We started our water management initiative, undertaking measures such as installation of faucet aerators, fixing the leak drive, setting water pressure to low in common area outlets, awareness sessions for staff and kids, and installation of We-got (for real time calculation of water consumption). It was met with residents' support and resulted in a considerable reduction in our daily water consumption.
Water Body Renovation
Our construction team helped revamp the water body operations at Aangan Bhiwadi which enhanced the beauty of the project and got a lot of appreciation from our residents.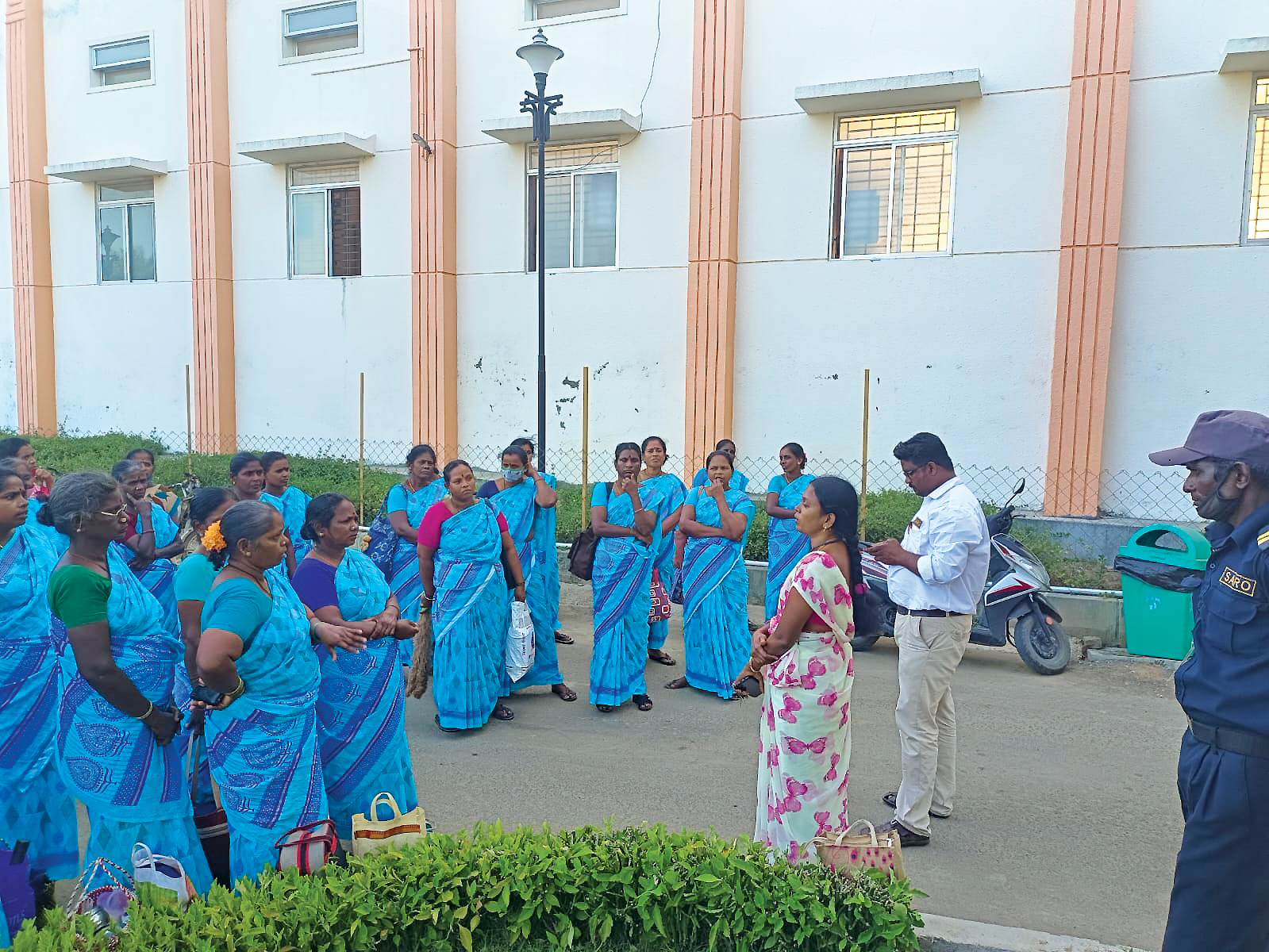 Housekeeping Training
We instilled our Ashiana Shubham, Chennai, team with better cleanliness, hygiene etiquette and learning through our housekeeping training.
---
| Members | Bhiwadi | Jaipur | Jodhpur | Neemrana | Halol | Chennai | Sohna | Jamshedpur | Lavasa | Total |
| --- | --- | --- | --- | --- | --- | --- | --- | --- | --- | --- |
| Silver | 11 | 12 | 11 | 0 | 0 | 2 | 3 | 15 | 1 | 55 |
| Gold | 1 | 3 | 1 | 0 | 0 | 1 | 0 | 4 | 0 | 10 |
| Platinum | 1 | 7 | 1 | 0 | 0 | 1 | 0 | 1 | 0 | 11 |
Meet a few of our Platinum Club Members
Mrs. Rajni Soni
Umang, Jaipur
Mr. Kalpesh Soni
Umang, Jaipur
Mr. Ashwani Shukla
Umang, Jaipur
Mrs. Kavita Chaudhary
Vrinda Gardens, Jaipur
Mr. Kannan
Shubham, Chennai
Mr. C. M. Nagpal
Nirmay, Bhiwadi
Mr. Ashish Maharshi
Umang, Jaipur
Mr. Sanjay KC
Umang, Jaipur
Mrs. Deepa Chaudhary
Vrinda Gardens, Jaipur
Mr. Uma Nath Chaudhary
Brahmananda, Jamshedpur
Mr. P. K. Sangatramani
Dwarka, Jodhpur
---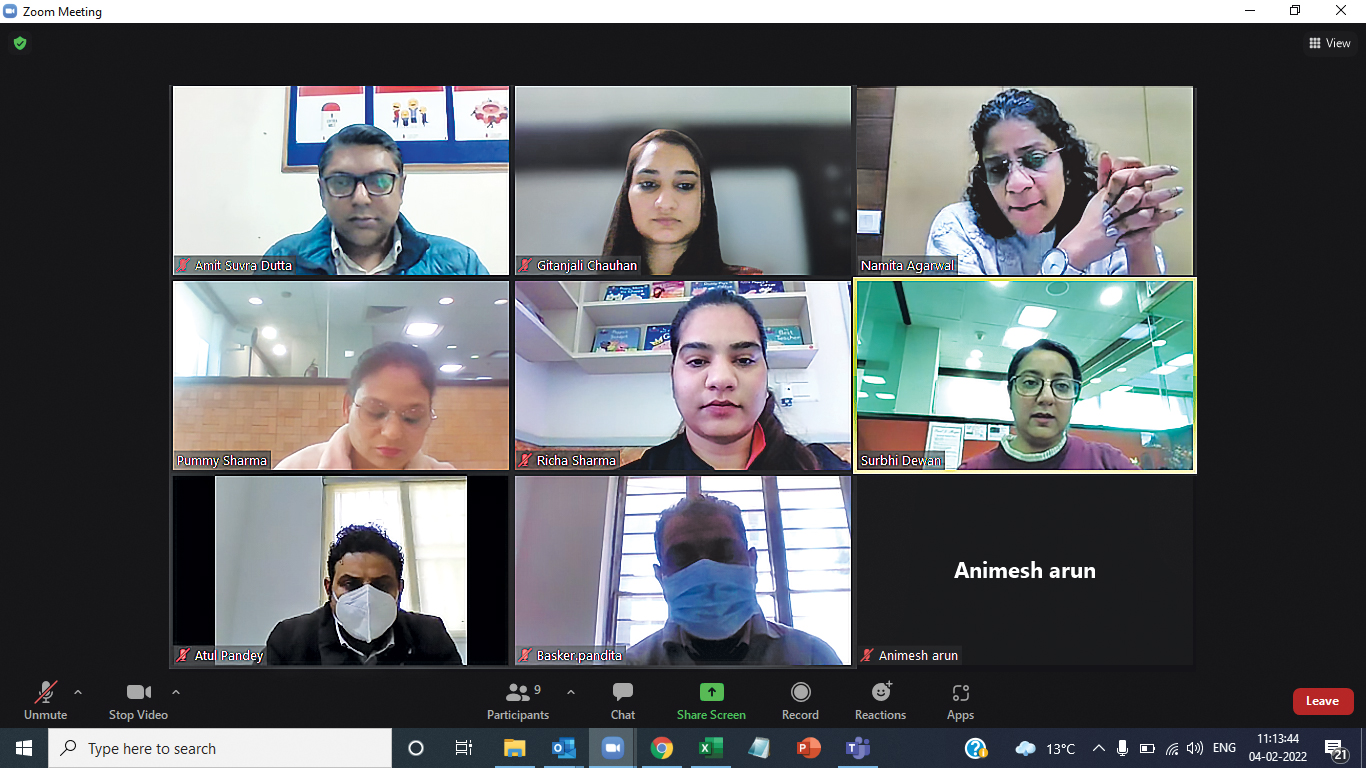 Customer Centricity Training
Ashiana Maintenance Service LLP (AMSL) conducted a virtual training on customer-centricity.
Advanced Excel Training
An advanced excel training was conducted to make our employees better versed with the tool.
Top Grading Training
A top grading training was conducted and led by our HR Surbhi Dewan sharing some valuable insights.
POSH Training
Training for the Prevention of Sexual Harassment (POSH) at the workplace was conducted by Ms. Sonal Matto to improve the quality of workplace culture and employee retention.
Linkedin Training
We conducted training to teach our employees the ways to create a powerful LinkedIn network which helps in their professional journey
Management Conversation Training
We conducted a management conversation training to help employees understand the golden rules to give feedback and how to prepare for a performance review.
---
Bhiwadi Infrastructure Development
We saw a lot of proposed Bhiwadi Infrastructure Development updates in this quarter, such as:
The construction of Bhiwadi Mod

The Mansa Chowk

---
Mr. Dinesh Kumar Sen
Assistant Manager Facility, Jaipur
Mr. Vidya Sagar Pandey
Foreman Construction, Jaipur
Mr. Upendra K. Sahoo
Plumber Facility, Bhiwad
Mr. Sonu Kumar Thakur
Mason Facility, Bhiwadi
Mr. Mohd Sarware Alam
Electrician Facility, Bhiwadi
Ms. Seema Singh
Senior Executive Sales, Bhiwadi
Mr. Lokesh Upadhyay
Senior Executive Sales, Gurgaon
Mr. Rahul Patial
Senior Executive Sales, Bhiwadi
Mohammad Shariq Khan
Assistant Manager Sales, Bhiwadi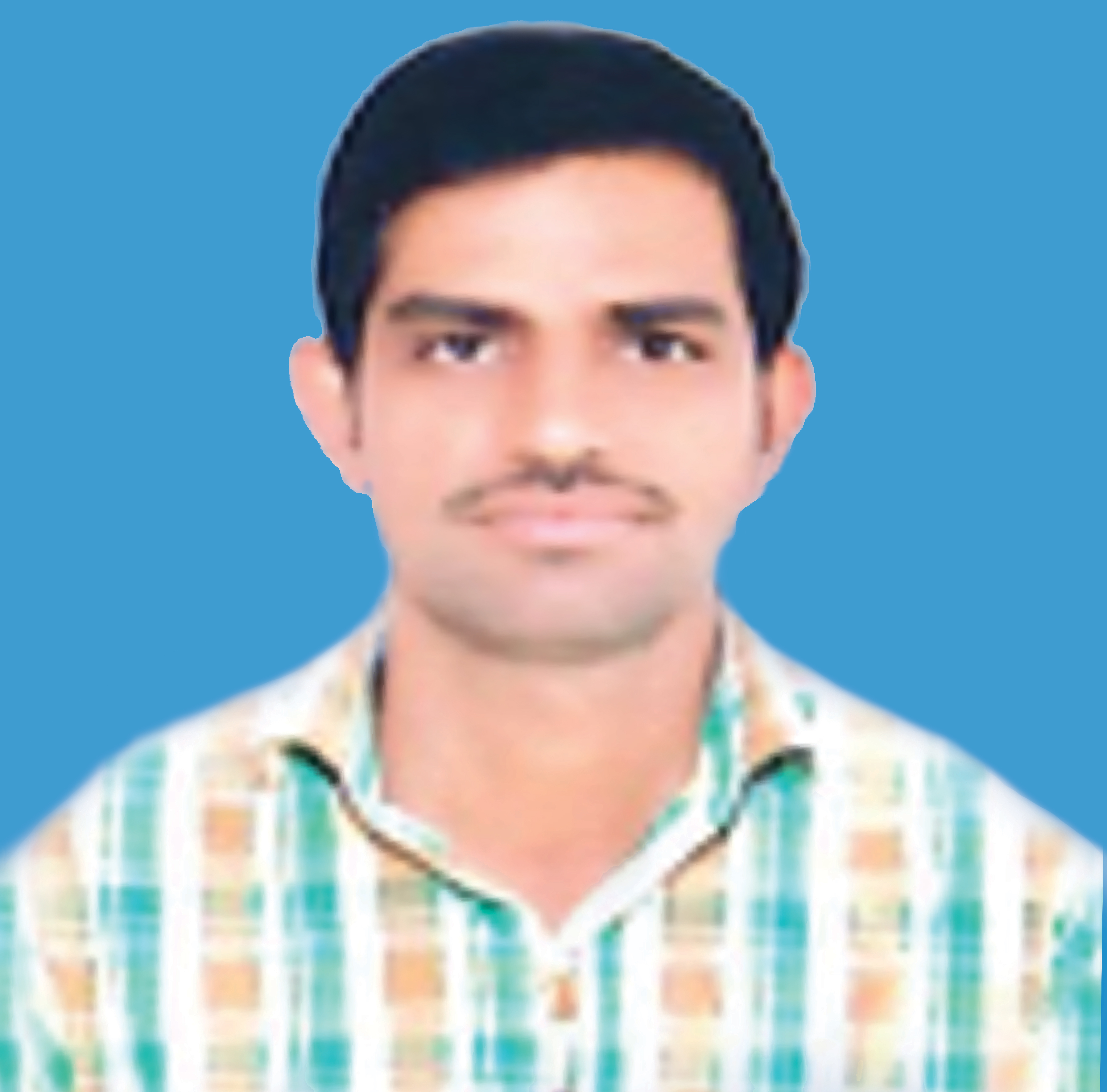 Mr. Rakesh Singh Rajput
Supervisor Construction, Jaipur
Mr. Bablu Kumar Sharma
Assistant Supervisor Construction, Chennai
Mr. Ashish Jaindra Borkar
Assistant Supervisor Legal, Pune
Mr. Rajvir Yadav
Supervisor Construction, Jaipur
Mr. Bhupendra Singh
Supervisor Construction, Jaipur
Mr. Vikash Kumar Rajput
Assistant Supervisor Construction, Jaipur
Mr. Monu
Senior Executive Sales, Bhiwadi
Mr. Yaman
Senior Executive Sales, Jaipur
Mr. Satinath Haldar
Site Engineer Engineering, Jaipur
Read More
Read Less
---
Mr. Narendra Pal Singh
Officer Legal, Bhiwadi
Mr. Umesh Kumar
Senior Supervisor Construction, Bhiwadi
---
---
Going The Extra Mile
On the 20th of Jan, we received an emergency call from Mrs. Bhalla stating that her husband is unconscious. The security supervisor - Tiwariji contacted the guard, who rushed to their aid and at the same time called Preeti Raj, a nurse at Ashiana Utsav, Lavasa. She checked his vitals, contacted the doctor and successfully revived him by arranging the required medicines. Preeti's efforts were highly appreciated by Mr. Bhalla in his thank-you note that went as follows:

"Hello, Preeti thank you for being there for all of us. You are like a soldier entering the battlefield in your uniform, unafraid, courageous, and putting your own health and safety at risk. Bless you, dear girl, may you stay protected and safe. My prayers are for you every time you are out there treating patients."

We thank Preeti for going the extra mile and delivering happiness all around.
Instructions
Here's how to send your answers for the Quiz!
If your answers are
Question 1 (c)
Question 2 (b)
Question 3 (a)
Then send an SMS to 56677 - AHL 1c 2b 3a
Winners will be chosen via a lucky draw!
---
Q1. Ashiana Supermoms community saw maximum moms enrolling from which location?
a. Bhiwadi
b. Neemrana
c. Sohna
Q2. How many employees joined our Ashiana Family this quarter?
a. 54
b. 56
c. 58
Q3. Which location stood out with the most members for Ashiana Smiles?
a. Jodhpur
b. Jamshedpur
c. Jaipur