Apna Ashiana
Vol 17 | No. 65 | July - Sept 2019
Subscribe for quarterly newsletter!
A glimpse of vibrant community we build.
From the Desk of the Jt. MD
Dear Friends,
It's been a great quarter as we started handing over Ashiana Anmol in South Gurgaon and also won the award for 'Theme based project of the year'. I am very proud of both the construction and maintenance teams for achieving the quality which got us this award.

We also launched Vrinda Gardens Phase IV at Jaipur and Nirmay Phase III at Bhiwadi. And as in the last quarter, this quarter too we got the approval of two projects - Ashiana Daksh in Jaipur and Ashiana Aditya in Jamshedpur. The response to all these announcements has been really positive. Most of the bookings have come from reference or existing customers and I am grateful to all of you for always supporting us.

There has also been great support to the 'Say No to Plastic' and 'Cleanliness Drive' in our projects. We've still a long way to go, but awareness building in itself is a nice beginning.

Always keep smiling!
---
Annual General Meeting of Ashiana Housing Ltd.
On 31st August 2019, Ashiana Housing Ltd. held its 33rd annual general meeting of members of the company. Around 238 members attended the meeting including Mr. Vishal Gupta (Managing Director), Mr. Hemant Kaul (Independent Director) Mr. Vikash Dugar (CFO) and Mr. Nitin Sharma (Company Secretary).
Unmukt Knowledge Series
The Unmukt Knowledge Series seminar was held in Chennai on Wednesday, 21 August, 2019. Eight sessions were designed on 'Solutions for Empowered Elder Living' to educate and engage people on key areas that impact seniors.
---
Hiring, training, and development are important processes for an organization. Keeping this in mind, we conduct various trainings every quarter focussing on how our employees can improve and grow in their future with better skills & values.
Leadership Skills
In order to climb up the ladder, one must know how to keep the team motivated and get results. To learn the managerial skills, a workshop was organized for 2 batches comprising of 38 participants.
Time Management
In order to avoid delays and last-minute hassle, time management through prioritization of tasks is important. A one day workshop was organized for 13 employees for learning the skills.
How To Say No
In other art of saying no to an unprior task of the day without offending the other person in an organization was learnt by 16 employees in a one day workshop.
---
CONTRIBUTION TO PHOOLWARI SCHOOL
Friendship Day Celebration
Friends are the greatest gift of life! From creating meaningful gifts like friendship band and handwritten notes to cake cutting, the kids had a blast this Friendship day at Ashiana Tarang, Bhiwadi and Vrinda Gardens, Jaipur
Independence Day
This Independence Day, children in Phoolwari School prepared tricolor badges, flags, and paper masks. From flag hoisting to dancing, the celebration ended with gifts and sweets distribution in Bhiwadi, Jaipur, and Chennai.
Janmashtami celebrations
The festival was observed with much enthusiasm at Ashiana Town, Bhiwadi and Ashiana Gulmohar Gardens, Jaipur. Dahi Handi activity was organized for the residents at Ashiana Shubham, Chennai.
Read More
Ganesh Chaturthi Celebration
The festival was celebrated at Ashiana Tarang and Ashiana Town in Bhiwadi. The Supermoms took part in a Ganpati mask activity and had an unforgettable time.
Movie Show
Who doesn't love a movie show with friends? It was a fun day for kids where they all sat together to enjoy a movie and snacks at Ashiana Tarang, Bhiwadi.
Health Check Up
We believe in taking care of all the children living in Ashiana. For this, we organize regular checkups to keep their health in check at all times.
Excursion
The kids were taken for an outdoor visit to Aurobindo Ashram, Delhi to attend the Clean Mind Programme
Teachers Day
Special greeting cards and crowns were prepared by the children of Phoolwari to appreciate the hard work of their teachers. From cake cutting to fun-filled games, the day was celebrated with much enthusiasm in Bhiwadi and Jaipur.
Monsoon Season
Monsoon is the most awaited season for the children of Phoolwari. From various craft activities to story telling sessions, children made the most out of the Monsoon season.
INITIATION OF SKILL DEVELOPMENT PROGRAMME
We provided Skill Development Training to labourers at other developer's sites through the outreach development program. We started 4 new batches at Bhiwadi, Jaipur, Sohna-Gurugram, and Chennai consisting of 112 labourers. From the presentation of appreciation certificates to our Skill Development Trainers to assessment in progress of Asst. Mason batch, various activities were carried out during the programme.
A STEP TOWARDS GREENERY AND ENVIRONMENT
When it comes to sustainability and a better ecological system for a place, planting more trees is the best we can do. This monsoon season with Utsav Residents, we planted around 50 saplings in Bhiwadi.
Say No to Plastic
We invited Phoolwari kids to Ashiana Tarang on 23rd September. Our super mom Ms.Tabassum took a session on avoiding plastic use in daily life.
Read Less
---
Launch of The Quarter
We continued to add colours to Jaipur's lifestyle with the launch of Phase IV in Vrinda Gardens in August and new project launch Ashiana Daksh near Akshay Patra temple in Jagatpura in September.
Independence Day Celebration
Celebrations involved residents hoisting the flag and singing our national anthem. It was a patriotic sight and the efforts of the Maintenance Team were appreciated. The day was celebrated by all the residents in Bhiwadi, Jaipur, Jodhpur, Halol, and Jamshedpur.
Janmashtami Celebration
Celebrations involved bhajan kirtan, Matki Phod Pratiyogita, skit performances, and fancy dress competition. The event came to an end with Krishna worship and prasad distribution across all projects.
Read More
Teej Celebration
We celebrated Teej on 13th August with beautifully decorated swings. The evening was a memorable one with ladies all dressed up beautifully for the festival at Ashiana Tarang, Bhiwadi.
Tambola
We had planned a Tambola activity at Ashiana Tarang, Bhiwadi in September which was enjoyed by all the ladies. Residents were treated to snacks and chocolates were given to the winners after the game.
Ganesh Mahotsav Celebration
The festival that marks the birthday of Lord Ganesha was celebrated spectacularly with lots of fun & frolic in Ashiana Navrang, Halol-Gujarat. Around 65 residents attended the event.
Medical Camp
A medical camp was organized by the staff of Ashiana Dwarka, Jodhpur. Camp was organized in every two months for the labor and staff. Doctors were present to take care of all health problems.
Vishwakarma Pooja
At the end of this quarter, the Vishwakarma Pooja was celebrated with the Ashiana staff and laborers in Ashiana Dwarka, Jodhpur. The pooja was followed by hawan and lunch. A total of 150 attended and prayed for better work progress in all the fields.
Pool Party
To relieve our residents of the heat outside, we organized a pool party at Ashiana Tarang, Bhiwadi. Everyone, especially kids had a wonderful time.
Inter Ashiana Swimming Competition
A fun-filled inter Ashiana residents swimming competition took place in Ashiana Woodland, Jamshedpur.
Clean Up Drive
Ashiana Woodland's clean up drive was set up at all Ashiana projects with a mission to say no to plastic. A total of 60 residents, children, and staff participated in the drive.
Master Chef Competition
We believe that there's a chef in everyone and to spark the same, we organized a Master Chef competition in Community Hall, at Ashiana Residency Greens on 21st August, 2019.
Green All the Way!
In-house nursery is well-maintained by Ashiana Gardens Team. Go green!
Free Eye Check-Up
Free Eye Checkup Camp was organized at Ashiana Anantara on 8th September, 2019. Around 108 people were checked by three doctors from Purnima Netralaya, a hospital in Jamshedpur
Thanks to our Maintenance Team!
The maintenance service team at Ashiana Gardens, Jamshedpur is commendable at their job. Look for yourself the difference they brought about even in 27 years old project.
Read Less
---
Janmashtami Celebration
Janmashtami special celebration was organised at Ashiana Town, Bhiwadi where the kids took part in various festive activities such as Dahi Handi, fashion show, instrument playing, skit on Krishna's life, and more. It was a rich cultural event themed night of rituals and celebration.
Indian Air Force Museum Visit
The kids felt like they entered a whole new world after visiting the museum. From a fighter plane to the journey of the Indian Air Force, they learned a lot about the Force.
Independence Day
The day was celebrated with a great spirit of patriotism by all residents across all projects With love for the nation, the residents hoisted the flag and pledged to keep their nation clean. From drawing competition to singing of patriotic songs, kids were full of enthusiasm to celebrate the day.
Read More
Feed The Camel
Happy kids at Ashiana learnt interesting facts about a camel and the importance of water conservation. The activity was conducted across all kid centric project.
Open Tennis Tournament
The tournament was organised at Ashiana Town, Bhiwadi. It was a fun-filled day for all the participants and families to watch, play, and win.
Makers' Club
Learning together is always fun. Kids of Ashiana Town, Bhiwadi enjoyed learning making of RADAR by live projection from Ashiana Umang, Jaipur. The kids were excited to create it together, they were totally into the project, and appreciated the session a lot.
Book Club
A meeting for magazine making was set up by the board members of Book Club with the volunteers. The kids were assigned the duties of typing and photography for the magazine. They were given their targets and the kids in Ashiana Anmol, Sohna-Gurugram put in their best foot forward to complete the task
Expert Session
An olympiad of General Aptitude and Parenting Session was conducted by Extra Marks Education where parents were briefed about right education techniques. The kids gave an aptitude test which included questions regarding General Knowledge, Science, Mathematics, and Logical Reasoning.
World Nature Conservation Day
An Awareness Activity was planned as a Society Exchange Programme. Kids and residents of Ashiana Town, Bhiwadi contributed to the "Save Aravali - Bhiwadi Chapter" Campaign where they visited the under-developed park of UIT- Sector 7 and did a plantation and cleanliness drive.They also created slogan boards and banners using recycled material.
Grandparents Day Celebration
Grandparents are special to all of us. Children at Ashiana Town made handmade flowers and cards on this day. Kids then visited Ashiana Nirmay to present their creations and special certificates to the senior residents. The grandparents were very happy and danced with the kids. A short film "Khat" about a grandfather writing a letter to his newborn grand-kid was shown. The day ended with a story-telling session at the end.
Nukkad Natak
A Nukkad Natak was prepared by the teenagers and kids of Ashiana Town, Bhiwadi with the title - "Aisa Kyu". The Act was based on gender sensitization and was showcased at Genesis Mall, Bhiwadi on Son's & Daughter's Day. The act was watched and appreciated by over 150 people. Another nukkad natak was prepared as a flash mob to be performed at Elements Mall, Ajmer Road. he natak was called "Unequal" and raised issues like gender inequality.
Say No To Plastic
The mission was conducted across all projects at all locations which included activities such as drawing competition, mass dance, act and an awareness campaign on minimising the use of plastic.
Live Painting
A live painting competition was conducted on the theme of Nature Conservation in Ashiana Umang, Jaipur. The participants were judged on the basis of their unique ideas to create awareness and sensitivity towards nature.
Town Green-A-Thon
A triathlon was conducted on Sept 15, 2019 at Ashiana Town. It was the most exciting event of the quarter, organised by 'Ashiana' and 'Sports First'. With 119 participants and 250+ attendees, the event started with a warm up aerobics session. The event was full of enthusiasm and love for sports.
Fire and Lift Safety Activity
Mock drill for fire and lift safety was conducted with experts at Ashiana Town to help the residents be aware in case of any emergency. Awareness session and live demonstration was organized for all residents, staff and kids. The awareness topics included fire hazards in daily life, fire extinguishers, first aid, excavation techniques, functions of a lift.
Naming Activity
A naming activity was conducted where kids had to write unique names for the identity of Kids residing in Ashiana- Kid Centric Homes. The contest was named as "I live in Ashiana, I am a ______. Kids enjoyed the activity and made colourful posters with different names such as Ashianians, Townite, Delta Octavist, Ashian, and Ashiana
Architectural Design Competition
To induce creativity among teenagers, a design competition was organized in Ashiana Umang. Participants were given a brief and site map of Ashiana Town (Bhiwadi) by our expert designing team. The kids were asked to use their imagination and design the property in their own way.
Engineer's Day Celebration
It was a two-fold celebration which started with a STEM Competition which involved building a straw tower and paper napkin parachute. The day ended with a session on IIT taken by a faculty from NIITJEE Academy.
Read Less
---
Raksha Bandhan Celebration
Painted with the colors of patriotism, our residents of Care Home hoisted the flag, sang a patriotic song, and gave a performance at Ashiana Utsav, Bhiwadi.
Raksha Bandhan Celebration
The day celebrated the special bond of protection when all the residents tied rakhi to each other including the caregivers at Ashiana Utsav.
Janmashtami
We celebrated the birth of Shri Krishna with puja, special aarti, and Bhajans performed in praise of Lord Krishna.
Birthday Celebrations
Even though everyday feels like a birthday at Ashiana but we celebrate birthdays more specially here. Birthday celebrations were done in the Activity Centre at our Care Home at Ashiana Utsav, Bhiwadi. From cake cutting to greetings from the Care Home staff and residents, they were wished a long and healthy life.
---
Launch of The Quarter
Phase III was launched in Ashiana Nirmay, Bhiwadi, India's most active senior living community.
Pre-Jashn 6
From 21st September to 26th September we organized a pre-Jashn event at Lavasa, where all participants performed and we finalized two people in each category. The event started with the lighting of lamps, followed by activities like walking, swimming, carrom, table tennis, and more.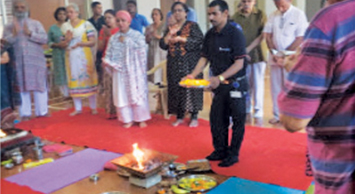 Yagna Ceremony
Yagna was conducted wherein Pujariji conducted the pooja and the residents took part in all the rituals at Lavasa.
Read More
Fun Games
Tambola game was loved by everyone, around 20 residents participated and interesting gifts were given to the winners. We also conducted a scrabble and crossword game to help residents exercise their brains a bit.
Month End Party
The most awaited celebration for all residents is the month end party which is about games, snacks, and good times. Look how all seniors come together and have a gala time.
Ice-Cream Party
To beat the heat in summer, we organized an ice cream party in amphitheater for our seniors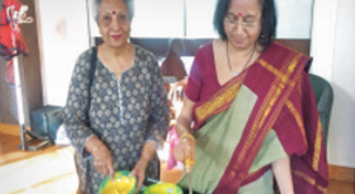 Cooking Show
This was the residents' most liked activity where they prepared different pakoras and relished those together with friends and family at Lavasa.
Teej Celebration
Before we began with the main Teej celebrations, we organized a pre-Teej event where a Mehndi party was planned for all the ladies on 3rd August. Swings were decorated, the table was set with delicious sweets and snacks, and special songs were played.
Ballroom Dance Party
On 28th July, we organized a ballroom dance party in our multipurpose hall which was followed by fun games and a ramp walk. 100 residents attended this party and Mrs. Chowdhary won the first prize in ramp walk.
Going Green
Our seniors always go the extra mile to keep their surroundings clean and green. They borrowed different saplings & planted those beautifully near E3 apartments in Ashiana Utsav, Lavasa.
Festive Celebrations
Our seniors celebrate every day as a festival of joy. They take active participation in the events like Independence day, Janmashtami and all the festivals of the year and have a fun time with their friends across all senior living projects.
Classical Music Evening
A musical evening was organized on classical genre where guests from Delhi sung 90's songs and the residents enjoyed it a lot at Lavasa.
Ganpati Celebration
Ganpati celebrations took place in Ashiana Shubham where our seniors tapped their feet to the beats of the drums in devotion to Ganpati Bappa.
Yoga Session
Yoga, popular among our residents, was conducted by our resident Mrs. Anuradha Mahandra on every Tuesday and Thursday at Apna Ashiana, Nirmay, Bhiwadi from July to September 2019.
Meditation
A resident of Ashiana took classes on meditation wherein he conducted pranayam, chanting, meditation, and introspection. It was attended by many residents at Lavasa.
Group Songs and Motivational Speech
Singing songs is like a therapy, especially when done in a group.
Physiotherapy Session
A physiotherapy session on Body Nexus was organized in Ashiana Shubham, Chennai for the well-being of our seniors.
Hearing Screening Test
A hearing screening test was organized by Hearfon for our seniors in Ashiana Shubham to check the hearing health of all our seniors.
Food Carving Session
Our seniors participated in a food carving session and had a lot of fun creating their food masterpieces.
Read Less
---
Our Referral and Loyalty Program
Ashiana Smiles
The contribution of our Smiles members was made visible through promotion on Facebook and corporate presentations in offices.
Spreading Smiles through Facebook posts
Corporate presentation organized by Mrs. Rajshree Jujagar in Hero Moto Corp - Jaipur
Corporate presentation organized by Mrs. Vijayta Bhatnagar in Canara Bank - Bhiwadi
---
Our Customer Engagement Initiative
Ashiana Supermoms
Our Supermoms are called super for a reason. They take part in CSR activities and engagement initiatives to interact with kids in Phoolwari through various learning activities and competitions. Here are few activities conducted by them to teach and have fun with the kids in Phoolwari.
Art at its best
Fun with Phoolwari kids
Donation is divine
Happy Supermoms!
Facebook Supermoms Post. Share. Live.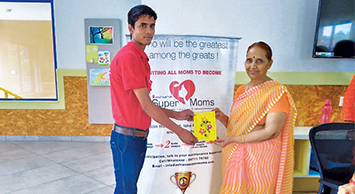 Recognition and appreciation