Apna Ashiana
Vol 17 | No. 66 | Oct - Dec 2019
Subscribe for quarterly newsletter!
A glimpse of vibrant community we build.
From the Desk of the Jt. sMD
Dear Friends,
We have had a spectacular quarter during which we sold all 250 units of phase I in Ashiana Aditya, Jamshedpur and over 400 units in Ashiana Daksh, Jaipur. I am thankful to the team for the hard work and our customers for their faith in us.

As we progress, we have to ensure that we remember our aim of 'spreading happiness'. Our Supermoms are adding so much value to the lives of our residents! Hence, after Bhiwadi, Neemrana, Jaipur, Jodhpur and Halol, we have launched the program in Gurgaon and Jamshedpur. And like every year, Jashn 6 was super special! The competition was fierce; the enthusiasm was inspiring and the talent broke records! It was wonderful to see familiar faces as well as so many new ones. It makes me proud to see our senior living community thrive and I wish them all the very best.

I thank all of you for your continued support and hope that we can continue to make a difference.

Always keep smiling!

---
Annual Finance Meet
To discuss the current issues and unforeseen challenges related to Tax, Accounts, and Finance, the Annual Finance Meet was organized. The Meeting was conducted by Mr Vikash Dugar – CFO.
Sales Target Celebration
We believe in celebrating every achievement, no matter if it's big or small. After completing 1200 sales (FY 2019-20) with the successful launch of Daksh and Aditya, we celebrated it across all locations, in all the projects on a conference call cutting cake and shouting our Ashiana Anthem out loud. Whereas, the Sales team of Daksh, Aditya had a blast at the Gurgaon party and celebrated their success.
Legal Meet
The policies keep on changing, and it's our job to stay updated. That's why to understand RERA, Apartment Act & Formation of Societies and updates on land deals (Jaipur), we conducted a 2-day legal meet in Bhiwadi. It was Headed by Bhagwan Kumar, VP – Land & Legal. The meet was followed by certain team building activities.
---
Technical Skill Training
It's important to have technically skilled employees at every level. Keeping this in mind, we organized a session for the employees where they received proper MS Excel training in order to increase their efficiency in data sorting and analysis. It was a productive session as everyone had achieved a 94% Net Promoter Score.
Soft Skills Training
Various sessions were organized to hone the soft skills of the employees. These sessions included topics like presentation skills, business etiquette, nonverbal communication, grooming for success, and negotiation skills. Another session was conducted for the facility team in Jaipur & Gurgaon on customer handling and greetings. We also organized a training session for hiring the right talent at Band D level at Bhiwadi, Chennai, Jaipur, & Jamshedpur branches.
---
Contribution to Phoolwari School
Dussehra Celebration
We celebrated Dussehra at Phoolwari school and taught children how good always triumphs over evil. All the kids witnessed the Ravan Dahan and did a mask making activity with great excitement and later enjoyed the snacks at Ashiana Tarang, Bhiwadi.
Medical Checkup
We organized a medical checkup for the children of Phoolwari School in Bhiwadi. A team of doctors visited the school and examined each and every kid.
Children's Day Celebration
The teachers of Phoolwari Schools did their best to make this day memorable for the Phoolwari kids. A photo booth was made by teachers and children for clicking pictures. The event included exciting activities which were followed by cake cutting and snacks distribution at Gulmohar Gardens, Jaipur.
Read More
Annual Fun Day
Annual Fun Day means a day full of excitement, giggles and laughter at Phoolwari School. All students participated in various games. This years' theme was "Celebrating India" where all the children showcased India's diverse cultures, food and attire through ramp shows, dance, and skit performance. This event strengthened the unity among children and spread joy
Craft Activity
We organized an Art and Craft activity at Vrinda Gardens, Jaipur. All the kids dedicatedly participated in the event and created beautiful things.
Drawing Activity
The kids of Phoolwari, Ashiana Tarang, Bhiwadi had a great day playing with colours as we organized a drawing activity for them.
Christmas Celebration
Christmas means non-stop celebration. We celebrate this joyous festival at Phoolwari Schools with the little Santas of Phoolwari. All the kids participated in the fun activity like craft making and decorated the Christmas tree. 'Jingle Bells' amplified the festive feel in Bhiwadi and across all the other locations.
Navratri Celebration
Children of Phoolwari Ashiana Town, Bhiwadi celebrated Navratri with a lot of zeal. Kids performed a skit to showcase why we celebrate this festival.
Diwali Celebration
Diwali is certainly the kids' favourite festival. On the occasion of Diwali, Phoolwari Schools were adorned with colourful diyas, rangoli and decorative wall hangings to enhance the festive spirit. The celebration included a storytelling session for kids, which was followed by sweet distribution.
Clean Mind Programme
Yoga is the best way to keep children's mind on a positive track. That's why we organized a Yoga activity for the kids at Phoolwari. We conducted a clean mind session for the children of government schools of Bhiwadi-Ghatal village and Thada village through Aurobindo Ashram, Delhi. This session included a proper medical checkup of the kids, which was followed by Yoga.
Zoo Visit Of Phoolwari Family
We organized a Zoo visit for the family of Phoolwari students in Ashiana Greenwood, Jaipur. Everyone was really excited to see different animals and birds in the Zoo.
Renovation Of Labour Hutment
In order to create a clean and happy environment for the labourers, we renovated the labour hutment at Ashiana Dwarka, Jodhpur wherein the hutments were repainted, cleaned and new dustbins were also installed.
Initiation Of Skill Development Programme
PMKVY Batches
We conducted a Skill Development Programme in order to train more labourers for the construction industry. We completed a total of 5 skill development batches at Bhiwadi and Jaipur, which consisted of 162 trainees under PMKVY Scheme and under Non PMKVY Scheme. In order to train the site workers, we started the PMKVY batch at one of the sites of Oxirich Group, Bhiwadi.
Training Sessions
We organized various skill training programs at Ashiana Tarang, Bhiwadi and Vrinda Gardens, Jaipur. All the workers were educated about safety while working on the site and we taught them better techniques to increase their efficiency in performing the tasks.
A Step Towards Greenery And Environment
Greenery and Environment
Planting trees is not enough, the real work starts after that. That's why our team is diligently looking after the plantation done outside our projects. It's an effort to keep our surroundings greener and provide a healthy life to our residents.
Read Less
---
LAUNCH OF THE QUARTER
We achieved a few milestones in this quarter. Our newly launched projects - Ashiana Daksh in Jaipur and Aditya in Jamshedpur received an overwhelming response from homebuyers. We have 400 bookings from Ashiana Daksh Phase I and II, and the Ashiana Aditya Phase I was completely sold-out in just under 35 days.
Khelotsav
Sports is not just about winning or losing, it's about the sporting spirit. "Khelotsav" was organised at Ashiana Surbhi, Bhiwadi, for both existing and prospective customers. The event included games like Lemon-Spoon race, Slow cycling race, Zig-Zag Skating, Musical Chair and many more. Everyone actively participated in these activities and recalled their childhood memories.
Christmas Celebration
It was indeed a December that residents in Ashiana Tarang, Bhiwadi and residents across all the projects will always remember. Here, we organized a Christmas Event which included various engaging activities like art and dance competition. The residents actively participated and the winners bagged exciting prizes.
Read More
Solid Waste Management System Installation
We always try to give back to nature in every possible way. At Ashiana Tarang, Bhiwadi, we installed a Solid Waste Management system. It will help in treating the solid waste and generating manure, which we will further use for gardening.
Diwali Celebration
The festival of lights was celebrated with a lot of vigour and merrymaking. A special gathering was organized where gifts were distributed in Ashiana Navrang, Gujarat. It was celebrated with same fervour across all other projects.
Dandiya Raas
On 5th and 6th Oct. we organized Dandiya Raas at Ashiana Dwarka, Jodhpur, and Vrinda Gardens, Jaipur, with the help of maintenance and construction teams. Both existing and prospective customers attended the event and enjoyed the DJ Night. All of them graced the event with their presence and witnessed the togetherness of the residents.
"Say No To Plastic"
Avoiding plastic has become need of the hour. And That's why at Ashiana Greenwood, Rangoli Gardens in Jaipur and all the other projects, we organized a "Say No to Plastic" drive where kids participated in poster making competition.
Table Tennis Tournament
We organized a Table Tennis Tournament for the residents of Vrinda Gardens, Jaipur. The sports spirit of families was well in place.
Tambola Game
Tambola is a game which is loved by all. Many residents played Tambola and won prizes at Vrinda Gardens. It was a fun game session.
Lift Evacuation Training
At Ashiana, our priority is the safety of all residents and staff. That's why we organized a lift evacuation training session at Vrinda Gardens, Jaipur. The session was conducted by the representative of Johnson Lifts.
Swachh Bharat Abhiyan
Maintaining cleanliness is the duty of every citizen. That's why the Supermoms of Ashiana Tarang, Bhiwadi conducted a cleanliness drive in the Ashiana campus and made sure that the surroundings are clean and hygienic.
Dussehra Celebration
The residents of Vrinda Gardens, Jaipur, and all other projects across all locations gathered to celebrate Dussehra with a lot of zeal. Everyone enjoyed the Ravan Dahan and relished the fire-works.
Karva Chauth Celebration
We celebrated Karva Chauth at Rangoli Gardens, Jaipur. About 136 ladies graced the event with their presence, and wished for the long life of their husbands.
Lawn Tennis Competition
To build a healthy relationship between the residents and keep them active, we organized a Lawn Tennis Competition at Rangoli Gardens. About 62 residents actively participated and played with full enthusiasm.
CFL Light Replacement With LED Light
In order to save electricity, Ashiana took an initiative to replace the CFL Lights with LED lights of staircases in all the old projects like Rangoli Gardens, Ashiana Greenwood, Vrinda Gardens in Jaipur and Ashiana Amarbagh in Jodhpur. We replaced more than 2000 lights. This will save approx. Rs.70,000 per month on the electricity bills of the common areas.
Night Guards Training
The most important thing for us is the safety of our residents. That's why a Night Guards Training session was held at Gulmohar Gardens, Jaipur. It was conducted by Mr. Bhagat Singh, Asst Manager, Estate.
New Departmental Store
To fulfil the daily needs of our residents we inaugurated a new departmental store in the campus of Ashiana Dwarka, Jodhpur.
Fun Fete Event
We organized a Fun Fete Event for the residents of Ashiana Manglam RWS, Jaipur on the 21st of December. The venue was beautifully decorated with lights and balloons. Everyone had a great time talking and enjoying the snacks at the party.
Home Art Décor
Mothers always know how to create something beautiful out of scrap. At Ashiana Tarang, Bhiwadi we organised a Home Décor session for the supermoms where they were asked to create some beautiful decorative items from waste and scrap material.
"No Tip" Policy
We organized a briefing session on our "No-tip" policy for our staff at Rangoli Gardens, Jaipur. This helped us inculcate our values and beliefs in their hearts making sure that their splendid service was led by their zeal to serve the residents better, rather than any monetary gains.
Thanks To Our Maintenance Team
• Our efficient maintenance team installed a new meter at Ashiana Greenwood, Jaipur. We take pride in taking care of every problem faced by our residents on a daily basis.

• Ashiana's maintenance team fixes things before they affect the residents. At Ashiana Manglam, Jaipur the maintenance team repaired the road on the campus.
Read Less
---
QUARTER II MAGAZINE LAUNCH
The book club launched Quarter II (July-Sep) magazine on the "Conservation theme". It was released on the auspicious occasion of Navratri. The magazine was unveiled by the editor Ananya Singh along with the club members at Ashiana Umang, Jaipur.
The Great Navratri Utsav
Navratri was celebrated with a lot of zest and fervour at Ashiana Umang, Jaipur. Kids and adults performed Garba in groups. It was a grand cultural showcase where all the residents rejoiced at the festival with great joy.
Organic Farming Workshop
Farming teaches kids the cycle of life. That's why an organic farming workshop was organized for kids at Ashiana Umang, Jaipur in association with "The Farmers" (a farming institute). Kids learnt from how to prepare the soil, to loosening to seed plantation. They planted seeds of some seasonal vegetables.
Read More
Movie Show
At Ashiana Town, Bhiwadi we not only take care of the needs of our customers but also find ways to bond. We organised a Movie Show of "Commando 3" for our existing customers of Ashiana Town, Bhiwadi. All the families enjoyed the movie. It helped us to strengthen our bond with our customers.
Know your Neighbour
We organized a pizza party for the newly shifted residents so that they get to know their neighbours better and become friends. All the residents shared their experience of living in Ashiana Town, Bhiwadi and enjoyed the tea and snacks.
Cycle Race
For the first time we organized a Cycle race for kids at Ashiana Anmol, Gurgaon. The Cycle Race was conducted in 3 groups: Below 5 year, 5 to 8 years, and 9 to 14 years. All the kids showed great winning spirit and enthusiasm, and they had a lot of fun during the race.
Halloween Party
Trick or treat at its best.
At Ashiana Anmol, Gurgaon, a Halloween party was arranged for the residents where the kids were dressed up as a Super Villain or a Superhero. A doughnut game was also conducted for kids. Residents enjoyed the evening with music and dance.
Diwali Celebrations
Diwali is the best time to bring out the creativity in kids. That's why we organized a creative contest on Diwali theme for them. It included activities like Diya decoration and poster making competition at Ashiana Umang, Jaipur. The kids at Ashiana Anmol, Gurgaon, celebrated a "No cracker" themed Diwali, making greeting cards for their parents/ grandparents, and taking a pledge to not burn crackers.
Dandiya Night
We planned an exciting evening for our existing and prospective customers at Ashiana Town, Bhiwadi. Event started with a Live band which was followed by Kids performance & the dandiya raas. It was a successful event organized with the help of maintenance and construction staff. People enjoyed a lot and appreciated the arrangements.
Cyber Security T-Shirt Painting
To spread awareness about cyber-security among the kids, we organized a session where they had to paint the T-Shirts and write messages regarding this topic. The kids at Ashiana Umang, Jaipur, were also given tips on the same subject.
No Flame Cooking
The little chefs of Ashiana Umang, Jaipur, prepared sandwiches with veggies and brown bread. They were made to understand their benefits to health. Later, all the kids shared and enjoyed the sandwiches they had prepared.
Hydro-Rocketry Session (Space club)
Kids love to invent. The kids space club at Ashiana Umang, Jaipur, conducted a session to teach the basics of rocketry. At the end of the session, kids created a hydro-rocket and a launcher by themselves. It was a great learning session.
Editorial Session
An editorial session was held by the Book club members of Ashiana Umang, Jaipur. It was organised to discuss the theme of their magazine for the next quarter
Session On Holistic Growth Of Child
At Ashiana Umang, Jaipur, we conducted a session on "Holistic growth of child" for the parents. A panel of 4 international doctors led the engaging conference and responded to parents' queries. The session was all about child development and psychology.
Seed Germination Activity
As a part of the ECO club, kids at Ashiana Anmol, Gurgaon were explained about the growth of wheat and about its consumption. They were inspired enough to visit the place again and witness the growth.
Trash To Treasure Contest
A Trash to treasure competition was organised at Ashiana Umang, Jaipur, where the kids were asked to create something useful out of the waste materials. The kids with the best innovation were awarded.
Children's Day Celebration
On the occasion of Children's day, we organized a sit and draw competition for both kids and parents. The event was a huge success and all the participants did a great job. Later everyone played musical chairs and celebrated the day to the fullest at Ashiana Anmol, Gurgaon.
Annual Kids' Fest
It's a fest, organised by the kids and for the kids. At the Annual Kids Fest, the stalls of food and games were put. Young children enjoyed the puppet show, showcased their hidden skills on the talent stage which was open to all at Ashiana Umang, Jaipur.
Scout Camp
Rajasthan scouts and guides team conducted a one-day scout camp for the kids at Ashiana Umang, Jaipur. The camp included team-building activities. Kids enjoyed the fun and engaging training.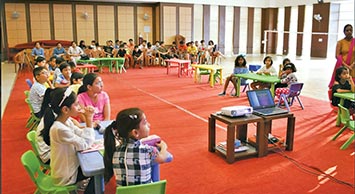 Qfiesta
Knowledge is true power. That's why we organised a quiz contest in association with Radcliffe school to test the general Knowledge of Umang kids. It was a highly competitive activity and kids learnt a lot.
Leaves Artwork Session
The creative kids of Eco club collected the fallen leaves from the premises of Ashiana Umang, Jaipur, and made a beautiful artwork using them.
Traffic Monitoring
Children who follow the rules today, become the responsible citizens tomorrow. The kids from Traffic club of Ashiana Umang, Jaipur, conducted a traffic monitoring session and fined the traffic rule offenders.
Outdoor Cricket Match
The kids of Ashiana Umang, Jaipur, got a chance to showcase their cricketing talent. The kids cricket team went to an outdoor field for the cricket match organised for them. The match was a testament to the kids' sportsmanship and helped to develop teamwork amongst the little champs.
Read Less
---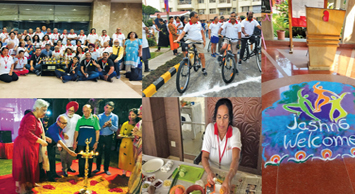 JASHN 6 - Sports and Cultural Festival
Jashn means celebrating togetherness at Ashiana. All the senior residents from all locations gathered at Bhiwadi and celebrated the event with various cultural performances and a plethora of competitions like cycling, swimming, ramp walks based on "festive fashion" theme, etc. The heart of the annual Inter Senior Living sports and cultural festival was the presence of the five senior living communities. The residents co-ordinated, organized and participated in this festival wholeheartedly, which was the core idea of it. The residents and staff of Ashiana, Lavasa, gave a warm welcome to the winners of Team Lavasa as they secured the 3rd position in Jashn 6.
Knitting Competition
Knitting…it's sitting for the creative people. A Knitting competition was held on 9th Nov'19 and all the expert knitters of Ashiana Utsav, Jaipur took part in it. The contest was based on 3 stages and the winners of every stage won prizes.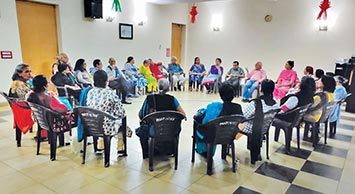 Musical Quiz
Nothing beats the evening full of musical activities. The musical quiz "Ek Dhun, Ek Paheli" held at Ashiana Utsav, Jaipur was highly amusing. The activity tested the resident's knowledge of popular music as they had to identify the musicals with a single time of lyrics.
Read More
Bonfire Party
On 21st December, we organised a bonfire party at the amphitheatre of Ashiana Nirmay, Bhiwadi. 120 residents enjoyed the session with dance and music and some healthy snacks like roasted groundnuts, rewri and hot kesar milk.
Cooking Show
All we crave is love and lots of food. At Ashiana Utsav, Lavasa and Jaipur, a cookery show was conducted. Our veteran chef Mr. Ashim Das demonstrated the recipe of "Poha Cutlet" to all the residents who attended the show. They also made different kinds of pakoras and dips. All the residents enjoyed the snacks they cooked.
Ladies Party
A room full of ladies is a place full of life. More than 35 ladies joined the exclusive party and shared their skills and creativity. Many displayed their hidden talents and made their presence felt at the meet. The snacks by Ashiana Utsav café, Jaipur added up to the feast.
Carrom Competition
A three day "Plot the queen" carrom competition was held at Ashiana Utsav, Jaipur with the finals being held on 25th November, 2019. The purpose behind organising the competition was to create a healthy platform to keep the residents' mind active and hands nimble.
Karwa Chauth Celebration
The festival that strengthens the bond of love. At Ashiana Utsav, Bhiwadi, we celebrated Karwa Chauth for two days straight. We organized a Mehndi ceremony on 16th Oct and the next day a Tambola session was organized for ladies after which they dressed up beautifully and gathered for the Pooja at Utsav temple.
Tulsi Vivah
At Ashiana Utsav, Bhiwadi, we organized "Tulsi Vivah" in Utsav Temple. The temple was beautifully decorated with flowers. The ceremony started with Aarti, which was followed by Bhog. Residents enjoyed the Bhajans and Prasad.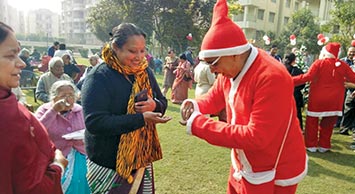 Christmas Celebration
Christmas is certainly the most amazing time of the year. We made sure that the residents relish this day to the fullest by organizing the Christmas carnival. There were snacks and games stalls set by residents. Everyone received chocolates from the Santa Claus at the carnival.
New Year Eve
The New Year's Eve party was all about dance, music, DJ Light and lots of food. The evening started with the month-end party and then we celebrated the birthdays and anniversaries. Residents celebrated the arrival of 2020 with lots of positivity and zeal across all the projects.
Wellness Camps
On 14th November, we conducted the Influenza Vaccine Injection tie-up with City Nursing Home Hospital at Ashiana Utsav, Bhiwadi. They provided nursing staff and injections to the residents.Taking care of our senior's health is our priority
Thanks To The Maintenance Team
Maintenance is our expertise! We refurbished the Utsav Jaipur's wide range of buildings by applying a fresh coat of paint after 7 years again to make it look as good as new.
Read Less
---
Gandhi Jayanti
On 2nd Oct we celebrated Gandhi Ji's 150th birth anniversary at Ashiana Utsav Care Homes, Bhiwadi. All the residents took part in this celebration and remembered his contributions. The caregivers performed patriotic songs and Mrs. Pratibha Jain, one of the residents, spoke about Gandhi Ji's inspiring journey.
Diwali Celebration
The festival of lights was celebrated with great devotion by the Ashiana Utsav Care Homes, Jaipur and Bhiwadi residents and staff. The residents illuminated their homes with diyas and lights. The celebration included a Laxmi pooja and prasad distribution. All the senior residents gave blessings to the staff. They together enjoyed the festival by bursting eco-friendly crackers.
Fire Evacuation Training
Safety always comes first. That's why we organized a fire evacuation training session at Ashiana Utsav Care Homes, Bhiwadi. The session was conducted by Mr. Gurjent & Mr. Manoj Kumar. They trained our staff for fire emergencies.
Read More
Bhajan Sandhya
At Ashiana Utsav Care Homes, Bhiwadi, we look after the spiritual aspect of the residents as well. We frequently organize the Bhajan Sandhya for the senior residents which is conducted by Mr. B.D. Bhargava. They alternatively visit Care Homes to sing bhajans and devotional songs. The devotional songs enhance the environment with positivity.
Art and Craft Activities
We organized art and craft activities at Ashiana Utsav Care Homes, Jaipur. The caregivers conducted this activity along with some Ashiana Utsav volunteers. The residents created beautiful art and craftwork, which were put on display. They also did bowling and played tambola. This activity really enhanced their creativity and confidence.
Residents Birthday Celebrations
The celebration is the soul of Ashiana Utsav Care Homes, Jaipur. We organized a birthday party for the residents in the activity centre of Care Homes. Col Suhash Banerjea, Mr. Vijay Jairamdas and Mrs. Sheila Sadhwani did the cake cutting ceremony. All the residents and staff members wished them a happy & healthy life and enjoyed the snacks. We also shared the memories of birthday celebration with their NOKs, which they really cherished.
Art and Craft Activities
We organized art and craft activities at Ashiana Utsav Care Homes, Jaipur. The caregivers conducted this activity along with some Ashiana Utsav volunteers. The residents created beautiful art and craftwork, which were put on display. They also did bowling and played tambola. This activity really enhanced their creativity and confidence.
Games
We understand the significance of an active lifestyle for seniors. That's why at Ashiana Utsav Care Homes, Jaipur we provide an environment where senior residents can find suitable activities to keep their mind active. There are games like carrom, chess and bowling that the residents regularly play and enjoy with friends.
Christmas Celebration
Christmas is all about joy and sharing. Ashiana Utsav, Jaipur care home residents celebrated the festival together with a lot of zeal, decorating the tree and with a Santa distributing chocolates.
Read Less
---
Our Customer Engagement Initiative
Ashiana Supermoms
From saving the environment to showcasing some of their creative skills, there's nothing that our supermoms can't do.
Expanding our army of Supermoms, we launched the Ashiana Supermoms programme on the 12th of Dec in Jamshedpur. Since then, a total of 626 Supermoms have joined our ranks.
Act of kindness at its best
Supermoms thrive on fun
Praising the hard work of the maintenance team
Get. Set. Aerobics.
---
Q1. We celebrated accomplishment of our sales target after the successful launches of this quarter. How many units did we sell?
a. 1000
b. 1200
c. 955
Q2. What was the theme of Annual fun day celebrated in the Phoolwari School?
a. Celebrating India
b. Celebrating Unity
c. Celebrating Diversity
Q3. What was the theme of the ramp walk in Jashn 2019?
a. Halloween
b. Retro
c. Festive Fashion
Q4. This is how you send the answer If you think the answers are:
Question 1. (a)
Question 2. (b)
Question 3. (c)

Then SMS - AHL
1a 2b 3c and send to 56677
Winners will be chosen from
all-correct entries by a lucky draw.
Read Less