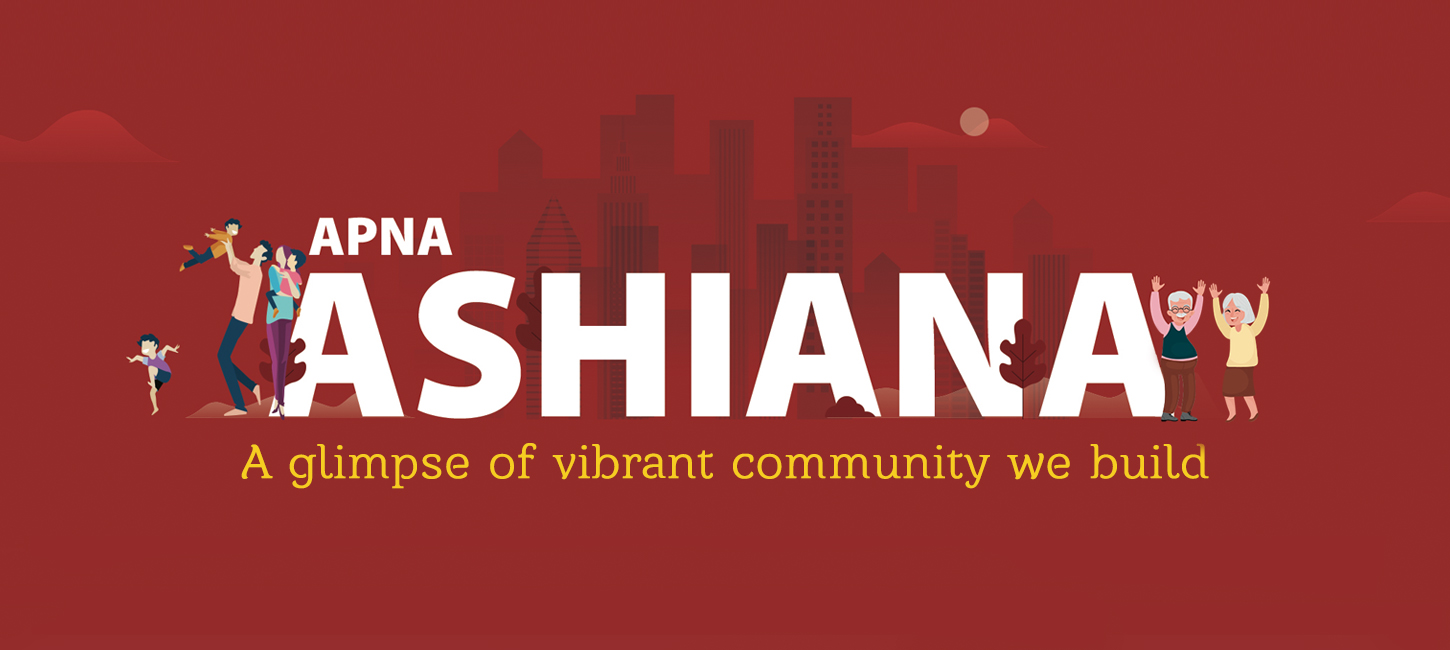 apna ashiana
VOL.22 | NO.73 | QUARTER I | APR - JUN 2022
Subscribe for quarterly newsletter!
A glimpse of vibrant community we build.
FROM THE DESK OF THE JT. MD
In my last letter, I mentioned that 2022-23 is going to be a very special year for us with our new launches coming in. I am so excited to share that we have already launched two projects in Gurgaon and Pune – Amarah and Malhar respectively. Both projects' response has been encouraging and it would not have been possible without our customers, channel partners and employees' support.
Activities and vibrancy have always been the soul of our communities and I am happy, that our team is continuously trying to deliver a delightful living experience each day
Yet another endeavour to enhance customers' living experience and to improve our service is a new app installation called SERVICING. This app will help to handle customer observations better. If you have any feedback on the app, send it to care@ashianahousing.com.
Read More
I would like to congratulate Ms. Babita Pathak, Ashiana Brahmananda, Jamshedpur on winning the Supermoms Season 6. And congratulations to all the participants. Ashiana Supermoms really adds a lot of value to our projects and society at large.
We bagged three recognitions: India's No.1 Senior Living 6th time in a row by Track2realty; Ashiana Nirmay – Best Senior Living project – non-metro; Ashiana Amantran – High-end residential project- non-metro. Thank you all for the love you have given us all these years.
Would like to touch upon one last thing. We are now calling Comfort Homes as Premium Homes, which we believe to be a better representation of what we deliver
Do stay connected with us for updates on our launches.
Always keep smiling!
Ankur
Read Less
---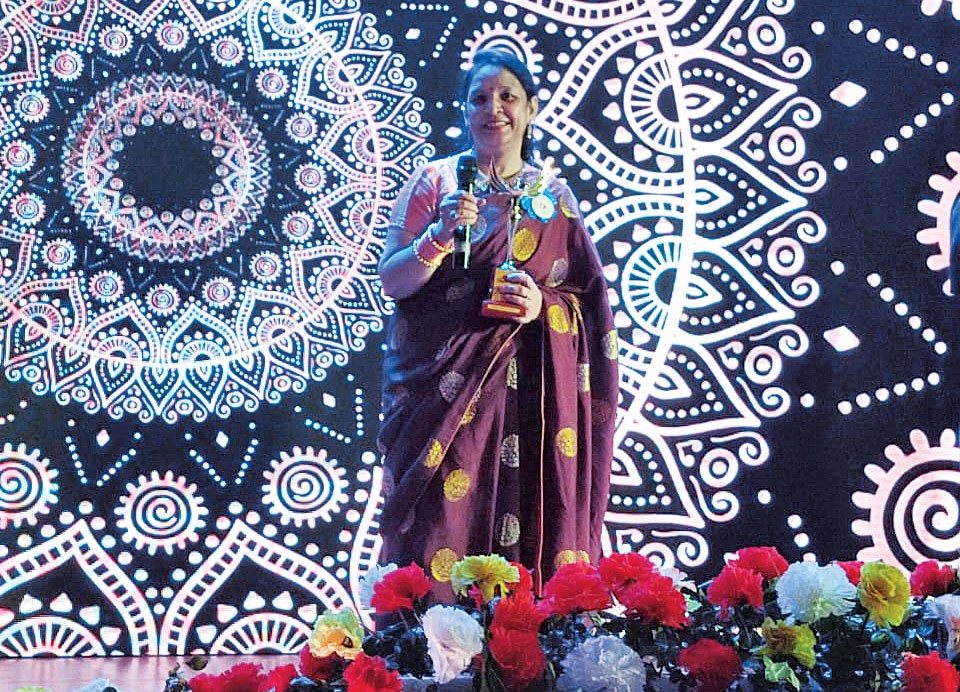 Jashn-E-Khel
The most awaited festival 'Jashn' was held in a virtual inter-project format at respective Ashiana Senior Living locations. Exemplifying that age is just a number, the event saw the maximum number of residents participating in activities like Cycling, Dance, Music Ludo, Walking, Carrom, Swimming, T.T, and Billiards, and giving it their best to win the competition.
Best Pavilion Award
We were thrilled to have been bestowed with the Best Pavilion Award at the CREDAI Real Estate Expo held in Jaipur. Kudos to CREDAI Rajasthan for yet another wonderful show!
Skate It Out
Ashiana Umang's skating kids Aarna & Rudransh competed in a district-level competition and won one silver and one bronze medal in the Under-8 division.
Read Less
---
Building Mental & Physical Strength
Yoga is part of a routine activity at Phoolwari. This time, children and Phoolwari teachers invited parents to join yoga and made them understand the immense benefits like increased concentration of doing it every day.
Discover, Learn & Grow
To keep Phoolwari children physical and mentally active, teachers made them indulge in different activities where children learned to make paper bags, bird feeders, planters from waste bottles, and much more. These activities helped in the overall growth of the kids.
Protecting Our Planet
On the occasion of Earth Day and World Environment Day, Phoolwari children learnt how to use resources wisely and to do their bit in every possible way. 327 saplings were planted by these kids along with Supermoms from different Ashiana properties, Ashiana employees and workers from the hutment at sites located at Bhiwadi, Jaipur & Chennai.
General Awareness Days
To support healthy morals and ethics, Mother's Day and Father's Day are given special preference at Phoolwari. These days were celebrated in the presence of parents and a session was kept to teach parenting and its value. Children organized fun games and competitions followed by cake cutting and presenting greeting cards made by them.
Key Improvements
A blend of things on the school campus can affect the overall development of kids. One of the government schools in Lalya ka baas, Jaipur was undertaken for upgradation and renovation in order to add more positivity to the school environment. Kanchan Verma, Class 8 from Lalya Ka Baas, Jaipur expressed her happiness by sharing:
"स्कू ल आना अब और भी ज़्यादा अच्छा लगता हैं कूंकि हमारा स्कू ल बहुत सुन्दर हो ्य गया हैं। मैं और मेरे दोस्त छुट्टी के बाद भी यहाँ रहते हैं। हम सब मिलकर खेलते हैं या स्कू ल का होम वर्क करते हैं। मैं बड हो ़े कर डॉक्टर बनना चाहती हूँ।"
---
Dance To The Beat!
An inter-Ashiana dance competition event was organized at Ashiana Brahmananda, Jamshedpur where kids actively engaged and showcased their moves to perform different forms of dance to win the trophy.
Water Polo
An inter-Ashiana Water Polo Championship was organized at Ashiana Anantara, Jamshedpur where kids sportingly and joyfully participated to play the fascinating game that was enjoyed by their parents.
Plantation Drive
A Plantation Drive was organized at Ashiana Dwarka, Jodhpur by the residents and Ashiana team on World Environment Day in order to motivate the new generation to plant trees. The event was attended by people of all ages, but children made an enormous contribution, showing their passion for the environment via a generation full of eco-conscious individuals.
Dive In!
An inter-Ashiana Swimming Competition was organized at Ashiana Woodlands, Dwarka and Ashiana Amarbagh, Jodhpur to get kids and residents to indulge in some outdoor fun in the summers. The kids took part and dove right into the competition to showcase their strength and speed as they were cheered and supported by their parents.
Health Check-Up Camp
A free Ear and Eye Health Check-up Camp was arranged at Ashiana Gardens, Sonari and in order to screen the locals and assist them with their diagnosis and necessary medication. The initiative for the well-being of the residents was well-appreciated.
Toss, Serve and Win
Ashiana Dwarka, Jodhpur hosted a volleyball competition with four teams competing for the title. Team B won the exciting final, taking home the trophy. The two-day competition raised awareness of physical fitness in society.
Read More
Keep Calm & Just Breathe Launch
A meditation camp was organized at Gulmohar Gardens, Jaipur where residents learnt patience, calmness and their importance in professional and personal lives in order to be happy and at peace.
Smash & Win
A badminton tournament was organized at Ashiana Navrang, Halol where kids enthusiastically participated to showcase their skills and indulge in some physical action to show their sportsmanship. Trophies were distributed to winners at the end of the competition.
Full House!
A game of Tambola was organized at Ashiana Navrang, Halol where kids and parents actively participated and tried their luck to become the ultimate winner with a full house.
Celebrate Good Health
International Yoga Day was celebrated with great eagerness among the residents at Ashiana Dwarka, Jodhpur and Rangoli Gardens, Jaipur. The majority of the residents took part in the morning session, which was followed by a few speeches that informed them of the history, philosophy, benefits, and significance of yoga.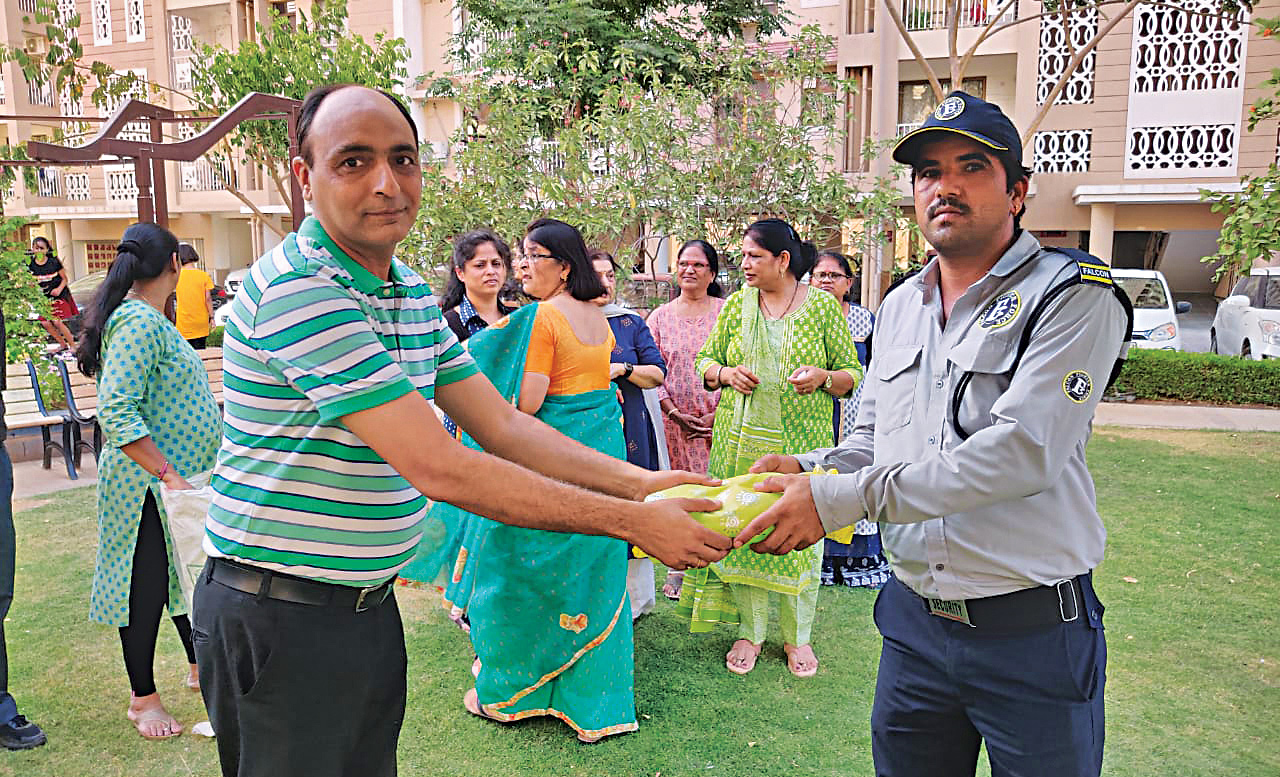 Key To Your Wellbeing
Labour Day was celebrated at Ashiana Dwarka, Jodhpur where residents gathered to honour the maintenance employees and workers, acknowledging each of their efforts and distributing gifts.
Kick It Win It!
Karate Championship was organized at Ashiana Dwarka, Jodhpur where many girls participated in the competition highlighting the awareness of self-defence in society. Prizes were distributed to the winners and the activity was appreciated by the resident attendees.
Setting A New Benchmark!
We continue to stand strong in our vision to create iconic landmarks as Ashiana Amantran, Jaipur bagged an award for 'Residential Project - High-end of the Year (Non-Metro: Ongoing)' at the 2022 Economic Times Real Estate Awards.
Read Less
---
Kids Pool Party
Kids from Ashiana Anmol, Umang, and Town were treated to a fun pool party where they participated in games like pool volleyball and zumba workouts to be fit and healthy.
Freeze & Move
Kids from Ashiana Anmol, Gurgaon engaged in a dance-freeze activity while honing their auditory skills.
Live & Learn In Summers
In association with 'Tezz Dimag', a free one-week summer camp was conducted at Ashiana Town, Umang, and Anmol's Learning Hub. As it was time to learn something new the kids were having fun while learning about topics like Abstract Art, Brain Science, Abacus, Robotics, Coding, Game development, etc.
Stand for Nature
Kids from Ashiana Town, Bhiwadi, passionately took part in the rally to raise awareness of nature and encourage residents to be more responsible with their actions.
Book Day Crafting
Kids from Ashiana Umang, Jaipur, made crafts inspired by their favourite books on the occasion of World Book Day to honour the famous authors.
Woodle Doodle
At Ashiana Umang, Jaipur, a special summer doodling workshop was developed for toddlers to practise sketching while having fun with their imaginative characters.
Poster Making Competition
Kids of Ashiana Anmol, Sohna, Gurgaon learnt visual representation of their research through charts, graphs, and other visual aids that helped them to articulate their thoughts in a creative and understandable manner.
Honoring Mother Nature
Kids from Ashiana Umang, Jaipur were seen making creative posters as part of an Earth Day competition to honour mother nature and spread awareness about the same.
Environment Treasure Hunt
Kids from Ashiana Umang, Jaipur participated in an entertaining and quirky environmental-themed treasure hunt, doing various activities to find their treasure, such as watering plants and picking up waste.
Read More
Smash It Win It
Kids actively participated in the Lawn Tennis Championship that was held at Ashiana Town & Umang as part of the Live & Learn programme to flaunt their athletic prowess and abilities.
Stay Safe Stay Happy
Standing for what we say, a physical safety session was held at Ashiana Umang, Jaipur for kids where they were instructed on how to defend themselves in the event of a stranger attack and respond with confidence and resilience in order to keep them safe.
Sky's The Limit
The volunteers at Ashiana Umang, Jaipur hosted a space club orientation meeting to enlighten and pique children's interest in astronomy and space travel.
Bingo Fun
Time to play indoors this summer! The kids of Ashiana Umang, Jaipur played Bingo, Pictionary and other board games while having a wonderful time with one another.
To My Loving Mother
Kids of Ashiana Umang, Jaipur showed their love and respect for their mothers on the special occasion of Mother's Day by gifting them handcrafted cards they had crafted individually.
Musical Prowess
The music group, including the talented kids of Ashiana Umang, Jaipur, put up a classy performance at a talent exhibition and earned a lot of compliments from the audience.
Kids' Safety Workshop
'Safe Campus' took a workshop with parents on the basics of kids' safety at Ashiana Umang, Jaipur, by presenting real-life situations and solutions to ensure safe living.
Skate It Out
Ashiana Umang's skating kids Aarna & Rudransh competed in a districtlevel competition and won one silver and one bronze medal in the Under-8 division.
Balancing Gets Fun
On World Yoga Day, an event was held in Ashiana Town and Anmol to promote fitness and good health. Children and their parents enthusiastically participated in an effort to gain balance and flexibility to aim for a healthy life.
Origami Workshop
Hands-on learning on butterfly making and paper folding was organized at Ashiana Anmol, Gurgaon where kids fueled their creativity by making something unique while improving their spatial visualization skills.
To My Loving Father
Kids in Ashiana Town and Umang created unique Father's Day cards and 'World's No. 1 Dad' badges to honour their fathers and celebrate the occasion.
Art to Articulate
At Ashiana Umang, Jaipur, a special storytelling event was held in association with 'Flying Seeds', with the goal of helping children express their stories in an entertaining way while connecting them to their emotions and values.
Grow It Eat It
The kids of Ashiana Anmol and Umang enjoyed their time in kitchen gardening while understanding its value to their physical and emotional wellbeing.
Animal Care
World Environment Day was celebrated at Ashiana Umang and Town with kids learning about the environment by feeding animals and participating in tree-planting activities at the Animal Farm.
Ride Safe Workshop
Kids between the ages of 5 and 15 participated in safe cycling and road safety workshops led by the 'Honda Traffic Training Park' team in Ashiana Town and Umang. During the course, kids enhanced their traffic awareness and adherence to all road safety regulations.
Hands-On with 3D Printer
Kids from Ashiana Umang, Jaipur received hands-on experience with 3D modelling and printing using our new in-house 3D printer as part of STEM education at our Learning Hub.
Get Your Pyjamas On
The end of summer was celebrated with a pyjama party, movie night & endless fun, as the kids of Ashiana Umang, Jaipur indulged in games, dance & paint parties followed by a sleepover.
Culinary Skills
Teenagers and preteens at Ashiana Umang, Jaipur, engaged in a culinary pizza baking competition where they exhibited a variety of cooking techniques while tasting delicious pizzas made by one another.
Food Fun Friends
Kids and moms were welcomed to a potluck dinner at Ashiana Umang, Jaipur, which resulted in a great bonding experience for both groups.
Gender Sensitivity Workshop
'Safe Campus' conducted an audiovisual workshop on women & gender sensitivity for Ashiana Umang kids to enlighten them on the importance of mutual respect regardless of gender.
Curiosity at Science Park
Kids from Ashiana Umang, Jaipur, participated in a field trip to the Science Park where they visited the physics, biology, and astronomy labs, which assisted them in using science practically
Best out of Waste
Kids in Ashiana Anmol, Sohna, Gurgaon, exercise their creativity by making something useful out of waste materials while also learning the value of sustainability
Journey To Planet
50+ Ashiana Umang kids visited the BM Birla Planetarium in Jaipur to see the 'Incredible Voyage of Cassini' exhibition, which culminated in being a special and significant educational opportunity for them.
Read Less
---
Beyond The Mat
International Yoga Day was celebrated at Ashiana Utsav, Bhiwadi and Ashiana Utsav, Lavasa led by our residents. Over 175 people attended the event, enjoying and enlightening themselves on the advantages of daily yoga practice for sleeping and relaxing.
Feel The Music
A musical performance was held in the TV room of the activity centre at Ashiana Utsav, Bhiwadi, in honour of International Music Day. The event was graced by 165+ seniors enjoying and vibing with the solo and instrumental performances by residents to commemorate the day and make for a pleasant evening.
ENT Camp
'ANVI Haring Solutions' organised a great initiative in the form of an ENT camp for the residents of Ashiana Nirmay, Bhiwadi. Around 38 residents participated and got themselves checked. The initiative was highly appreciated by all.
Display Your Creativity
A two-day creative workshop on Art and Craft was organized by the Dance Club members of Ashiana Utsav, Bhiwadi. Over 18-20 members fueled and showcased their creativity on the notice boards under themes like environment, inner peace and friendship via messages and poems.
Haryanavi Theme Party
The end of April was celebrated with a 'Haryanavi' theme party organized at the Ashiana Nirmay Multipurpose Hall which saw 220+ residents participating and following the vernacular dress code. Residents engaged in the party while performing a Haryanvi skit and dancing to enjoy the evening.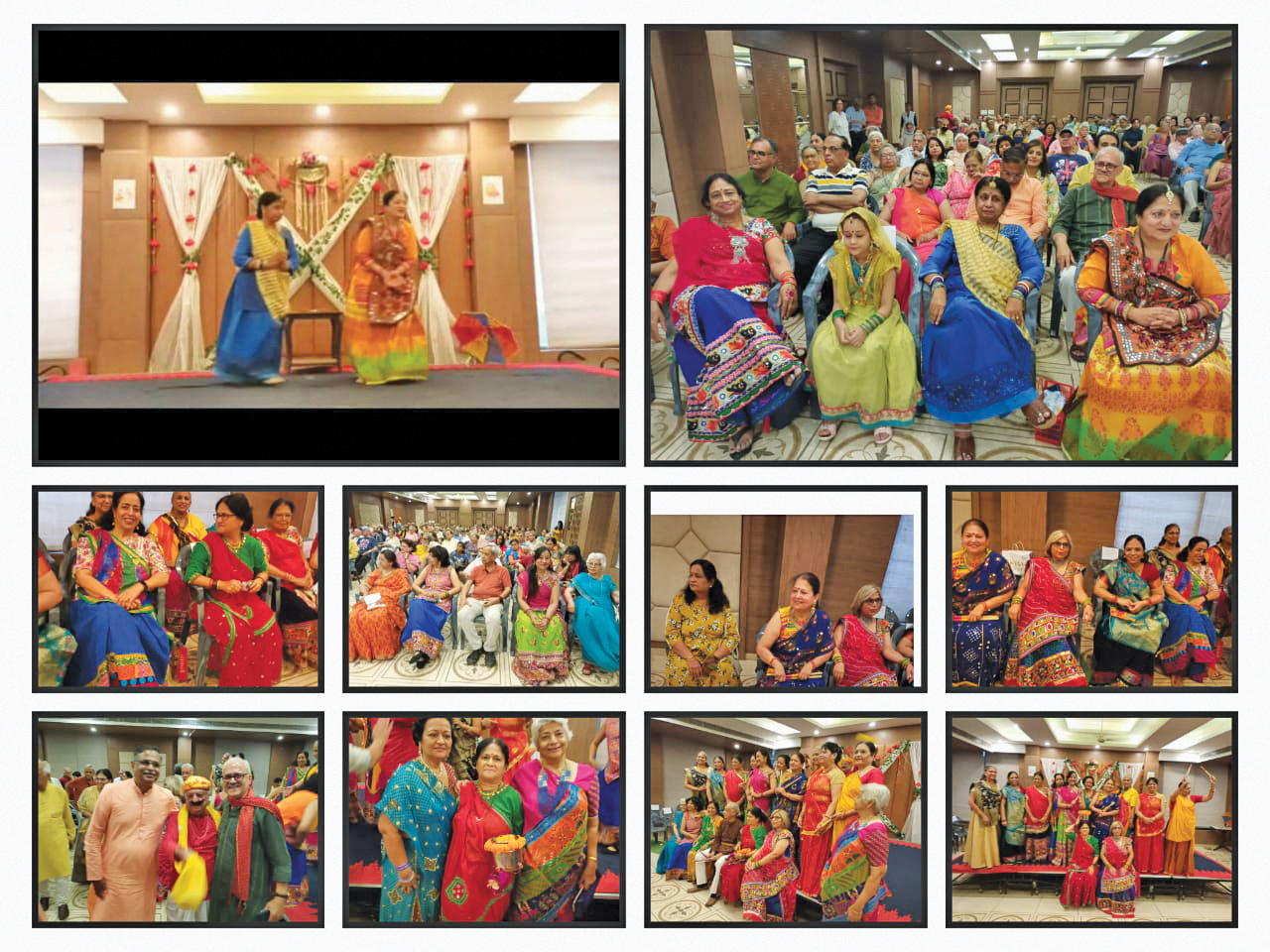 Gujarati Theme Party
240+ locals attended the Gujaratithemed party held at the Multipurpose Hall in Ashiana Nirmay at the end of May, where they all dressed in cultural attire. The residents indulged in the celebration by singing songs of Mahatma Gandhi and performing Garba to enjoy the evening.
Dramatical Masterpiece
Ashiana Nirmay, Bhiwadi hosted a spectacular theatre production called 'Tum jo socho wahi sach', which was directed by Ms. Asha Vishwas and Nirmay residents. The performance was enacted by residents and enjoyed by 138+ spectators.
Aqua Drills
We introduced a new activity called cardio workout in the pool for cardiovascular fitness, which received a lot of appreciation from the Ashiana Nirmay, Bhiwadi residents as it helped them reduce back pain, and build endurance and muscle strength.
Milestone Achieved!
We are proud to announce that we triumphed in the Award for the 'Senior Living Project of the year (Non-Metro: Ongoing)' at the ET Realty Estate Conclave & Awards '22 North for our project Ashiana Nirmay, Bhiwadi.
Sleep Longer Feel Better
Adjusting to an ageing body, a workshop on anxiety and insomnia was organized at Ashiana Utsav, Bhiwadi led by trainer Mrs. Tanu who delivered some prominent information regarding the subject to 65+ residents. The residents were taught some yoga techniques which aided them in sleeping for a longer period and dealing with everyday anxiety.
Celebrating Rajasthan Diwas
A routine month-end evening was organized at Ashiana Utsav, Jaipur with a Rajasthani theme followed by competition as residents enthusiastically participated by draping themselves in beautiful Rajasthani dresses to enjoy the celebration.
Live Carefree
To ensure our residents embrace their golden years while taking care of themselves, we planned two health seminars and a free health checkup camp by senior doctors to assist Ashiana Utsav residents with medical care.
Read More
ISKON Pravachan
Our Ashiana Nirmay resident Mr. Vijay Gupta organized the Kirtan & Pravachan Program conducted by 'ISKON Members of Delhi' which was enjoyed by the residents as they enchanted the name of God spiritually.
Toss & Serve
A Table Tennis tournament was held and enjoyed by spectators at Ashiana Nirmay, Bhiwadi which saw active participation from 26+ residents showcasing their forehand skills.
Acupressure Camp
An acupressure camp was organised for Ashiana Nirmay, Bhiwadi residents that involved the stimulation of specific acupoints to promote the health and wellbeing of seniors in order to get their muscles and joints in motion.
Devoted To Goddess Durga
The auspicious nine-day Chaitra Navratri was celebrated at the temple at Ashiana Utsav, Jaipur which saw residents joining the Ghatsthapana, Ramnavami pujan along with BhajanKirtan, Aarti & Prasad Vitran.
Talk Session by Our Resident
Our Ashiana Nirmay resident Mr. Suresh Khungar organized a talk session on the topic 'The incredible benefits of Brahmari Pranayama and Om chanting' which saw a great number of participants attending the session and enlightening themselves with spiritual knowledge.
Tribute To Our Martyrs
A proud moment for the Ashiana Family as one of our residents living at Ashiana Utsav, Lavasa ran a 168 km marathon to honour our martyrs who fought for our freedom and contributed to the independence of the entire nation.
Nostalgic Night
A musical night was celebrated in the Multipurpose Hall of Ashiana Nirmay, Bhiwadi. 156+ residents engaged in retro songs while reminiscing the good old days as they created an environment filled with nostalgia, happiness and joy
Mann Ki Baat
A great initiative by our team as we introduced a new activity called 'Mann ki Baat' which gave Ashiana Nirmay residents a platform to share their experiences, hobbies, life-changing stories and happy moments with one another
Nurturing Our Nature
We celebrated World Environment Day at Ashiana Utsav, Lavasa with residents planting new trees around the villas with the simple motive of living in a green and peaceful environment.
Shaam-E-Ghazal
Residents of Utsav, Jaipur, hosted a musical Ghazal evening where they showcased the beauty of love through poetry for the audience to enjoy.
Try Your Luck
Residents of Ashiana Nirmay engaged in a fun and exciting Tambola evening in an effort to try their luck and win the game.
Food Fun & Friends
After almost two years, the ladies of Ashiana Utsav, Jaipur, got together for a joyful and lively Kitty Party that included enjoyable games, lunch, and refreshments, as well as a muchneeded bonding opportunity.
Musical Gala
Every Friday saw our Ashiana Nirmay families enjoying the music and engaging in antakshari programs like jugalbandi, middle word, movie songs etc to light up the evenings.
Dance Your Way Out
As we encourage de-stress and carefree living, a Zumba event was organized for Ashiana Nirmay, Bhiwadi residents who had a lot of fun while stretching their bodies to engage in the energetic dance.
Readers Club
A routine Readers' Club meet was organized at Ashiana Nirmay, Bhiwadi which saw great enthusiasm and participation from the Nirmay residents as they shared inspiring and motivating books and poetries of their interest with the club members.
Improvement Is The Key
A routine and orderly open house was organized in Ashiana Utsav, Bhiwadi Hall with 170+ residents attending the meeting. The program was addressed by Shantanu Rishi Sir and Satish Sir who acknowledged the suggestions of the fellow residents on the development of the society with a positive conclusion.
Vision Care
An Eyecare camp was organized at Ashiana Utsav, Bhiwadi by one of the senior ophthalmologists and his team. The team screened 70+ residents along with the Ashiana Staff and suggested appropriate medication to help them with their eye problems.
Jashn-E-Khel
The most awaited festival 'Jashn' was held in a virtual inter-project format at respective Ashiana Senior Living locations. Exemplifying that age is just a number, the event saw the maximum number of residents participating in activities like Cycling, Dance, Music Ludo, Walking, Carrom, Swimming, T.T, and Billiards, and giving it their best to win the competition.
Read Less
---
To Our Caring Mothers
Mother's Day was celebrated at Ashiana Utsav Care Homes, Jaipur and Bhiwadi with cake cutting and refreshments for all the mothers of Care Homes to enjoy.
Birthday Parties
Happy moments should be cherished. This is the philosophy we live by at our Ashiana Utsav Care Homes, appreciating every small milestone, be it celebrating birthdays or any other special occasion of our valued residents.
Indoor Fun
Our seniors engaged in a bunch of board games like Tambola, and Puzzles at Ashiana Utsav Care Homes, Jaipur that helped them forget all their worries. The recreational board games helped our seniors in maintaining cognitive function, mental clarity, and memory retention.
Celebrate Nature
Living in perfect harmony with nature, we celebrated World Environment Day in Ashiana Utsav Care Homes by encouraging our seniors to plant new saplings and water them.
Fitness Comes First
Our social workers led a variety of enjoyable and educational games, exercises, and activities at Ashiana Utsav Care Homes, Jaipur, where residents actively participated in thread painting, vegetable colouring, newspaper cutting, and ball activities. These exercises improved our seniors' handeye coordination, spatial awareness, logical thinking capacity, and mental stimulation.
Creativity Never Stops
Painting, being fun, creative, and a relaxing pursuit, is a great stress reliever for seniors. Our seniors at Ashiana Utsav Care Homes, Jaipur, created and displayed a colourful artwork of a leaf painting with this wonderful activity.
Read More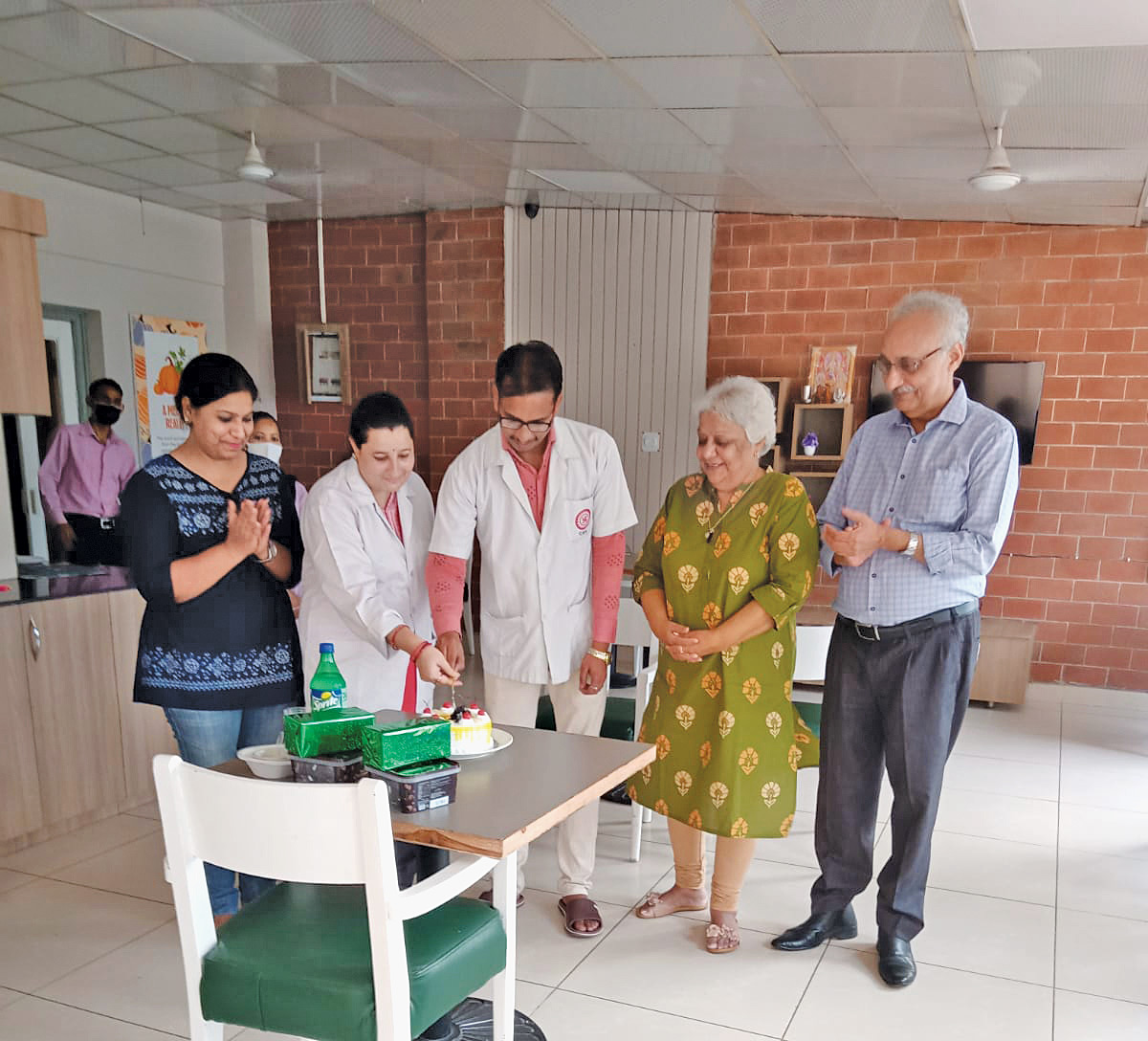 The Real Superheroes
Nurse Day was celebrated with great enthusiasm at Ashiana Utsav Care Homes, Bhiwadi, as we honoured our nurses with gifts as a small token of appreciation for their efforts and contributions in lieu of our seniors.
Read Less
---
| May to June | Bhiwadi | Neemrana | Jaipur | Jamshedpur | Halol | Jodhpur | Sohna | Total |
| --- | --- | --- | --- | --- | --- | --- | --- | --- |
| Moms Enrolled | 873 | 213 | 375 | 259 | 37 | 32 | 162 | 1951 |
Sow To Grow
On World Environment Day, Ashiana Supermoms organised a plantation session with our Phoolwari kids, teaching them how to sow plants and their importance in helping everyone pursue green living.
Helping The Needy
Looking at the aftermath of COVID-19, a donation drive was initiated by our Supermoms from different Ashiana properties to donate food, refreshments and other necessary items to the needy.
Art Of Healthy Living
Supermom Nandita from Ashiana Anmol, Gurgaon led a workshop on 'The Art of Healthy Living' for all the mothers in order to educate them about the importance of eating healthy and exercising.
Calmness Is The Key
On International Yoga Day, our Supermoms organised a yoga session at different Ashiana properties to teach residents how to be flexible, focused, and patient in order to live a healthy and peaceful life.
Ready For The Party?
Supermom Garima from Ashiana Anmol, Sohna, Gurgaon and Shallu Verma from Rangoli Gardens, Jaipur led a hands-on party makeup session which saw active participation from many looking to learn the art of looking glamorous for an occasion.
Ace Your Hair Game
Supermom Madhu planned a handson hair styling workshop for all the fashionable mothers at Ashiana Anmol, South Gurgaon where she made and demonstrated various hairstyles for special occasions.
Learning The Cycle
Supermom Shalini from Ashiana Anmol, Gurgaon conducted the craft and Water cycle process session for Phoolwari Kids to make them learn the movement of water and have fun with their creative minds.
Welcome To The Family
The new residents of Ashiana Anmol received a warm welcome and a token present from our Supermoms to foster a feeling of family and togetherness.
Kids' Care
Supermom Meenakshi Dewan volunteered for a safety measurement programme at Ashiana Umang, Jaipur where the significance of teaching children how to approach uncertain circumstances with confidence was highlighted.
Read More
Ride To Win
Supermom Jhalak conducted a Cycle Race Competition at Ashiana Dwarka, Jodhpur for the kids, who actively participated and showed their true spirit of being a rider.
Every Drop Counts
Supermom Nirmal from Ashiana Dwarka, Jodhpur and Supermom Krishna from Ashiana Manglam, Jaipur conducted a poster-making session on water conservation. The kids' posters highlighted the importance of water conservation and sparked residents' consciousness while using water.
Spread The Love
All the mothers participated in a flowermaking workshop led by Supermom Meenakshi Dewan from Ashiana Umang, Jaipur, where they learned how to create flowers out of scrap paper to use as house décor.
Fireless Cooking
Supermom Vanshita Khatri from Ashiana Umang, Jaipur took a 'Fireless Cooking' session for all the mothers who actively participated to learn some skills on cooking food items without the use of fire for their family
Craft On The Wall
Many Supermoms from different Ashiana properties conducted a session on wall hanging crafts from waste material that helped all mothers to get creative and decorate their homes, giving them an aesthetic feel.
Surprising The Fathers
A Father's Day craft activity was organised by Supermoms for the kids who engaged meticulously in order to make personalized cards to surprise their fathers.
Technological Prowess
Supermoms Bhawna, Peona and Sangita took a 'Digital Session' at Ashiana Jamshedpur to keep the maintenance staff technologically updated and received appreciation from the team for their contribution.
Balancing Little Ones
Supermom Deepshika from Ashiana Umang, Jaipur conducted a yoga session for our Phoolwari kids and taught them the importance of doing exercise every day to increase their mental power.
Ready To Glow?
All the mothers participated in a face mask session emphasising the value of healthy skin led by Supermom Satnam from Ashiana Gardens, Jamshedpur. The mothers thoroughly enjoyed the session as they bonded over some skincare therapy.
Contributing To Improvement
Our maintenance workers received assistance from Supermom Suruchi Dogra at Ashiana Neemrana who led a workshop on 'Personality Development and Time Management' while highlighting the value of discipline, punctuality, and productivity at work.
Exercise Plus Fun
Supermoms Deepika from Ashiana Tarang, Bhiwadi and Anita from Ashiana Aangan, Bhiwadi led an entertaining 'Aerobics and Bollywood Dance' session to encourage women to be flexible and stress the value of exercising daily to develop strength and reduce the risk of several harmful conditions.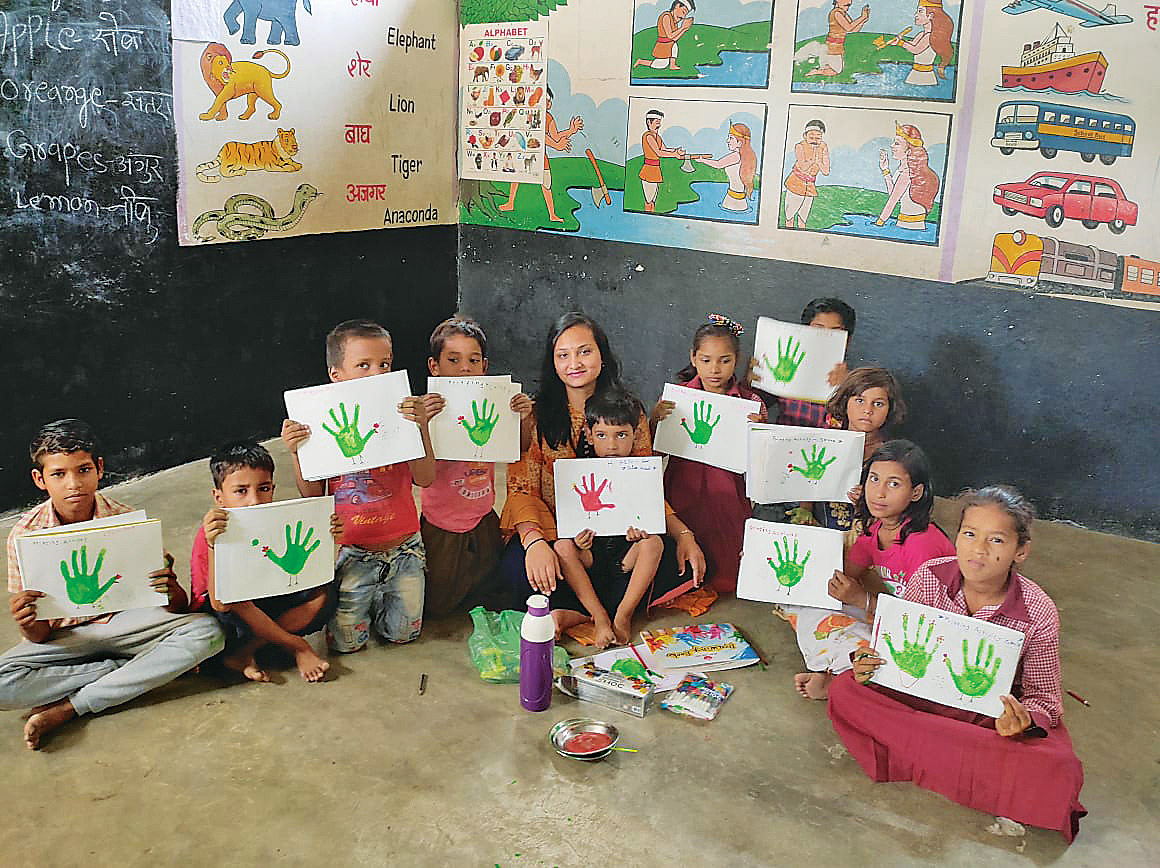 Teaching The Art
Supermom Suman from Ashiana Bhiwadi and Hetal from Ashiana Umang, Jaipur conducted an 'Art and Emoji Making' session for Phoolwari kids in order to stimulate their creativity and give wings to their imagination to create something unique and beautiful.
Grand Finale
Supermoms Season 6 Grand Finale was celebrated on Mother's day in Jamshedpur. The all-India winner, Babita Pathak from Brahmananda, Jamshedpur, was honoured with a trophy for several initiatives she took for her residents. Various activities like dance, singing etc were performed by the mothers that created a positive atmosphere for other mothers to join the Supermom community and feel empowered.
Supermoms Got Creative
Kids and mothers enthusiastically participated in creative workshops led by our Supermoms like Paper Craft, Fridge Magnet, Foam Craft, Painting, Flower Bouquet, Leaf Craft, Spiderman craft, Paper Bag, Coaster Making, and Bottle Decoration. They learned some impressive techniques to fold the paper and showcased their beautiful creations.
Congratulations To All The Winners
Trophies were distributed to the winners of Supermoms Season 6 at different Ashiana properties recognizing their brilliant and courageous initiatives for the community and society in general.
Read Less
---
AND THE SUPERMOMS GRAND FINALE WINNERS ARE...
---
Elevated Living
A new lift was built and inaugurated at the Pansy block of Ashiana Gardens to offer convenience to the residents. This initiative by the team was appreciated by all.
The Sound Of Water
Greeted by the sound of water, we successfully completed the construction of a water fountain at Ashiana Greenwood and Rangoli Gardens, Jaipur, bringing more positive vibes to the societies.
Kids Play Area Makeover
The old kids' play equipment at Ashiana Anantara was replaced with a new one at central park enabling kids to play and share happy times with their friends.
---
Ashiana Smiles
Welcome to Ashiana Smiles, our referral-based loyalty programme, where existing owners, as well as tenants, get to recommend Ashiana projects to their family and friends.
| Members | Bhiwadi | Jaipur | Jodhpur | Neemrana | Halol | Chennai | Sohna | Jamshedpur | Lavasa | Total |
| --- | --- | --- | --- | --- | --- | --- | --- | --- | --- | --- |
| Silver | 22 | 20 | 4 | 0 | 0 | 21 | 0 | 11 | 0 | 78 |
| Gold | 1 | 1 | 0 | 0 | 0 | 1 | 0 | 0 | 0 | 3 |
| Platinum | 0 | 0 | 0 | 0 | 0 | 0 | 0 | 0 | 0 | 0 |
Meet a few of our Gold Members
Mr. Ramesh Krishnan
Ashiana Shubham, Chennai
Mr. & Mrs. Geeta Tiwari
Ashiana Umang, Jaipur
---
Digital Warrior
Team Dataquest congratulated Sandeep Jamdagni, CIO, Ashiana Housing Limited on being awarded the Digital Leader Award in the Real Estate Category for heralded Work from Home paradigm in a seamless, secure, and productivity-centric way.
Best Pavilion Award
We were thrilled to have been bestowed with the Best Pavilion Award at the CREDAI Real Estate Expo held in Jaipur. Kudos to CREDAI Rajasthan for yet another wonderful show!
Real Estate Expo
Dainik Bhaskar organized an Expo for all Real Estate builders & developers in Jodhpur. This event gave all real estate organisations a platform to market themselves and engage with the community. Ashiana Dwarka's team got 85 visits during the Expo and an overwhelming response from society.
---
Ergonomics Webinar
A webinar on Ergonomics was conducted to discuss the key factors that help the employees to be efficient and effective in their work environment and do the job to their best potential.
Journey From Good To Great
A session was conducted for the employees on effective business communication, email protocol, grooming and personality development and how all these together are effective in one's professional journey and to help the organization achieve its objectives.
Unity Is Strength
A 'Team Building Webinar' was conducted for Ashiana employees where topics like recognizing the characteristics of high-performing teams, constructive feedback sharing, aligning oneself with the organizational goal and how to be a team player were discussed.
Employee Care Initiative
As they take care of you, we take care of our employees! A medical health cum awareness camp was organized by ESIC for our employees at Ashiana Town, Shubham and Anmol which included health check-ups, medical consultation by the doctor, medicine distribution and further consultation or treatment, if required.
---
Mr. Abhishek Kumar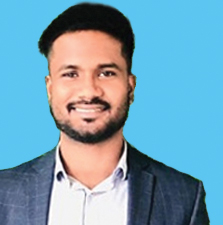 Mr. Manoj Kumar Rout

Ms. Gurusha Ahuja

Mr. Abhijeet Sharma

Mr. Sourabh Pradhan

Mr. Subhadeep Dutta

Mr. Lakhan Lal Jangade
Mr. Mahesh M

Mr. Mrinal Sharma
Mr. Nitesh
Mr. Chhote Lal Jangdey
Mr. Dilip Paswan
Mr. Anil Kumar
Mr. Umesh
Mr. Arun Bhati
Mr. Jai Chopra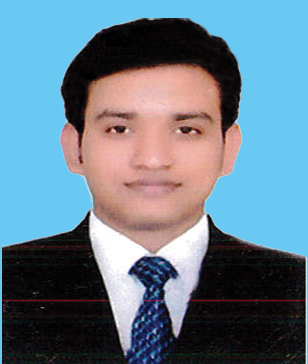 Mr. Abhijeet Roy
Mr. Rahul Sharma
Read More
Read Less
---
---
Going The Extra Mile
One of our residents at Ashiana Town, Bhiwadi, had come to play in the swimming pool along with his family. The parents got distracted and didn't notice their child drowning. Vikas, a Swimming pool Operator & Lifeguard, saw the kid in trouble and immediately jumped in the water to save him. The parents were very thankful for his prompt action and offered financial aid to buy a new phone, as his old one got spoiled when he jumped in the pool. We thank Vikas for going the extra mile & delivering happiness all around.

Please send contributions for Aap Ki Kalam Se (poem/shayari), with your full name, address and photograph to get featured in our next Apna Ashiana Newsletter. Contributions may be in English or Hindi, not more than 175 words or you can also send us interesting pictures taken in our project by you. Write in to: lalit.kumar@ashianahousing.com
Instructions
Here's how to send your answers for the Quiz!
If your answers are
Question 1 (b)
Question 2 (c)
Question 3 (d)
Then send an SMS to 56677 AHL 1b 2c 3d. Winners will be chosen via a lucky draw
---
Q1. How many visits did Ashiana Dwarka get in its Real Estate Expo?
a. 89
b. 84
c. 85
d. 81
Q2. How many kilometers did our Lavasa resident run to honour the martyrs who fought for our country's freedom?
a. 165 km
b. 166 km
c. 163 km
d. 168 km
Q3. Which location stood out with the most members for Ashiana Smiles?
a. Bhiwadi
b. Chennai
c. Jaipur
c. Jamshedpur