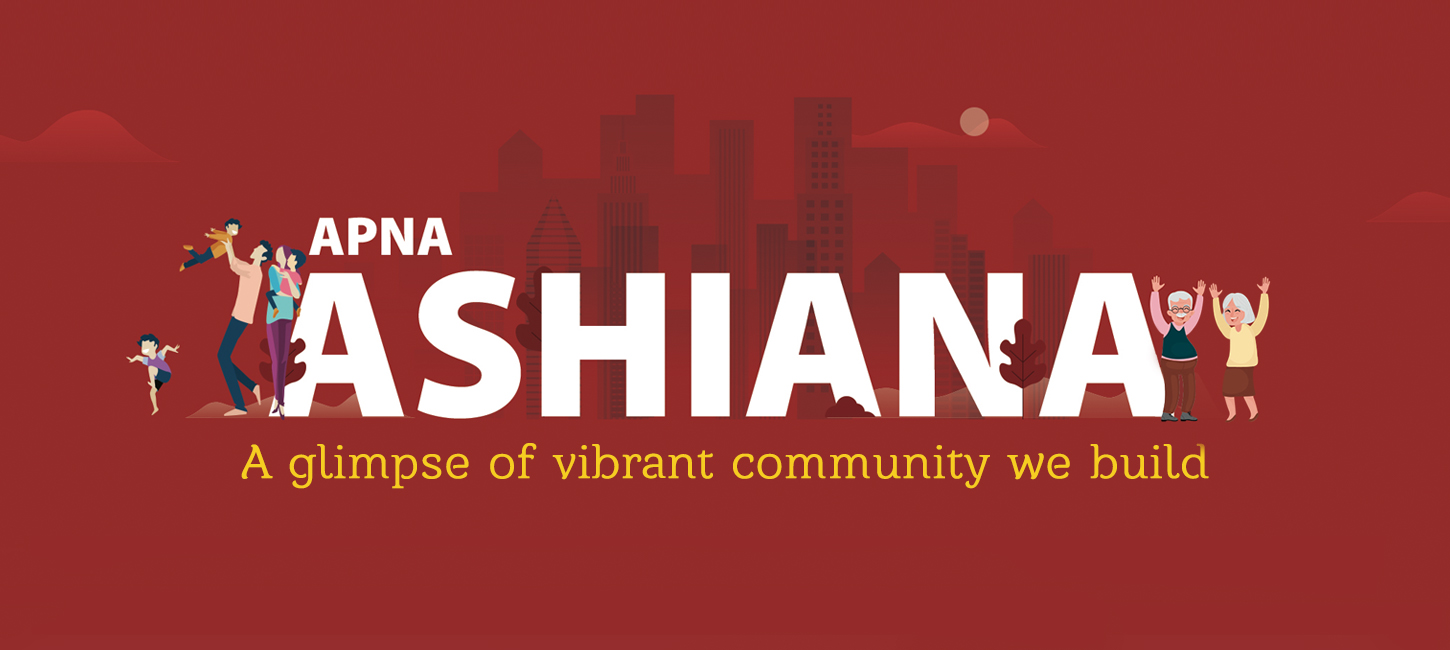 apna ashiana
VOL.23 | NO. 74 | QUARTER II | JULY-SEPT 2022
Subscribe for quarterly newsletter!
A glimpse of vibrant community we build.
FROM THE DESK OF THE JT. MD
Dear friends,
As always a little late in getting the Apna Ashiana out. More things have happened this quarter which I will talk about in the next issue which we will try to get out by Feb 15th. I am sorry for the same.
July to September has been an interesting quarter where we launched our very first project in Pune. We got a great response for a new location and as always got help from our existing customers and our supermoms. Thank you for making Pune a success for us. Please do refer your friends to Ashiana Malhar in Hinjawadi, Pune.
Activities has always been a strength of our communities which creates a wonderful environment for our residents so they can truly enjoy their homes. From Phoolwari - Premium Homes – Kid Centric Homes – Senior Living – Carehomes – Ashiana Supermoms , there is so much happening , it gets difficult to capture in one edition. I love the vibrancy all across.
Read More
I am sure you will see so many glimpses of the same in this edition
We also got our construction back on track and doing more construction than ever before. Our challenges have increased with two more locations being added - Gurugram and Pune. However our team is totally on top of the same and I believe you will see magic happen everywhere. I remember dad saying that its such a great feeling to see baren land convert into homes and where families create memories. We are excited.
Always keep smiling !
Ankur
Read Less
---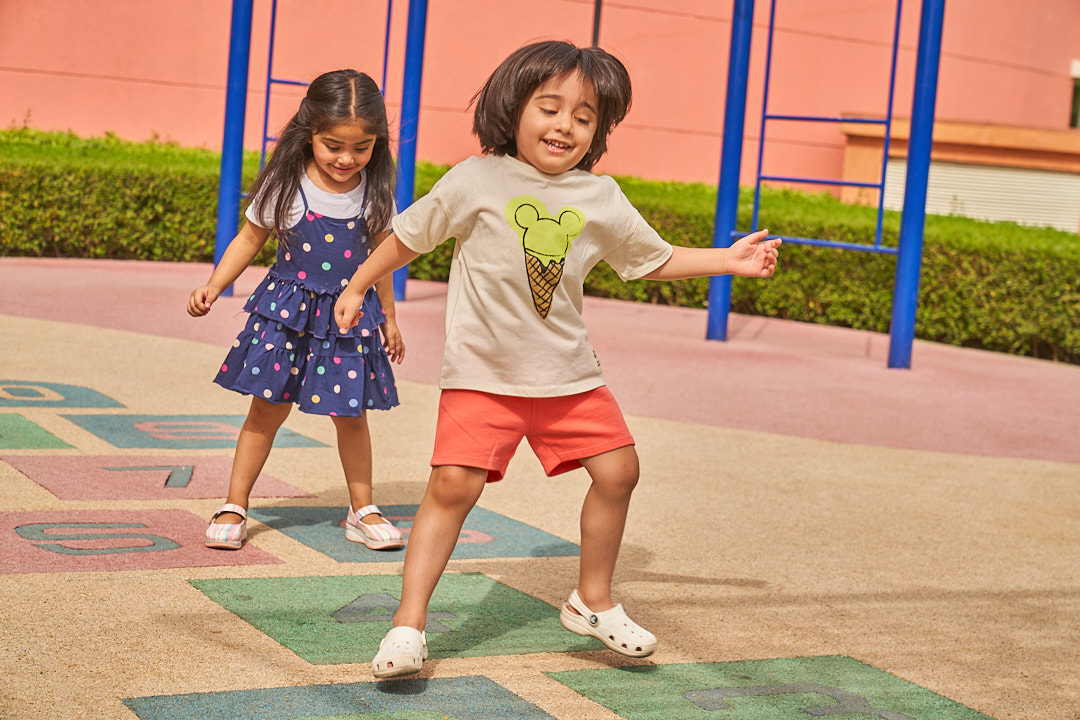 Amarah By Ashiana - Where Childhood Remains Childhood
The wait is finally over! Ashiana Housing presents Amarah by Ashiana, a Kid Centric Home which invites you and your kids to a world where time is measured by the amount of fun and days are spent having the best experiences of your lives.
Ashiana Malhar - Let's Go Home
The Ashiana family & important stakeholders gathered to successfully commemorate the launch of Ashiana Malhar at Hinjawadi, Pune. Our team introduced Ashiana Malhar by walking through an on-screen delightful experience with state-ofthe-art amenities that ensure viewers and buyers an elevated living.
Kumbhabhishekham Temple Inauguration
The Kumbhabhishekham temple inauguration ceremony at Ashiana Shubham, Chennai was conducted in full force as our residents and staff performed the holy pooja
Read Less
---
Feeling Blessed With Education
This year, we organised a session for Phoolwari children and their parents to learn reading & writing and give them access to information about current technologies. To keep the spirit alive, the children participated with high enthusiasm & assisted their parents to learn.
Societal Commitment
We upgraded the school in Sri Krishanpura village, Jaipur, as a sign of our dedication to improving the educational system. The inauguration was done by Mr. Mohan Lal Yada (IAS), State Project Director and Commissioner, Education Department, Government of Rajasthan.
Building Mental & Physical Strength
Monsoon season was cherished by Phoolwari children as they indulged in a craft activity, monsoon theme-based & water harvesting model making which made the classrooms even more beautiful and lively.
Hey, Best Friend!
Friendship Day was celebrated at Phoolwari with a lot of fun activities like crafts, friendship bands & greeting card making organised. Considered an important day of celebration, children cherished the wonderful relationship they have with one another.
Proud Indian
Phoolwari children celebrated Independence Day with great pomp and show. Indulging in activities like flag hoisting, dance & skit performance, tricolour badges, and flower & paper mask making, the Phoolwari children ended their day by receiving gifts & sweets.
To My Loving Brother
Phoolwari Children crafted their own colourful rakhis for their siblings and celebrated the festival in school by participating in all rituals with the Phoolwari Family.
Read More
Celebrating Janmashtami
On the occasion of Janmashtami, Phoolwari children traditionally dressed up as Radha and Krishna and indulged in flute making, dahi-handi, theme decoration, songs & dance performances. Teachers also narrated the mythological tale to mark the importance of the celebration.
Greenery & Environment
One of our residents from Ashiana Utsav, Bhiwadi organised a plantation drive at the Government School in the Ghatal Village of Bhiwadi and donated saplings for this noble cause. Teachers and kids from the school actively took part in the initiative and assisted one another in planting the saplings.
Navratri & Dussehra Celebration
To light up the religious mood on the occasion of Navratri, children dressed up to enjoy the Garba festival followed by a storytelling session on all nine goddesses. Celebrating Dussehra, children prepared their own Ravana statue & presented the Ramayana story in a series of narrations followed by burning the statue of Ravana into ashes to add to the delight.
Celebrating The Light To Your Path
Appreciating the hard work of Phoolwari teachers, children of Phoolwari prepared greeting cards, and crowns and made them feel special on Teacher's Day. This was followed by cake cutting by teachers and lots of fun-filled games with students.
Valuing The Efforts
To value the efforts of our employees and involve our Phoolwari children in the community, they presented greeting cards to our engineers at many sites to make them feel appreciated.
Welcoming Happiness
On the occasion of Ganesh Chaturthi, Phoolwari children made an eco-friendly Ganesha to seek blessings and decorate it with flowers and rangoli. Children enjoyed the storytelling session as the teacher narrated many stories of Lord Ganesha followed by a prasad offering.
Responsibility Fulfilled
In recognition of our ongoing support of education in the state of Rajasthan, the Rajasthani government awarded Ashiana Housing with the 7th Bhamashah Award and the title of 'Shiksha Vibhushan'.
Read Less
---
Act Smart, Be Safe
Residents of Ashiana Dwarka, Gulmohar Gardens, and Ashiana Gardens enthusiastically engaged in fire safety training to learn how to handle themselves and their families and remain safe in the event of an emergency.
Celebrate The God Of Fortune
Many residents at Ashiana Dwarka, Jodhpur & Vrinda Gardens, Jaipur attended the five-day Ganesh Chaturthi celebrations to add to the joyful mood. The residents happily participated in a variety of events held to celebrate the holiday and feel festive.
Salute The Nation
Independence Day was celebrated at Ashiana Dwarka, Ashiana Gardens, Ashiana Manglam, Rangoli Gardens & Gulmohar Gardens with several events being organized to engage the kids and other residents. Many residents turned up for the occasion to celebrate freedom and honour the martyrs sacrificing their lives to make our nation independent.
Saawan Mahotsav
Saawan Mahotsav was celebrated at Ashiana Dwarka, Jodhpur and Ashiana Gardens, Sonari where female residents attended the event to celebrate the religious and holy season.
Freedom Rally
On the 76th anniversary of the country's independence, Ashiana Dwarka and Ashiana Tarang residents took part in the 'Har Ghar Tiranga' march to commemorate the country's freedom and praise its name.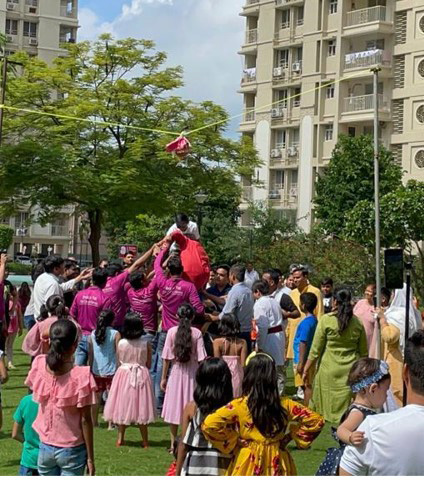 Dahi Handi Celebration
Janmashtami was celebrated at Vrinda Gardens, Jaipur & Ashiana Tarang, Bhiwadi where people celebrated the auspicious day by participating in a pot-breaking competition in teams.
Read More
Vishwakarma Celebration
Vishwakarma Puja was held at Ashiana Gardens, Rangoli Plaza and Ashiana Greenwood where residents got together to celebrate the auspicious day and seek the blessings of Lord Vishwakarma.
Celebrating Goddess Durga
Durga Puja was held at Ashiana Woodland, Anantara & Brahmananda to celebrate the victory of good over evil and honour Goddess Durga for her motherly power behind all of life and creation.
Initiative Towards Health
A free eye health check-up camp by the AMSL team was arranged at Ashiana Greenwood, Jaipur. The initiative was taken to suggest solutions to residents' eye-related concerns which was well appreciated.
Supermom Meetup
The Supermoms of Ashiana Greenwood and Rangoli Gardens welcomed new members by introducing them to the community and engaging them with games like Tambola which was followed by refreshments.
Celebrating Teej
Teej celebration was organised in Ashiana Greenwood, Jaipur where women prayed and sought the blessing of Goddess Parvati.
Smash It, Win It
Residents of Gulmohar Gardens, Jaipur actively participated in a badminton tournament, sponsored by ASML, while showcasing their footwork, serving, and smashing skills to ace the tournament.
Ashiana Malhar - Let's Go Home
The Ashiana family & important stakeholders gathered to successfully commemorate the launch of Ashiana Malhar at Hinjawadi, Pune. Our team introduced Ashiana Malhar by walking through an on-screen delightful experience with state-of-the-art amenities that ensure viewers and buyers an elevated living.
Read Less
---
Traffic Monitoring
For the kids of Ashiana Town and Ashiana Anmol, we prepared activities for traffic monitoring and traffic safety awareness. Children in Ashiana Town were taught about and reminded of the value of wearing a seat belt, helmet, etc. Children at Ashiana Anmol were exposed to charts, graphs, and other visual aids that provided a visual depiction of their research on traffic.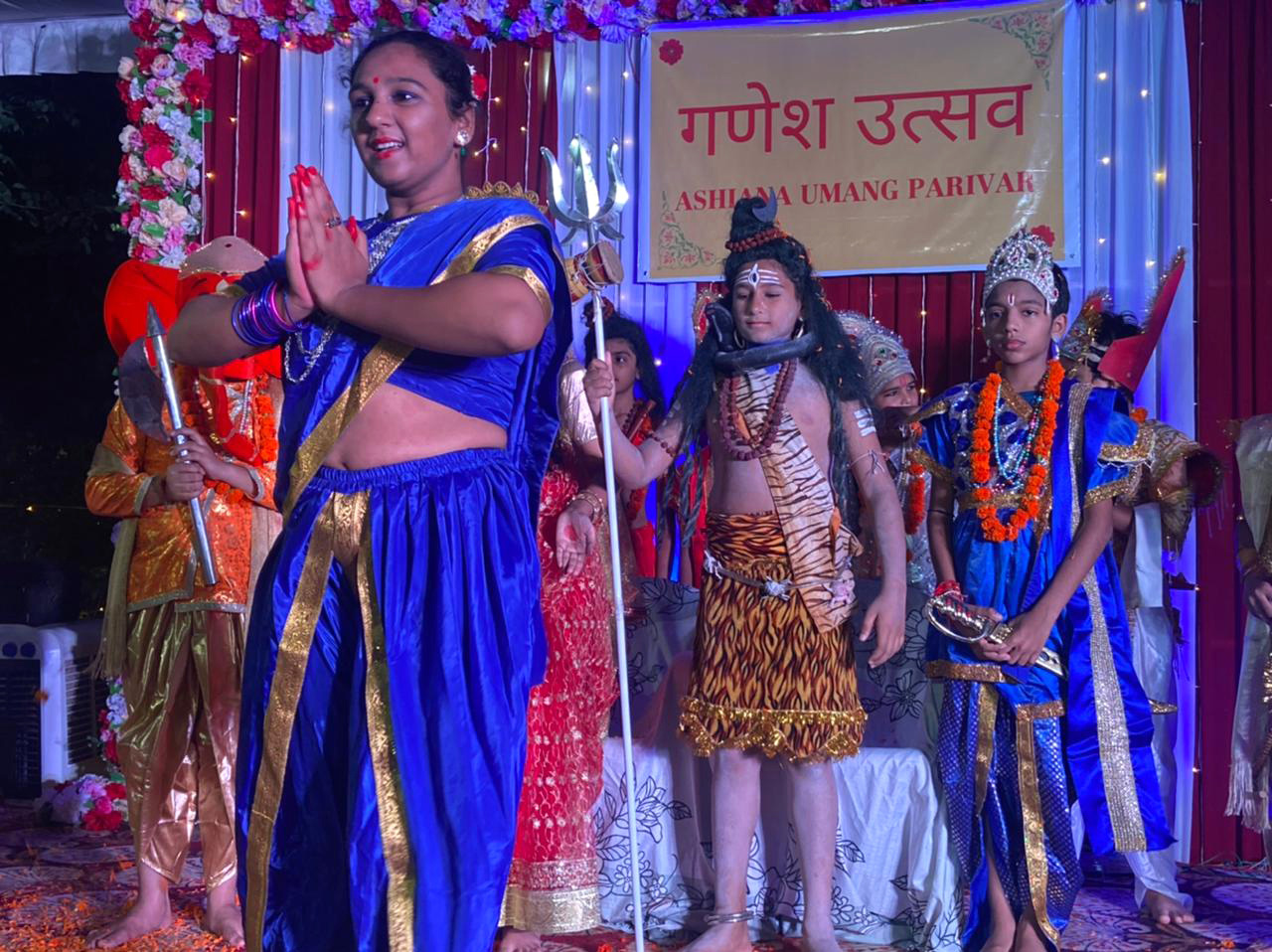 Story Of The Idol
Everyone at Ashiana Umang, Jaipur enjoyed the children's theatre performance of Lord Ganesha's heroic and motivational story during Ganesh Utsav.
Janmashtami
Janmashtami was celebrated in different ways at Ashiana Kid Centric Homes. Ashiana Town conducted a fancy dress competition, talent showcase, and dance performances. Ashiana Anmol had kids, teens, and adults engaged in a fun-filled environment fostered by Dahi Handi, Flute Decoration, and Art & Craft painting activities. Ashiana Town had a flute, and pot decoration competition along with fancy dress where kids draped themselves as Krishna & girls enjoyed the costume of Radha.
Dear Friend!
Kids enthusiastically met new friends while participating in singing, dancing, games, and mask-making activities at Ashiana Umang, Town, and Anmol Friendship Day party. The event was followed by delectable food for kids to savour.
Celebrating 75 Years Of Freedom
Ashiana Kid Centric Homes enthusiastically celebrated Independence Day. Ashiana Umang kids gave a lovely performance centered on India's quest for independence followed by an awards ceremony. While in Ashiana Town, kids decorated the Learning Hub and made paper flags. Ashiana Anmol featured a children's parade that was worth watching followed by patriotic poetry, song, and dance performances.
Curious Minds
STEM Club held a science experiment activity at Ashiana Umang in Jaipur and Ashiana Anmol in Gurgaon. Kids learned how to make a bottle volcano, DIY snow, do acid-base litmus tests, and much more. By teaching them new methods of posing questions and comprehending the experiments, these activities aided children in developing their intellectual curiosity
Next Viswanathan!
Under the 'Live & Learn' Program, Ashiana Umang, Jaipur & Ashiana Town, Bhiwadi hosted a junior chess tournament where kids showcased their intellect and critical-thinking skills to be the king of the tournament and claim the first prize.
Hindi Diwas
On Hindi Diwas, Ashiana Town in Bhiwadi organised poetry competition for young children and essay writing competition for students between the ages of 5 and 15. The competitions allowed children to demonstrate their creativity and writing abilities while also showing their love for our national language.
Dive To Win
This year's Inter Ashiana Swimming Competition was held in Ashiana Umang, Jaipur where residents of all Ashiana projects in Jaipur participated to showcase their physical skills and passion for the sport.
Read More
Art & Artist
Experts ran an art class at Ashiana Umang in Jaipur where children learned cup painting and abstract art while honing their creative abilities.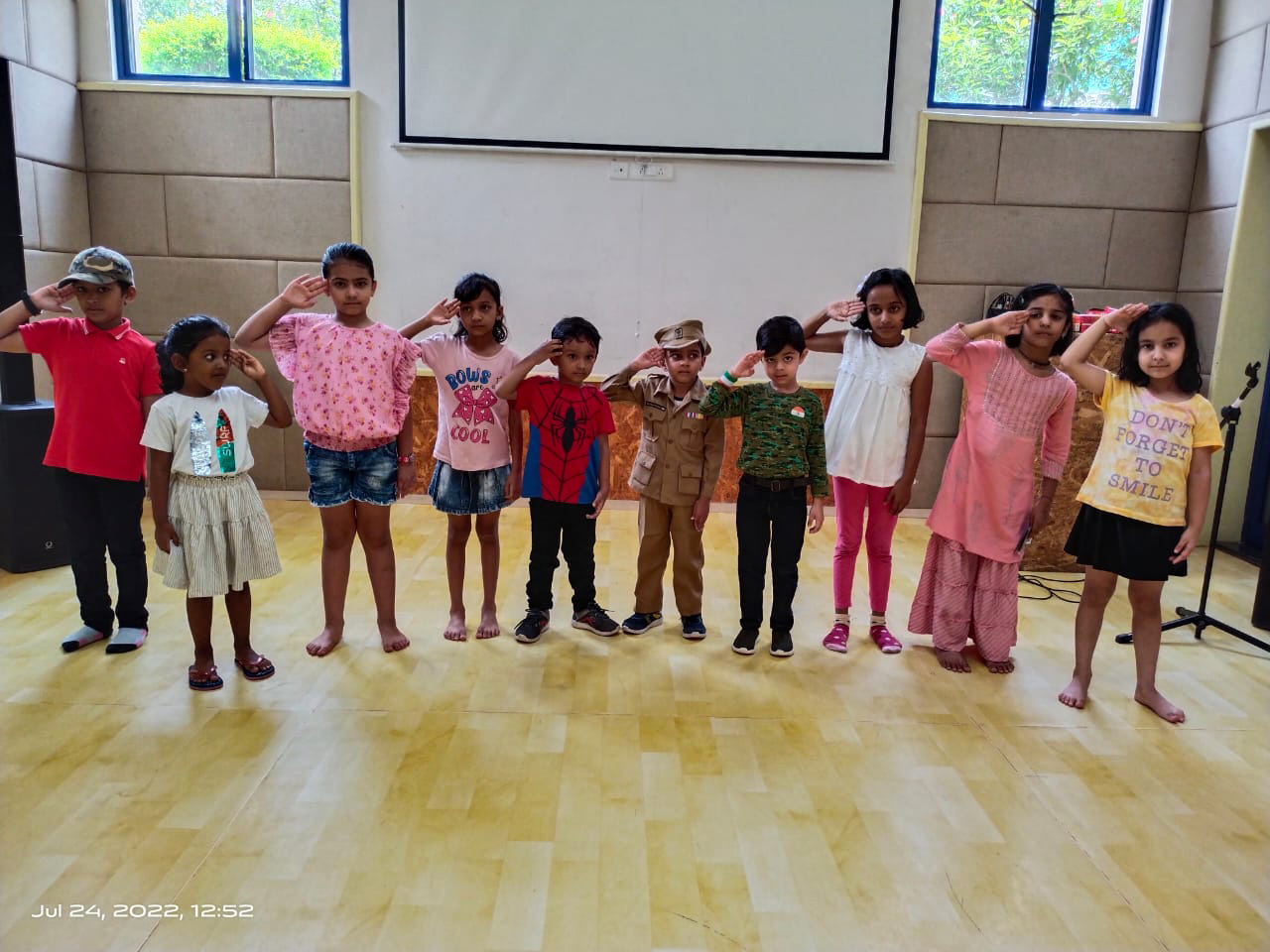 Kargil Divas
Kids from Ashiana Umang, Anmol, and Town participated in a painting and poetry competition as a way to honour our martyrs and remember the heroic troops who gave their lives in the Kargil war. A Speech was given by an ex-army person at Ashiana Anmol, Gurgaon about our nation's Victory of Operation Vijay happened on 26th July 1999.
Health Is Wealth
A specialist spoke to parents and kids in Ashiana Town, Bhiwadi on physical and mental health. Parents who attended the workshop became more knowledgeable about the expert's advice on improving their kid's physical and mental health.
Plant The Future
A planting activity was held by the in-house pre-primary school "Little Beehive" at Ashiana Umang, Jaipur to promote environmental awareness and develop young children's motor abilities.
Grandparents Day Celebration
Team Ashiana Town in Bhiwadi visited Ashiana Nirmay on Grandparents Day together with all the kids. All the seniors and children celebrated and had a great time on a day filled with activities like dancing and games.
Pajamas On!
Kids from Ashiana Town, Bhiwadi, and Ashiana Anmol, Gurgaon, were invited to a pajama party. Children enjoyed participating in games like musical chairs, passing the pillow, and other entertaining activities to enjoy a funfilled evening.
Time To Roll!
Aarna, Nivedita, and Ayushman, the champions of our skating class from Ashiana Umang, Jaipur, competed in several school and district-level skating competitions and took medals home in the under-8 and under-10 age divisions.
Make Them Visualize
For the kids of Ashiana Anmol, Gurgaon, a storytelling workshop was created where they could pick up new techniques for narrating stories. Oblivious to the fact of it, kids were able to gain important life lessons by hearing an engaging, fascinating story.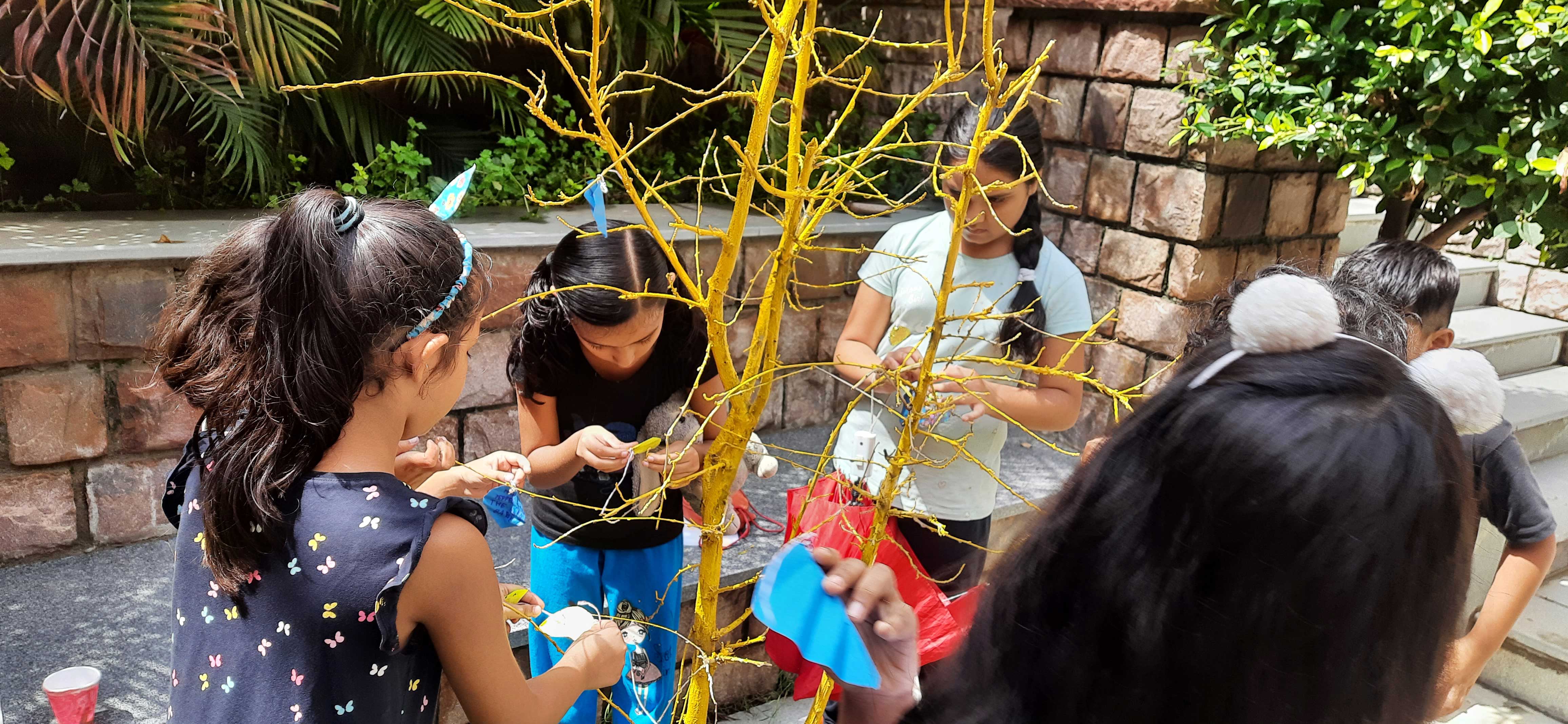 Read & Lead
The Book Club of Ashiana Umang, Jaipur painted a dried tree to serve as a reading tree and keep track of the books they have read to demonstrate their love for reading and education.
Card Making
To show their appreciation and respect for seniors on Senior Citizen Day, Ashiana Town in Bhiwadi hosted a cardmaking workshop for children. The next thing that happened was a story session where we welcomed seniors from Ashiana Nirmay, Bhiwadi, to share their amusing and inspiring experiences with the children.
Trivia Night
Teens participated in a lively and entertaining trivia night at Ashiana Umang, Jaipur where they exhibited their knowledge by responding to questions about science, TV shows, language, geography, etc.
Each One Plant One
Kids' physical and emotional wellbeing are meant to benefit from being in nature. The kids of Ashiana Town in Bhiwadi planted trees while learning about the value of trees and their advantages for all.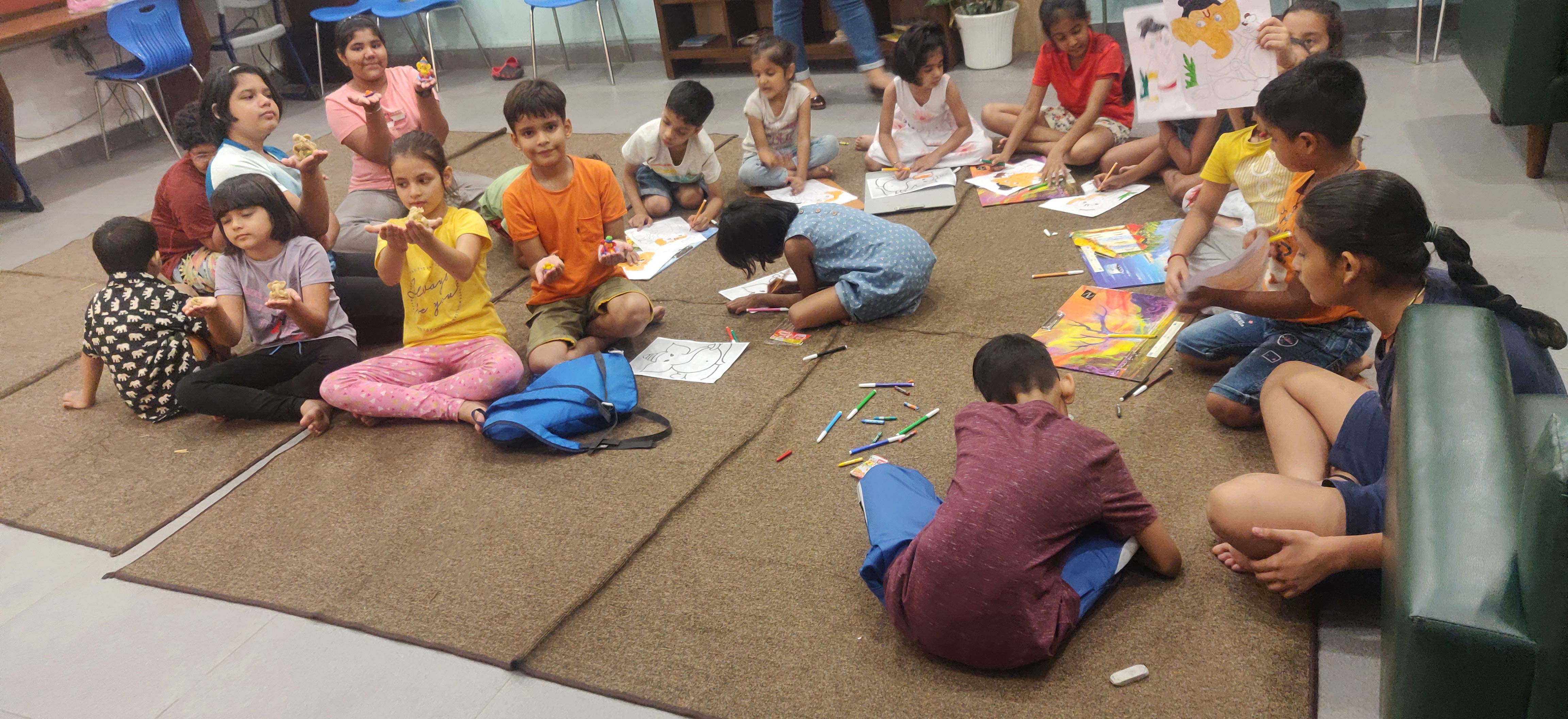 Drawing Significance
On the occasion of Ganesh Chaturthi, Ashiana Umang, Town & Anmol sponsored a drawing competition where children enjoyed creating the face of Lord Ganesha using clay and paint colours.
Say No To Plastic
Kids at Ashiana Town, Bhiwadi, created a poster with the message 'Say no to single plastic' after learning about its negative effects on the environment.
Exercising Little Minds
7 days reading challenge at Ashiana Umang, Jaipur instilled a culture of reading among children. Children's reading habits were ingrained by the 7 Days Reading Challenge at Ashiana Umang in Jaipur.
Exercising Mind
In collaboration with Pepmind, a free four-day workshop with a systematic design was held at Ashiana Town clubhouse to identify a child's cognitive abilities, learning preferences, and attitude toward memory recall, and to present different simple and efficient strategies for advancing the child's performance.
Youth Is The Future
An enlightening and entertaining Saving Water workshop on entrepreneurship was given at Ashiana Umang, Jaipur to inform youths about the scope of entrepreneurship and how they might succeed in their professional careers.
Work Sweat Achieve
In Ashiana Town, Bhiwadi, a competitive tennis tournament was held as part of the Live & Learn initiative. A nutrition and food session was organised for parents and kids to help them increase their physical and mental stamina while winning the fitness game.
Create Change
The Gurgaon team of Ashiana Anmol created a model of a Learning Hub where young brains displayed their ingenuity. The Learning Hub space plays an important role as the kids feel positive changes by learning new things.
Building Areas To Explore
Ashiana Town in Bhiwadi formed the Eco Club, Discipline Club, Traffic Club, and Space Club with the goal of fostering the children's leadership skills while exposing them to a variety of interests and allowing them to explore.
Saving Water
The Ashiana Umang Eco Club in Jaipur created posters about water conservation to raise awareness among residents on their daily water utilization.
Celebrate Victory
We celebrated the memorable day with the champions and all the youngsters at Ashiana Town, Bhiwadi after winning gold and silver medals in a lawn tennis tournament and a bronze medal in a state badminton competition.
Smash & Slay
Ashiana Town, Bhiwadi and Ashiana Anmol, Gurgaon hosted a competitive badminton tournament as part of the Live & Learn programme, and the students gave it their all to show off their physical and intellectual skills and win the competition.
Serve & Ace
Kids learnt serve tactics, endurance development, etc. at a 2-day tennis boot camp held at Ashiana Umang in Jaipur. They also warmed up for upcoming competitions and improved their performance in their favourite sport.
Until We Waste It
Children of Ashiana Anmol, Gurgaon participated in a Best Out Of Waste competition where they recycled waste products to create lovely things. Children had fun and gained knowledge about the value of waste.
Dance Your Way Out
A fun-filled evening of activities, including a Zumba class, games, and karaoke music, was hosted by Ashiana Town in Bhiwadi for families to learn how to develop flexibility and strength for a healthy lifestyle.
Baby Show
A Baby show was conducted at Ashiana Anmol, Gurgaon for parents and their kids. This fun show acted as a way to help boost the self-esteem and confidence of all residents to spend quality time with family
Follow The Bright Side
Being a visual meditative practice, we organised a candle meditation for weak eye children and parents at Ashiana Town, Bhiwadi. The activity helped the kids and parents to strengthen their eye nerves and muscles.
Treasure Hunt Activity
Two treasure hunt games were held for children of various ages. The students had fun with their exercise and discovered new ways to collect clues by working in teams and using problemsolving techniques.
Celebrate The Guru
Ashiana Town in Bhiwadi held Teachers' Day with kids and coaches working together to recognise the contributions of our skilled coaches. To show their appreciation for the guidance they received from their coaches, all of the kids participated in various activities such as poems, dances, and skits.
Come Dive In
Kids of all ages and locals participated in a fun and educational pool party in Ashiana Town, Bhiwadi, where they played games like Marco polo, a bucket of water, pool volleyball, etc., while learning the value of strengthening their bodies through swimming.
Cups Full Of Love
A Muffin Baking contest was organized on a fun Sunday afternoon at Ashiana Umang, Jaipur where kids baked funky & delicious cupcakes with our homemakers.
Counting Gets Fun
Kids took part in a fun abacus session we held at Ashiana Umang, Jaipur, in cooperation with "Tezz Dimag," where they learned quick and easy math techniques to improve their logical thinking.
Garba Mode On
For the kids of Ashiana Town, Bhiwadi, we held a fancy dress competition and a Garba dance performance to celebrate Navratri. Kids played Garba energetically as they dressed up in lovely and enjoyable outfits to have a joyful evening.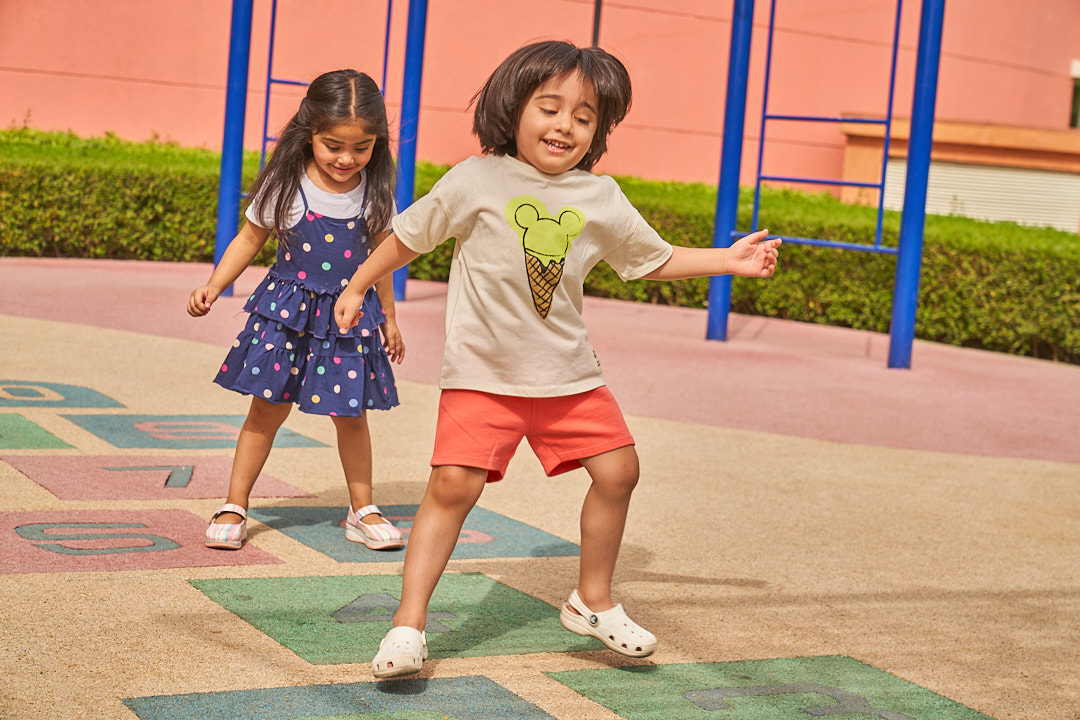 Amarah By Ashiana - Where Childhood Remains Childhood
The wait is finally over! Ashiana Housing presents Amarah by Ashiana, a Kid Centric Home which invites you and your kids to a world where time is measured by the amount of fun and days are spent having the best experiences of your lives.
Twist, Turn & Fold
In a calm Origami session at Ashiana Umang in Jaipur, kids learned the craft of paper folding while having a great time and developing their visualising abilities.
Green Area Audit
Children from the Eco Club participated in the Green Area Audit by visiting Ashiana Town in Bhiwadi and providing helpful suggestions for areas that may be improved as a modest step toward living sustainably
Read Less
---
Musical Evening
Residents were present at the Saturday musical club at Ashiana Nirmay in Bhiwadi, of whom few sang songs with enjoyment. Everyone there had a lovely time listening to both old and new songs and loved the melodious evening.
Ganesh Chaturthi
On the occasion of Ganesh Chaturthi, Ashiana Utsav, Bhiwadi, organized a special modak cookery activity where 25 to 30 residents participated to make the sweet and enjoy it as well. We also organised a competition for constructing little clay idols of Lord Ganesha, which encouraged the residents to express their religious sentiments.
Celebrating Freedom
The 76th Independence Day was celebrated at Ashiana Nirmay & Ashiana Utsav, Bhiwadi & Ashiana Utsav, Lavasa. Residents of Ashiana Nirmay performed a series of patriotic dance and musical performances to welcome armed service officers. Ashiana Utsav residents attended the flag hoisting ceremony followed by snacks served to them and the staff. Residents and staff of Ashiana Utsav, Lavasa celebrated India's freedom by conducting a musical program to hoist the Indian flag at the clubhouse.
Celebrating Teej Rituals
On 31st July, we celebrated Hariyali Teej at Ashiana Nirmay, Bhiwadi with mehendi designs on the hands of the ladies, singing lovely Rajasthani songs, watching various dance and art acts, followed by enjoying snacks and tea while having an amazing time.
Retaining Nutrition
Dr. Deepti Khatuja from Fortis Hospital gave a session on 'Nutrition & Health Ageing' in the month of July at Ashiana Nirmay in Bhiwadi. The session was enlightening for the residents as the expert addressed each of their concerns.
Van Mahotsav
With the assistance of the residents, we celebrated Van Mahotsav on July 7th by planting eight plants and eighteen hedges on the grounds of Ashiana Nirmay, Bhiwadi.
Donating For The Good
A talk session on 'ABC of Organ Donation & Fighting Fitness at Sixty' was conducted at Ashiana Utsav, Bhiwadi. Since residents are afraid to talk about the controversial topic, as the event progress, they learnt how this will benefit society and how their loved ones will gain.
Health Talk On
On the occasion of World Hepatitis Day, Ashiana Nirmay in Bhiwadi held a health lecture on the subject of 'Non-Alcoholic Fatty Liver Disease' where 89 locals showed up for a FibroScan screening and advice from the expert.
Waste Separation & Control
Residents of Ashiana Nirmay, Bhiwadi, take part in waste management to maintain a clean and environmentally friendly society. A considerable crowd gathered in the media room to support the project, with volunteers participating.
Megh Malhar Program
As the monsoon arrived to welcome us with a pleasant climate, a Megh Malhar event was held where Ashiana Nirmay residents took part to demonstrate their love for music by singing a range of songs to enjoy a musical and lovely evening.
A Healthy Initiative
A free health checkup camp was held at Ashiana Nirmay, Bhiwadi by Lyness Club Sampoorna and Artemis Hospital, Gurgaon. The camp included blood pressure, random blood sugar, an ECG, and bone density test, all of which the residents found to be very beneficial for maintaining a healthy body.
Vision Care
An Eye Checkup Camp was organized by Sight Avenue Hospital at Ashiana Nirmay, Bhiwadi where residents attended to get their eyes screened and receive appropriate medication for their eye problems.
Read More
Teacher's Day Celebration
On the occasion of Teacher's Day, a small get-together was organized at Ashiana Utsav, Jaipur for residents to acknowledge the contribution of teachers to the society. Residents shared their experiences of how a teacher played an important role in their life.
Prevention Is Better Than Cure
Dr. Salil Jain from Fortis Hospital spoke to residents during a health session at Ashiana Nirmay in Bhiwadi about their kidney concerns and provided them with specialised remedies for a healthier life.
Win The Queen
Residents of Ashiana Utsav, Lavasa relished the quarterly carrom event, showing off their striking and aim abilities to win the title.
Path To Spirituality
Every Tuesday, an event is organized at a temple near Ashiana Nirmay Mandir in Bhiwadi to enchant Ram Amritwani, Bhajan & Kirtan, Durga Chalisa & Mann ka 108 for a spiritual day.
Remembering The Icon
Considered to be one of the most popular playback singers in the Hindi film industry, few residents unfolded Mukesh's singing life journey on his 99th Birth centenary at Multipurpose Hall of Ashiana Utsav, Lavasa. The residents appreciated the musical presentation and found the voyage to be motivating as they related it to personal experiences.
Yoga Jam
Ms. Prachi Sharma led a yoga jam session at Ashiana Utsav, Bhiwadi where she showed residents how to dance and feel ecstatic while doing a new type of yoga.
Eye Donation Awareness Camp
An eye-donation awareness and eye check-up camp was organized by Shankara Hospital at Ashiana Utsav, Jaipur. Along with a free eye checkup, the hospital staff discussed the benefits of eye donation along with the important precautions to be taken at the time of donation, resulting in many residents taking the pledge to donate their eyes.
Welcoming Lord Ganesha
Ganesh Chaturthi was celebrated at Ashiana Nirmay in Bhiwadi, Ashiana Utsav in Jaipur and Ashiana Utsav in Lavasa for five days beginning with the welcoming of Lord Ganesha with drum rolls and dance. Residents performed Aarti and offered prasad to celebrate the days.
Gala Event
When it comes to exhibiting talent, our seniors are always ready to participate. Our versatile residents at Ashiana Shubham, Chennai came forward with their exceptional dance forms and signing talent in a gala event organised for fun and refreshment.
One Beat At A Time
The Saturday Zumba at Ashiana Utsav, Lavasa saw residents grooving on musical dance on old and new songs while having fun and improving their flexibility
One Good Move
The quarterly Chess tournament at Ashiana Utsav, Lavasa was enjoyed by the residents showcasing their intellectual skills to win the tournament while exercising their mental well-being.
Health Camp
Symbiosis hospital arranged a Medical Health Checkup Camp at Ashiana Utsav, Lavasa where residents got screen tested to find any diagnosis. The camp also shared cure tips for some of the major problems faced by the residents.
Stroke It
Twenty residents participated in a five-day pool event at Ashiana Nirmay in Bhiwadi to show off their shooting and aim skills in an effort to win the competition. Following the competition, the winner and runner-up met for a party to have an amazing time.
World Senior Citizen Day
On the occasion of World Senior Citizens Day, we organised three Medical Yoga sessions at Ashiana Utsav, Bhiwadi on joint pain and anxiety. Ms. Tanu Gupta taught 78 Ashiana Utsav seniors different yoga forms that allowed them to strengthen their joints
Hailing Lord Krishna
Kirtan, Pravachan & Lord Krishna Abhishek program was organized by Iskon at Ashiana Nirmay and Ashiana Utsav in Bhiwadi where residents attended to hail the name of the lord followed by prasad offering.
Promote Greenery
Prof. Punam Singavi conducted a talk session at Ashiana Utsav, Lavasa where she made a presentation on: 'Indulgence of Senior Citizens in active Environmental Protection'. The residents discussed their contribution towards a green environment and how they can live long-lasting lives.
Expressing The Art
Ashiana Nirmay residents planned a great performance on 'Aur Katputli Bol Utti' under the excellent leadership of Miss Usha Nagpal, our 83-year teaching veteran. The audience was treated to a magnificent performance, which they highly appreciated.
Best Words In Best Order
The Poem Recital activity was conducted at Ashiana Utsav, Lavasa where the residents enjoyed learning the fundamentals of poetry writing followed by their performance for a fun and rhythmic evening.
Paint The Magic
Residents of Ashiana Utsav, Lavasa enjoyed an art session where they showcased their creative skills while drawing and painting the tiles of the clubhouse.
Celebrating The Eternal Bond
On the occasion of Raksha Bandhan, we planned a surprise celebration for all Ashiana Utsav residents which they enjoyed as they reminisce about their good old days with their siblings.
Kumbhabhishekham Temple Inauguration
The Kumbhabhishekham temple inauguration ceremony at Ashiana Shubham, Chennai was conducted in full force as our residents and staff performed the holy pooja.
Celebrating Life
Residents of Ashiana Utsav, Lavasa & Ashiana Utsav, Jaipur celebrated their birthdays and anniversaries with tremendous fervour, and everyone gathers to witness cake-cutting. The month-end celebration was also celebrated with a party where residents came together in a zest of just celebrating life.
Fun Exercise
In order to assist the seniors with their ageing issues, the Friday dancing session at Ashiana Nirmay, Bhiwadi, in July featured a variety of entertaining & exciting dance genres like freeze & cricket dance.
Celebrating Good Over Evil
Festivities started to fill the atmosphere with immense happiness and celebrations as our talented actors came up with the Rama skit this time. An epic show was presented at Ashiana Shubham, Chennai by our group of residents which was enjoyed by everyone.
Let The Drama Begin
Residents of Ashiana Nirmay, Bhiwadi appeared as their favourite Bollywood actors and actresses for a celebration with a Bollywood theme at the end of July, enjoying each other's iconic appearances.
Honoring The Residents
Yes Bank organized a ceremony to honor few of the residents at Ashiana Utsav, Jaipur for their successful life journey. The event started with the general introduction of the services they are going to provide followed by snacks & presenting the memento to our residents.
Crafting Your Journey
One of our most popular activities that give our Ashiana Shubham residents a great expression of their creativity is art and crafts. Residents took part in our rangoli-making and sketching competition with enthusiasm and also learned how to make crafts using unique techniques.
Celebrating Our National Language
Hindi Diwas was celebrated at Ashiana Utsav, Jaipur which was well appreciated by all. Residents enthusiastically participated while reciting their own poems and speeches to explain the value of our mother tongue.
Garba Mode On
From September 8 to September 28, 74 Ashiana Nirmay residents participated in Garba practices while having a lot of fun and chit-chat. Immersed in this devotional activity, residents were unaware as the practice days came to an end.
Let The Fun Begin
Fun games were organized at Ashiana Shubham, Chennai where our residents came together to indulge themselves and have some extra fun while displaying their competitive spirit to win.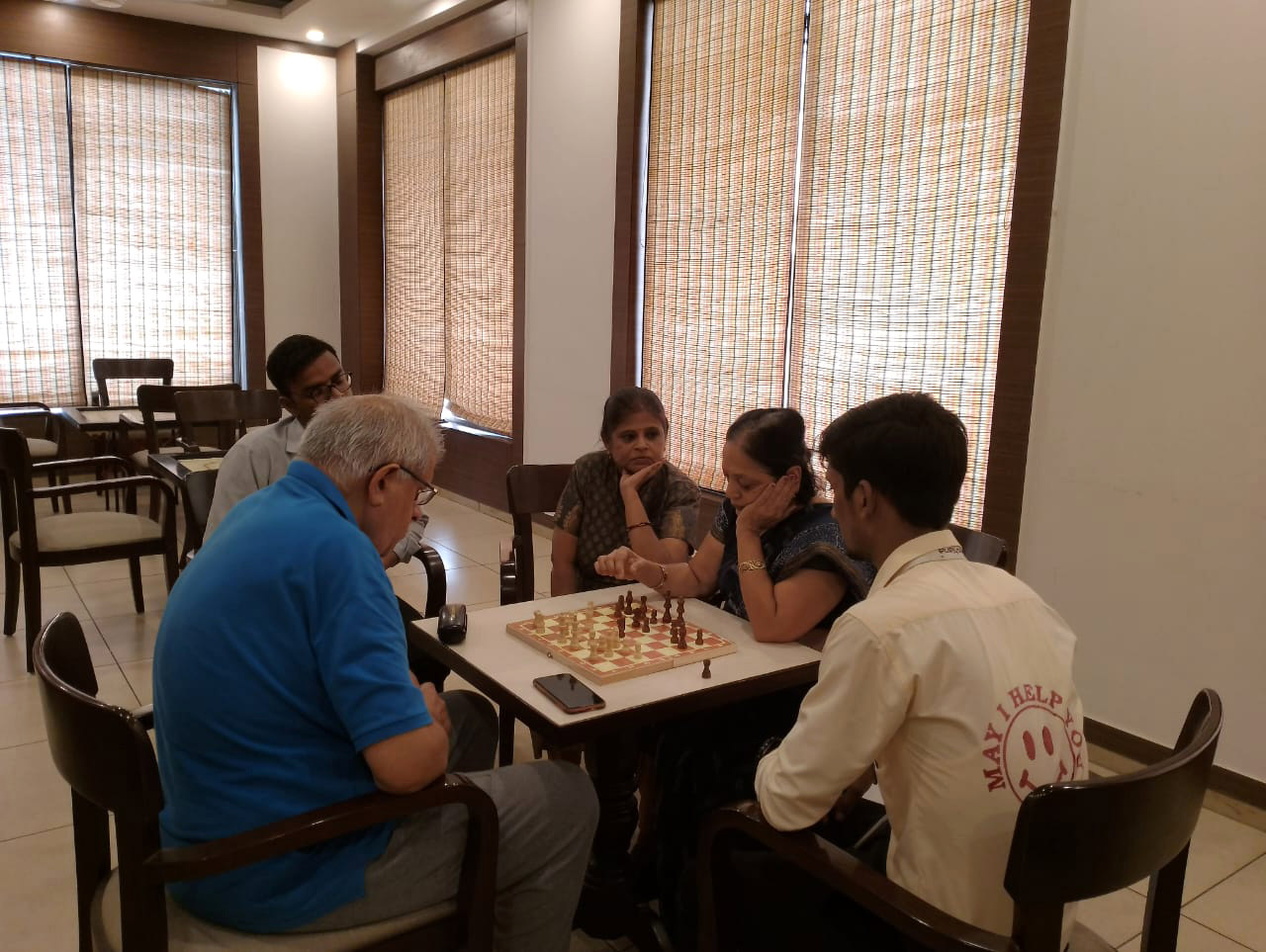 Guru-Shishya
A fun day was organized at Ashiana Nirmay, Bhiwadi where the residents (guru) taught various activities like billiards, chess & TT to the staff (shishya). Residents and staff were able to interact more and spend more time getting to know one another through this enjoyable learning experience.
Ulhaas Cultural Fiesta
Ulhaas Cultural Fiesta, a musical and dancing event was organized at Ashiana Utsav, Bhiwadi by the support of the dance and musical club. Many residents participated & showcased their talent in the spirit of joy and fun which was admired by the spectators.
Talk Session On Constipation & Diet
With many residents struggling with constipation and diet-related problems, we held a talk session with Ms. Sunita Singh at Ashiana Utsav, Bhiwadi. Residents valued the information she presented on various natural diets that could help them in curing their gastrointestinal ailments.
Navratri Celebration
Residents at Ashiana Nirmay in Bhiwadi and Ashiana Utsav in Jaipur celebrated Navratri by enchanting Durga Chalisa, Bhajan & Kirtan in the morning and playing Garba in the evening for 9 days in the name of 9 goddesses.
Read Less
---
Independence Day Celebration
All residents along with the staff at Ashiana Utsav Care Home, Bhiwadi were draped in the colour of patriotism on Independence Day. The residents presented a performance and sang a patriotic song during flag hoisting.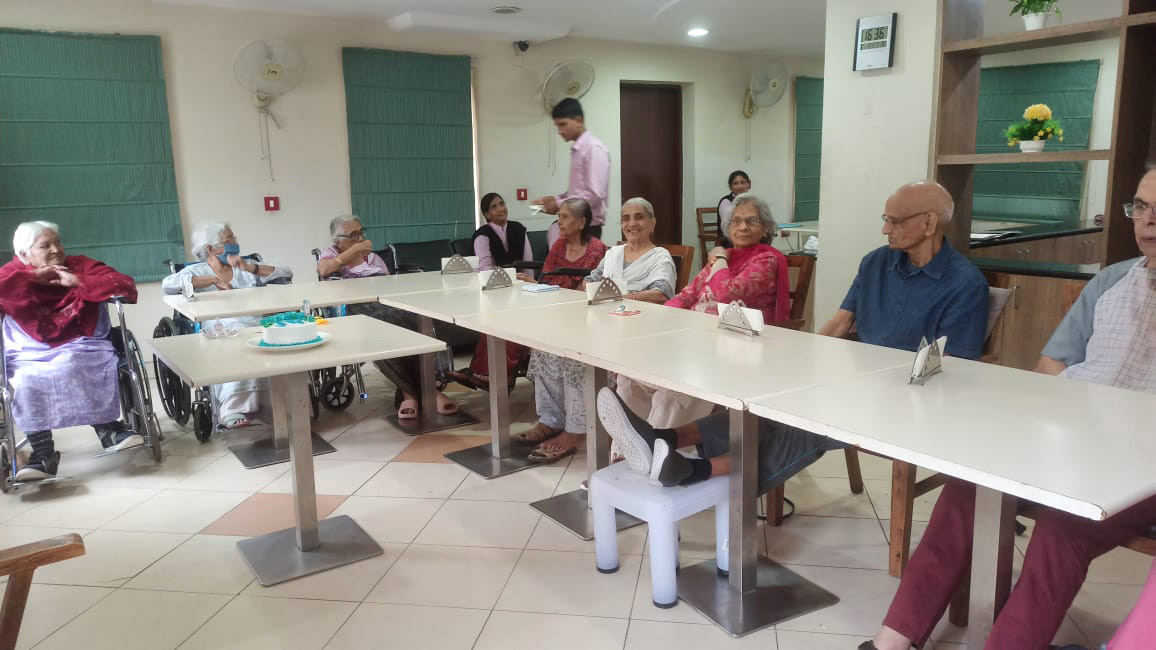 Celebrating Happiness
Birthday celebrations were done at the activity centres of Ashiana Utsav Care Home in Bhiwadi and Jaipur. Birthdays of Mrs. Subhash Kumari, Mr. Rajender Arora, Mr. Chhaudha, Ms. Ranu were celebrated with fun followed by cake cutting ceremony & bouquets presented by the staff.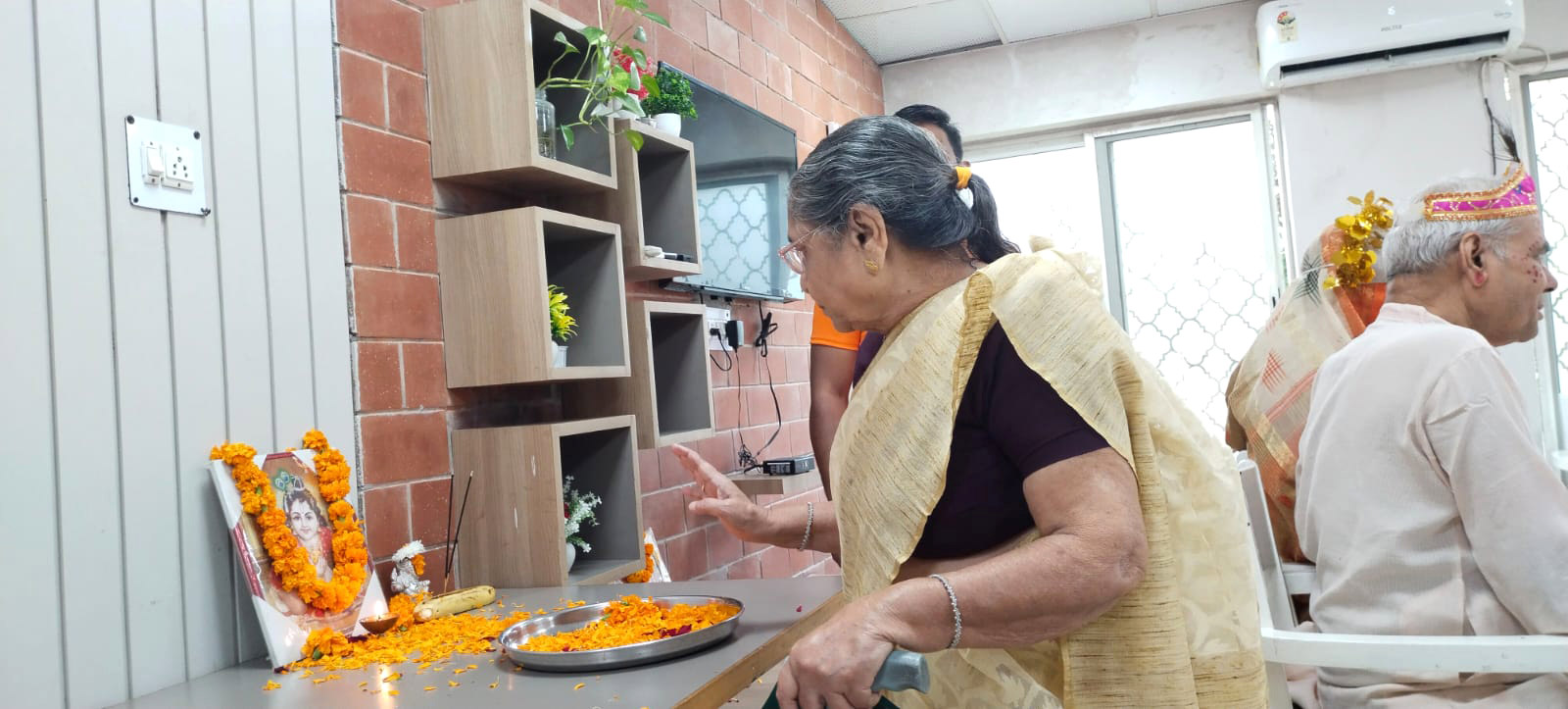 Welcoming With The Flute
Janmashtami was celebrated at Ashiana Utsav Care Home in Bhiwadi and Jaipur. The Care Home residents in Bhiwadi celebrated the birthday of Lord Shri Krishna with puja, special aarti & enchanting bhajans. While the Care Home residents in Jaipur celebrated in the movie hall by screening an animated movie called 'Little Krishna'.
Celebrating The Bond of Protection
On the occasion of Raksha Bandhan, residents of Ashiana Utsav Care Home in Bhiwadi & Jaipur enjoyed a day full of excitement along with caregivers. They tied rakhi in each other's hands & enjoyed the festival with sweets.
Feels Like Home
A new resident, Mr. Bhagwan aged 90 years, from Singapore, moved into Ashiana Utsav Care Home, Jaipur. Having a community-based household and a Hindi-speaking neighbourhood made him feel right at home.
World Alzheimer's Day
On the occasion of World Alzheimer's Day, a pictorial quiz session was organised and screened on TV at Ashiana Utsav Care Home in Jaipur. Residents enjoyed the session while enhancing and exercising their memory power.
World Alzheimer's Day
Celebrating Grandparents' Day To celebrate Grandparents' Day, kids invited from the Manglam society made handmade cards for Ashiana Utsav Care Home residents. Residents were really happy after receiving the cards from the kids.
Celebrating Senior Age
On Senior Citizens Day, we gathered at Ashiana Utsav Care Home in Bhiwadi. To celebrate the day, the residents gave each other photo frames and flowers, followed by cake cutting and snack distribution.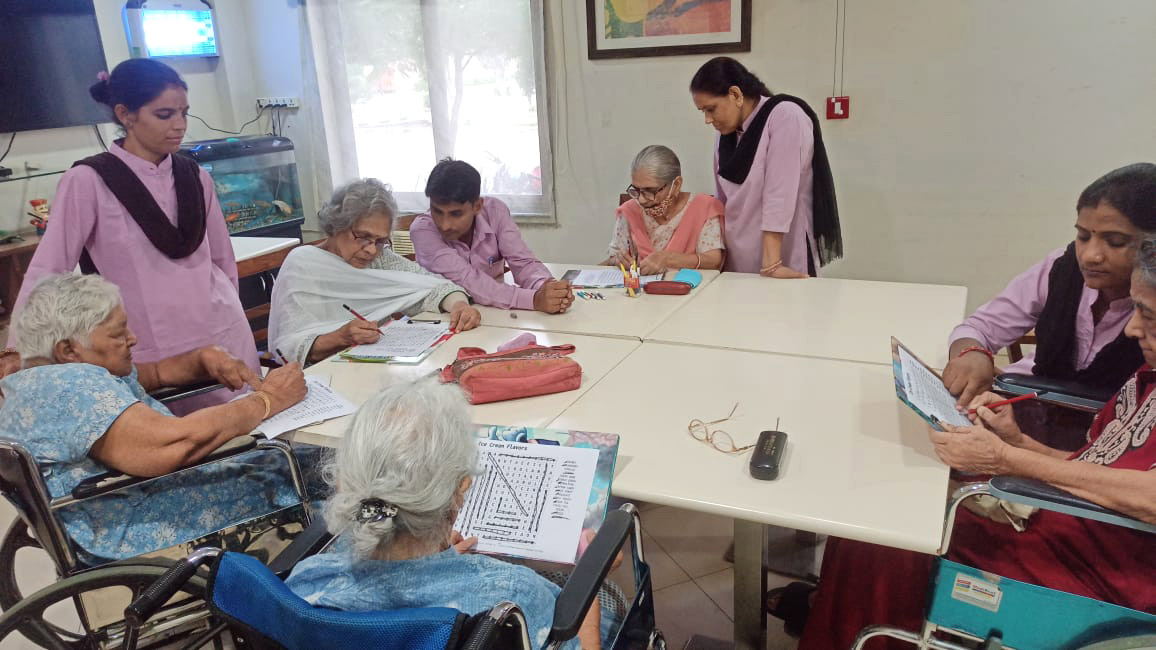 Word Search Puzzle
Residents of Ashiana Utsav Care Home in Jaipur took part in a fun word search puzzle activity to sharpen their cluefinding abilities.
Read More
Dine-In Cafe
Just for a change, we planned a special meal in the café for the residents of Ashiana Utsav Care Home in Jaipur, which included 'Chole Bhature', which was devoured by everyone.
Celebrating The Vighna Harta
On the auspicious occasion of Ganesh Chaturthi, a puja was organized for Ashiana Utsav Care Home residents followed by Aarti and prasad vitran to celebrate the festival.
Jaipur Tour
Following the lockdown, a muchanticipated Jaipur tour and a wonderful lunch were prepared for the residents of Ashiana Utsav Care Home, Jaipur.
Movie Day
On the demand of Ashiana Utsav Care Home residents, a Mughal-e-Azam movie was screened to entertain the residents and make them feel special.
Remembering Our Roots
On the occasion of Hindi Diwas, Ashiana Utsav Care Home residents in Jaipur wrote poems in Hindi followed by recitation which was well-appreciated by all.
Read Less
---
| July to Sep | Bhiwadi | Neemrana | Jaipur | Jamshedpur | Halol | Jodhpur | Sohna | Total |
| --- | --- | --- | --- | --- | --- | --- | --- | --- |
| Moms Enrolled | 921 | 234 | 465 | 265 | 37 | 36 | 179 | 2137 |
Health Camp
Supermom Shalini organised a health camp at Ashiana Anmol in Gurgaon to do a routine checkup and educate the residents about various elements of maintaining a healthy physique.
Indulge In Fun
Supermom Madhuri organised a fun activity session for senior citizens at Ashiana Anmol, Gurgaon. The older citizens actively participated and put on a lovely performance for everyone to savor an enjoyable evening.
Boosting Creativity
Supermoms organised Ganpati painting, paper craft, and hygiene sessions in Phoolwari Town, Dwarka, and Jaipur to encourage children's artistic expression in the form of the faces of Lord Ganesha and Earth.
Care for Oral Health
A dental check-up camp for residents was organised by Supermom Geeta at Gulmohar Gardens in Jaipur. Following the routine examination of their dental health, general recommendations that each resident should follow to maintain their oral health were given.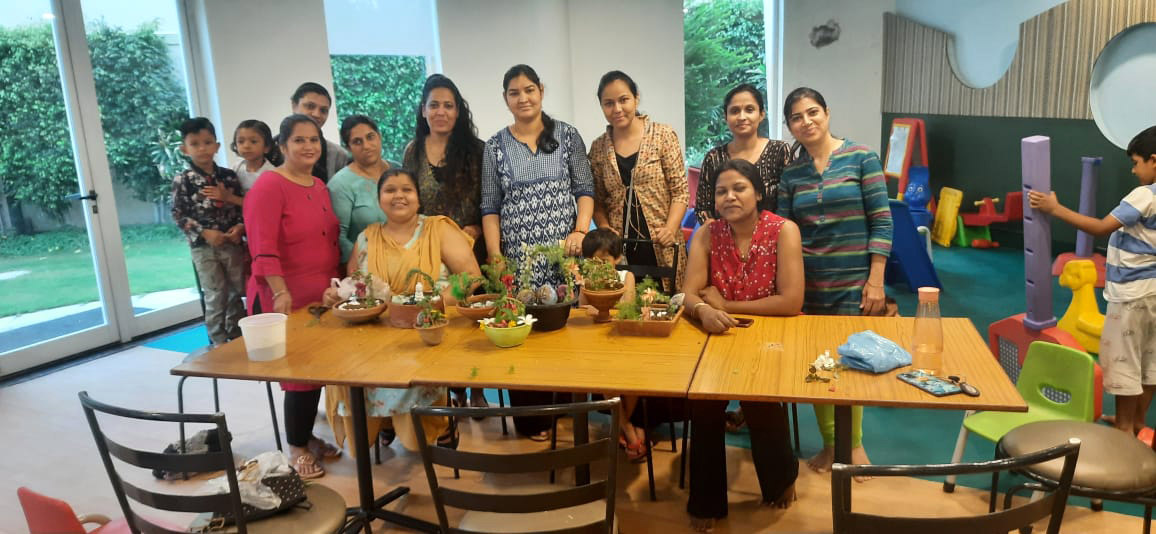 Topiary Session
At Gulmohar Gardens in Jaipur, Supermoms Charu and Meghna led a topiary meditation session. The Supermoms gave the plants creative forms while they enjoyed some peaceful and tranquil time together.
Crafting His Thoughts
On the special occasion of Gandhi Jayanti, a craft session was organised by Supermom Bhawna Kumar at Ashiana Anmol, Gurgaon. The children took part in the celebration by using their imagination to create various depictions of The Father of the Nation.
Tourism Day
On World Tourism Day, a debate competition was organised by Supermom Geetika Bansal at Ashiana Umang, Jaipur. The youngsters prepared essays about various tourist destinations for a chance to be rewarded.
Celebrating With Kanhas
Supermom Ruksana & Bhawna organised a Janmashtami event in Ashiana Anmol, Gurgaon. To take part in the event with excitement and fervour, the Supermoms dressed their children up as Krishna and Radha.
Feeding The Birds
A Bird Wall Hanging session was organized by Supermom Saroj Gupta at Ashiana Aangan, Bhiwadi. A wellappreciated effort by all the participants as they contributed to the welfare of birds by feeding them.
Read More
Painting Without Colour
Supermom Vatika Gautam organised a thoughtful painting without colour session at Ashiana Anmol in Gurgaon. The youngsters applied their intellect to produce stunning works of art.
Supermoms Meetup
A Supermoms' meetup was organized at many locations to discuss various initiatives and workshops. Activities were conducted for involving everyone in a fun-filled party.
3D Art Session
Supermom Poonam Devi hosted a 3D art class at Ashiana Brahmananda in Jamshedpur. All the Supermoms found the workshop extremely interesting and created visually appealing art as they enhanced their artistic abilities.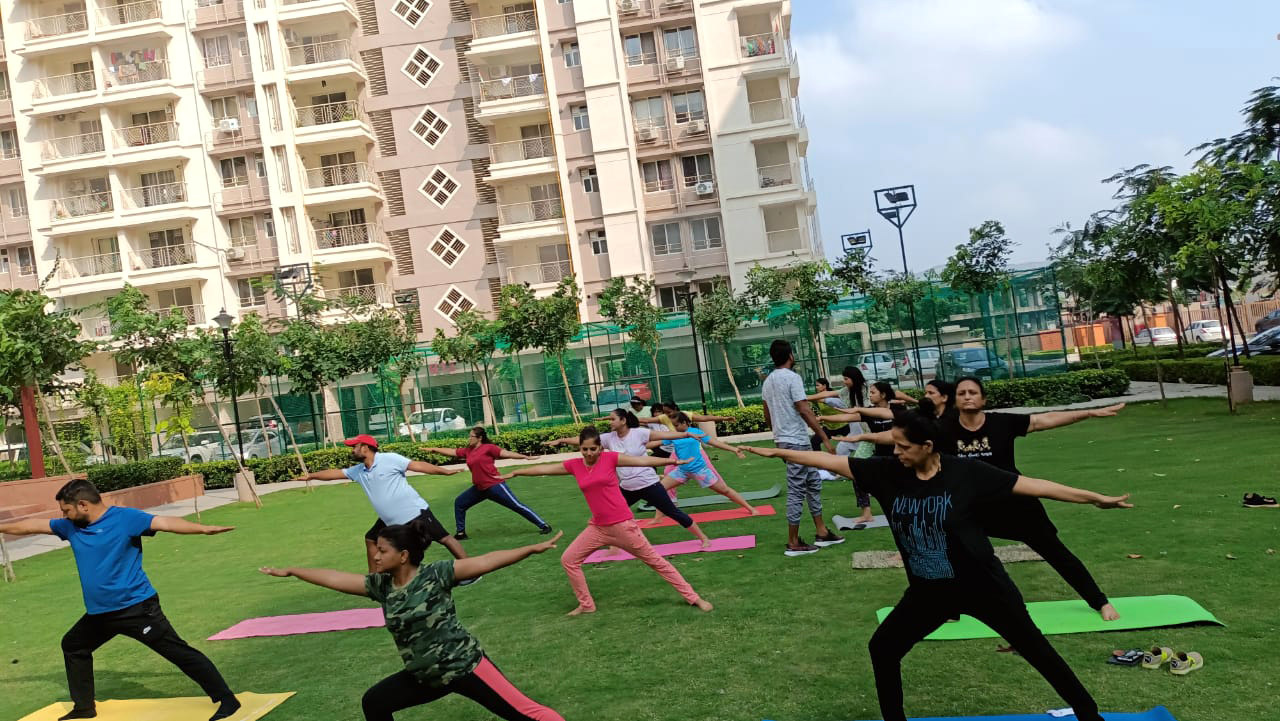 Yoga Session
Supermoms Teena and Rashmi led a yoga class at Vrinda Gardens in Jaipur to help women become more flexible and calm their minds.
Sessions To Fuel Creativity
Various creative & artful sessions like Clay Art, Dance, Garba & Rakhi Making were organized by Supermoms at respective locations. Many kids and Supermoms took part in the session with zeal and devotion to spark their creativity.
Making Homes Beautiful
Supermoms Vinita Gupta and Anshika hosted a wall art and paper bagmaking workshop at Ashiana Tarang in Bhiwadi. All the Supermoms actively engaged in the workshop to learn the skill, inspiring them to add a elegant touch to their houses.
Greeting Them With Cards
On the occasion of Teachers Day, a card-making session was organised by Supermom Salma Izhar Ali at Ashiana Surbhi, Bhiwadi. Kids were encouraged to create cards for their teachers and greet them in school.
Dandiya Session
Dandiya session was organized by Supermoms Poonam Devi & Dipali Mandal at Ashiana Brahmananda, Jamshedpur. The Supermoms learnt various dandiya steps to indulge in a fun session.
Paper Craft & Jewellery Making
In order to learn impressive techniques and improve their creative abilities, Supermoms Sanjana, Ranjana & Suruchi organised a paper craft and jewellerymaking session at Ashiana Aangan, Neemrana & Ashiana Navrang, Halol.
Madhubani & Zumba Session
Creative workshops like Madhubani painting & Zumba dance were conducted by Supermoms Suniti & Kavita at Ashiana Greenhill, Neemrana. While the Supermoms had a soothing time practicing Madhubani painting, they enhanced their flexibility while performing the Zumba steps.
Preparing For The Festivity
Supermoms organised thali decoration session at various locations on Karwa Chauth. The session let their creativity shine and highlighted their praiseworthy work of art.
Helping The Needy
Donation drives were initiated by Supermoms at various locations to provide items of necessity to the needy and bring smiles to their faces.
Read Less
---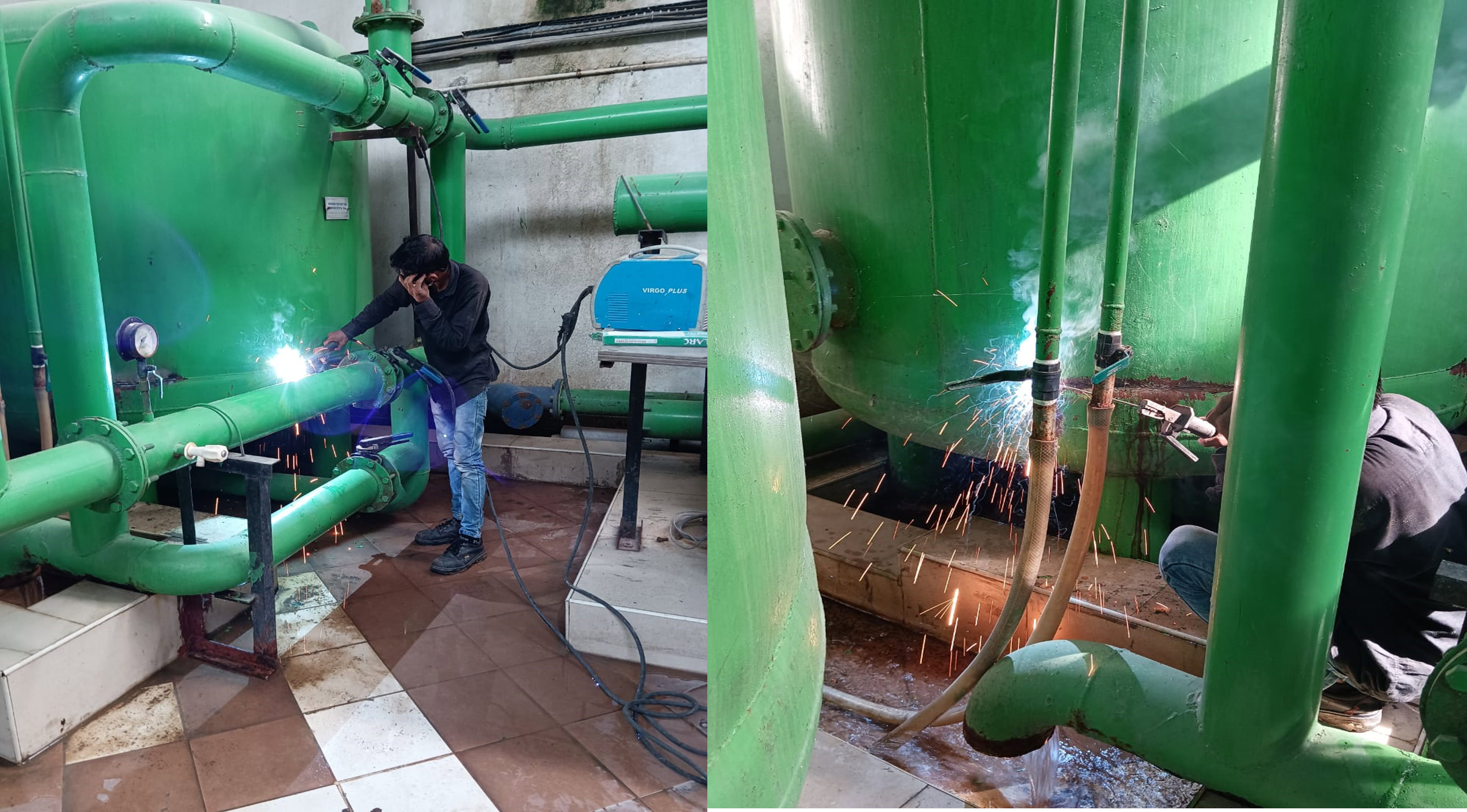 Maintaining Hygiene
A leakage repair work was successfully done using MGF arrangement at Ashiana Umang, Jaipur in order to maintain the hygiene of the residents and aid them in leading a healthy life.
Let The Fun Continue
The broken seesaw at Ashiana Dwarka, Jodhpur was repaired to let the fun continue in the kids' play area.
---
Ashiana Smiles
Welcome to Ashiana Smiles, our referral-based loyalty programme, where existing owners, as well as tenants, get to recommend Ashiana projects to their families and friends.
| Members | Bhiwadi | Jaipur | Jodhpur | Neemrana | Halol | Chennai | Sohna | Jamshedpur | Lavasa | Total |
| --- | --- | --- | --- | --- | --- | --- | --- | --- | --- | --- |
| Silver | 40 | 90 | 9 | 0 | 0 | 35 | 3 | 17 | 0 | 194 |
| Gold | 5 | 6 | 1 | 0 | 0 | 3 | 0 | 0 | 0 | 15 |
| Platinum | 0 | 1 | 0 | 0 | 0 | 0 | 0 | 0 | 0 | 1 |
Mr. Kalpesh Soni
Ashiana Umang, Jaipur
---
Step Up To Management
An advanced management webinar was conducted for Ashiana employees to increase their efficiency and effectiveness. Enlightening themselves with various aspects of management, the employees found the session to be very insightful.
Negotiation Training
Many sales employees joined the negotiation training webinar where they enhanced their skills while negotiating with vendors and customers to resolve conflicts and create value in contracts.
Service Excellence
A service management webinar was conducted for Ashiana employees to brief them on various elements of providing service to home buyers and the need to treat every customer equally
Medical Camp
A free annual health check-up camp was organized for the Ashiana employees in order to aid them with their physical wellbeing. The employees appreciated the initiative aiding them to be productive in their daily work.
Mastering LinkedIn
A brief session was conducted on mastering LinkedIn for Ashiana employees where they got a detailed understanding of developing the brand, generating leads, as well as some of the best practices to help them grow professionally.
Customer Centricity
A brief session was conducted on customer centricity for Ashiana employees where they learnt the focal points of a customer and other related aspects to create customer satisfaction, loyalty, and advocacy.
---
CREDAI - Pune Metro Mega Property Expo 2022
The CREDAI event was organized in Pune which gave us the stage to market our launches and engage with the community. Ashiana Malhar's team got an overwhelming response from the society at CREDAI Pune Metro Mega Property Expo 2022.
Mastering Recruitment
We are pleased to announce that Surbhi Dewan, Vice President of HR, Ashiana Housing Limited was awarded as one of the 'Emerging L&D leaders' at the L&D Vision & Innovation Summit & Awards 2022. We are proud of her and her efforts that have contributed to the growth of Ashiana and its achievements.
---
Mr. Mandeep Kumar

Mr. Jatin

Mr. Shreyash Mane

Ms. Shruthi G

Mr. Vinayegaselvam

Mr. Sonu Kumar Singh

Mr. Himanshu Karwa
Mr. Utkarsh Mishra

Mr. Utkarsh Diwakar
Mr. Krishan kant
Mr. Hritik Gupta
Mr. Ankush Thorya
Mr. Keshav Kumar
Mr. Mohit Kumar
Mr. Ritik Prasad
Mr. Dinbandhu Sharma
Mr. Priyesh Unnithan
Mr. Abhishek Kumar
Read More
Read Less
---
Ma Siddhidhatri !
goddess of supernatural powers you look regal, aristocratic and imperial seated on the lotus with 'kamal', 'Gada', 'Chakra' and 'Shankh' in your four hands and the red-colour of your garment complements the aura and ambience.
You make the final assault on 'Mahishasur' today and kill the buffalo demon to become the defeater, subjugator and vanquisher of the devil and the monster thus being lauded, hailed and cheered as 'Mahishasurmardini'.
As the Supreme Goddess- 'Mahashakti' you birthed the 'Trinity of Gods' Bhrama', 'Vishnu' and 'Mahadev' and when pleased with their years of penance you bestowed upon the 'Trimurti' their respective goddess eight supreme perfections nine treasures and ten super-natural powers.
O Siddhidhatri !
will you grant permission to 'Shiva', 'Gauri- Shankar' and 'Umapati' who worshipped and idolised you for time immemorial to appear from your left side and become 'Ardhnarishwar' today?
Bhagirathi Eshwar, Ashiana Shubham, Chennai
---
"My mother, Mrs. Runa Ganguly had an anxiety attack and was unable to breathe. Rinku was the first responder in spite his shift being over. He checked her vitals, settled her, and stayed till she felt normal. He was constantly in touch with me, updating me every step of the way. He then handed Mom over to Yogesh who kept me equally updated. He even checked in on her at 11 pm at night. Rajani came and took over in the morning and continued with the process. This gave me and my husband so much relief and confidence in the services, especially, the Nursing team. Because of the immense care they took of my mother, we did not felt the need to rush to Ashiana. It would have been very difficult for us as I lost my mother in law on 8th September. I commend you on your great team and services offered. Our special thanks to Rinku, Yogesh and Rajani. God bless them" - Moushumi Gupta D/O Runa Ganguly
Instructions
Here's how to send your answers for the Quiz!
If your answers are
Question 1 (b)
Question 2 (c)
Question 3 (d)
Then send an SMS to 56677 AHL 1b 2c 3d. Winners will be chosen via a lucky draw
Congratulations to our previous Apna Ashiana quiz winner - Purva Sharma, Ashiana Navrang, Halol
---
Q1. Identify the sports that Ashiana Town's kids earned medals in.
a. Lawn Tennis, Table Tennis
b. Football, Basketball
c. Lawn Tennis, Badminton
d. Lawn Tennis, Basketball
Q2. Name the temple that was inaugurated at Ashiana Shubham, Chennai
a. Kumbhabhishekam
b. Kumbhabhishekham
c. Kumbhabishekham
d. Kumbhahishekham
Q3. Kids from which society visited Ashiana Nirmay for Grandparents Day celebration?
a. Ashiana Dwark
b. Ashiana Umang
c. Ashiana Tarang
c. Ashiana Town