Apna Ashiana
Vol. 19 No. 70 Quarter IV > 2020-21
Subscribe for quarterly newsletter!
A glimpse of vibrant community we build.
From the Desk of the Jt. MD
Dear Friends,
I hope you are keeping safe and healthy.

Like most of us, I too could never have imagined that I'd be witness to a pandemic in my lifetime. My early reaction was one of fear; a doomsday scenario. However, as time went by, my attitude changed. I learnt so much and most of it from the manner in which the Ashiana team handled matters during the pandemic. The experience has made me very proud to be part of a team of such resilient, caring and efficient people. I cannot thank our Ashiana team enough for how they rallied around.
Read More
My heartfelt thanks also to our customers for their support during these very tough times.
I'd like to share some of the amazing things achieved by Team Ashiana during this time:
• We set up a very high goal for consumer happiness and achieved it by safely keeping to commitments, attending to matters and continuing with regular events.
• We set up a protocol to be followed if any resident or employee got COVID and this was stringently followed in all projects.
• Thankfully, not even one of our labourers got COVID which is a sign of good protocol and discipline.
• The organization moved swiftly to online meetings and online Site vlslts.
• Our Supermoms moved all the teaching and interaction online.
• Our construction started right on time after the lock-down was lifted.
I am grateful that I have been blessed with great people around me. The pandemic is not over yet and therefore all of you, please stay safe and healthy.
Always keep smiling!
Read Less
---
Highlights of the Quarter
Ranked No. 1 Senior Living
[4th time in a row by Track2Realty)
Phase-Ill launched successfully.
67 units booked in 40 days.
In 20 days 42 seniors chose Phase IVA

Read Less
---
Government School Renovation
As the schools are gearing to re-open, we are actively working towards completing the infra-structural and up gradation work of Government School at Kishanpura, Jaipur.
Resumption of Skill Development Programme
After the pandemic we resumed Skill development programme in a-4 for FY 2021, under CREDAI Kaushal Kendra. Three new batches of mason trade at Bhiwadi and Jaipur consisting of 73 candidates were assessed and certified.
Certification After Training
Despite the challenges due to pandemic, trainees successfully completed the classroom and practical training at site. Passed trainees were awarded with Govt. Approved Certificate from CREDAI.
Area Development
Central verge of a road in Jhai, Jaipur was enhanced by rebuilding the wall, painting it and clearing the area around the trees. Additionally some new plants were also added to the verge to make it look more beautiful.
Yoga Activity at Phoolwari
This year number of in-house activities were increased as there were restrictions to outdoor visits. It helped in adding value to children's learning and improving their physical health.
Dussehra - Victory of Good Over Evil
On the occasion of Dussehra children performed a skit based on Ram Leela and participated in Ravan mask making competition. This enhanced their learning in fun manner.
Read More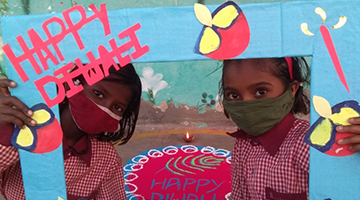 Diwali - A Gala Occasion
This festive season children of Phoolwari participated in different craft activities and created a self standing photo frames and enjoyed getting photographs clicked with it.
Christmas Fun
This Christmas Phoolwari children decorated their school premises in Snow theme. Together they decorated the Christmas tree and danced on the beats of "jingle bells" while enjoying the cake and sweets.
Read Less
---
Preserving Environment
A campaign on "Preserving Environment" was organised at Ashiana Dwarka, Jodhpur, where children made posters and carried out rallies to spread awareness about environmental protection.
Badminton Tournament
It was a pleasure to see how our residents of Ashiana Dwarka, Jodhpur, came forward to participate in Badminton Tournament organised by the team.
Community Games
To keep the mind and body fit during these hard times of pandemic, at Ashiana Gulmohar Gardens, Jaipur community games were organised. Residents participated with full enthusiasm and enjoyed it a lot.
Christmas Carnival
On Christmas, a carnival was organised at Greenwood, Jaipur. Residents enjoyed Christmas theme-based activities like fancy dress, musical chair, colouring, block making etc a lot.
Carrom Competition
At Ashiana Manglam, Jaipur a carrom competition was organised. It was a pleasure to see the participation and the skill developed by children to play carrom.
Cricket Tournament
Residents of Ashiana Navrang, Halol, Gujarat won a local cricket tournament. It was a moment of pride for our residents who participated.
Read More
Navratri Celebration
On the onset of the Navratri, a Dandiya evening was organised at Ashiana Dwarka, Jodhpur. Residents enjoyed and danced a lot to the beats of dandiya music.
Health Care Camp
As our logo says you are in safe hands and our 1 st priority is our customer, therefore even in the pandemic, the maintenance team of Ashiana Tarang, Bhiwadi took care of residents in every possible way and organised a COVID test camp in the society.
Nukad Natak
To build awreness about disposal of garbage, a Nukad Natak was organised by the residents of Vrinda Gardens, Jaipur. Everybody learnt the importance of proper garbage disposal.
Chatt Puja
Chatt Puja was organised at Ashiana Manglam, Jaipur. This festival is celebrated for long life of children. Our residents prayed to the rising Sun and sang devotional songs.
Fire Drill
At Ashiana Dwarka, Jodhpur a fire drill was organised and this time women's of the complex were trained, on how to use the equipments in case of an emergency.
Christmas Fun
At Ashiana Manglam, Jaipur a Christmas carnival was organised. Residents celebrated the festival by wearing red cap and having fun while playing with Santa. Santa visited and distributed sweets and gifts to the kids.
Read Less
---
Discovering Asteroids
Children at Ashiana Umang, Jaipur enthusiastically participated in the International asteroid search campaign and discovered 23 asteroids. They were certified by NASA.
Story of Ramayana
On the occasion of Navratri, kids at Ashiana Town, Bhiwadi performed the story of Ramayana. A grand show was put together with appropriate costumes and full enthusiasm to enthral the audience.
Fun with Dancing
At Ashiana Anmol, Sohna (Gurgaon) kids had fun with Freeze Dance Activity, where music was played and paused and kids were asked to dance and stop as per the music.
Planter Painting
At Ashiana Anmol, Sohna (Gurgaon) Pot Painting Activity was held where kids were provided with a planted pot that they painted with different beautiful designs.
Thanks Giving
At Ashiana Anmol, Sohna (Gurgaon) a Thanks Giving Activity was organised where kids were asked to draw about things they are thankful for. They learned the meaning of thanksgiving through this.
Family Quiz Session
An online Family Quiz Fiesta was organised at Ashiana Umang, Jaipur where parents and children came together to participate. This activity was enjoyed by both parents and children equally.
Read More
Karva Chauth Celebration
Women at Ashiana Umang, Jaipur celebrated Karva Chauth festival with lot of zeal. Each one of them was dressed for the occasion and came together to do the puja.
RWA Oath Ceremony
At Ashiana Town, Bhiwadi RWA was formed. The elected members took an oath to fulfil the newly elected role with transparency and honesty.
Safety and Security Club
A small initiative was taken by the kids from Ashiana Anmol, Sohna (Gurgaon) on traffic rules. They formed a Traffic Club where they spotted the vehicles, in which the travellers were without mask and sanitiser.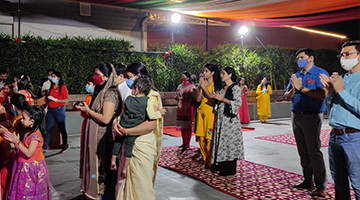 Navratri Celebration
At Ashiana Anmol, Sohna (Gurgaon) a pandal was set up to celebrate the Navratri festival, a statue of Maa Durga was placed to perform rituals, kids participated in activities like theatre act, singing, dancing etc.
Fitness Camp for Children
Due to pandemic, online classes are not held for long hours. Thus to keep children occupied and healthy, a Fitness Camp was organised at Ashiana Town, Bhiwadi where children participated and enjoyed a lot.
Singularity Music Band
The Band at Ashiana Umang, Jaipur is always ready to perform and enchant the audience. Children enjoy a lot while performing.
Read Less
---
Fun-Filled Activity
After a long time outdoor activities were planned in Ashiana Utsav, Bhiwadi. A game of tambola never fails with our residents. They participated with eagerness keeping social distancing in mind.
Immunity Booster Activity
In this time of pandemic, building immunity is a must, specially for seniors. So here in Ashiana Shubham, Chennai a yoga session was organised for seniors while maintaining social distancing.
Camp for Pensioners Life Certificate
At Utsav, Jaipur a special camp for residents was organised for digital life certificate called Jeevan Pramaan, the biometric enable digital service for pensioners of Central and State government. They registered pensioners online and issued a digital life certificate.
Theatre Festival
At Ashiana Nirmay, Bhiwadi a theatre performance was organised and directed by Dr Asha Vishwas. Residents participated and enjoyed it a lot. The performance and efforts made by the team were appreciated by all.
Warm Winter Outfits
On the onset of winters at Ashiana Utsav, Lavasa our resident put up a stall outside the café to sell some cozy winter wears. The residents bought a lot of stuff from her.
International Invention Day
On the occasion of International Invention day, Seniors at Ashiana Shubham, Chennai are spreading awareness on the importance of inventors, for the welfare of society.
Read More
Christmas Fun
Residents of Ashiana Utsav, Lavasa enjoyed the Christmas evening by singing Christmas carols in Santa Claus outfits, which was followed by a special dinner organised by the cafe for residents.
Wellness Session
At Ashiana Nirmay, Bhiwadi a wellness session was organised and Ms Ishita Mukerjee and her team were invited from Delhi to conduct the session. Residents enjoyed art therapy, dance therapy with meditation.
Read Less
---
Daily Fun Activities
At our care homes facilities we try to keep our residents busy throughout the year. During this time of pandemic as well we organised different kinds of activities such as paper folding, coloring, pulse recognition etc.
Festive Season
Diwali, was celebrated with full enthusiasm. The sight of care homes was colourful and bright. Residents attended laxmi pujan and the staff entertained the residents by singing and dancing.
Thanks Giving Tea Party
Our residents organised a Thanks giving tea party for the staff members who looks after them. This gesture was appreciated by the whole staff.
"Ho Ho Ho" Merry Christmas
Singing jingles Santa paid a visit to our residents on the occasion of Christmas, santa danced and distributed sweets. The smile on faces of residents was heart warming.
---
On 3rd Dec, Supermoms Season 4, an award ceremony was organised. Mr. Ankur Gupta, JMD, honored our Season 4 Winners for their actve participation and achievements. A special Trophy was awarded to All India Winner Mrs. Tabssum (Right in the centre with her trophy) from Ashiana Tarang, Bhiwadi
Supermom welcoming new residents at Ashiana Umang, Jaipur
ID camp was organised at Ashiana Brahmananda, Jamshedpur
Appreciating and gifting "Thank You" cards for the work done by cleaning staff at Ashiana Aangan, Neemrana
A Bank Account opening drive organised at Ashiana Aangan, Bhiwadi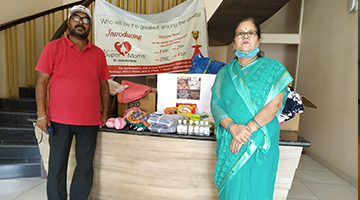 A donation drive was organised at Ashiana Anantara, Jamshedpur
Read More
Supermom at Ashiana Gardens,Jamshedpur, explaining to employees about digital payments
Organised Etiquette session for staff members at Ashiana Gardens,Bhiwadi
Fruit distribution to Phoolwari children was organised by Vrinda Gardens, Jaipur supermoms
A clean-up drive was taken up at Ashiana Woodlands, Jamshedpur
An online cooking session was conducted by the Supermom of Ashiana Greens, Bhiwadi
Residents enjoying the Tambola session organised by supermoms at Ashiana Navrang, Halol
Meet-up to discuss and plan activities at Rangoli Gardens, Jaipur
Read Less
---
---
---
Happiness all around
Deepak Jha
Security Officer
Aangan Neemrana
A 12-year-old girl fainted and the male member of the family was not there, Deepak along with the mother took her to the nearby hospital, got her admitted and treated, stayed there till the father arrived at the hospital. The customer really appreciates this gesture of Deepak.
---
Q1. In which of the project children made posters and carried out rally for awareness on environment preservation?
a. Ashiana Tarang
b. Ashiana Dwarka
c. Ashiana Umang
Q2. Ms Ishita Mukerjee was invited to organise a wellness session in which of the following project?
a. Ashiana Shubham
b. Ashiana Nirmay
c. Ashiana Utsav, Lavasa
Q3. An awareness drive on disposal of garbage took place in Vrinda Gardens through which of the following ways?
a. Online Session
b. Rallies
c. Nukad Natak
Instructions -
How to send your answers for the Quiz- If you think your answer is
Question 1. (a)
Question 2. (b)
Question 3. (c)

then send SMS to 56677 - AHL 1b 2c 3a
Winners will be chosen from all correct entries by a lucky draw
Name of the last winner
Mrs. Mausami Lata, Ashiana Rangoli, Bhiwadi